My friend, Lisa Morris Bonsall, MSN, RN, CRNP, Clinical Editor for Lippincott's Nursing Center.com (@NursingCenter on twitter) wrote this for the Lippincott blog "NursingCenter's Nursing in the Round Blog". Reprinted here with permission.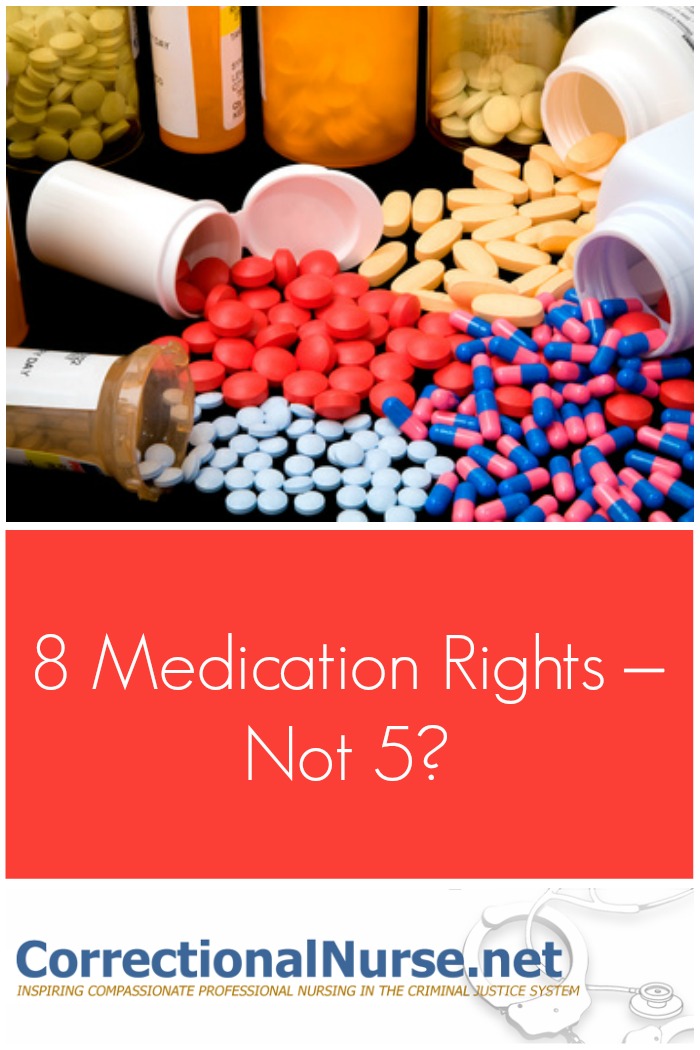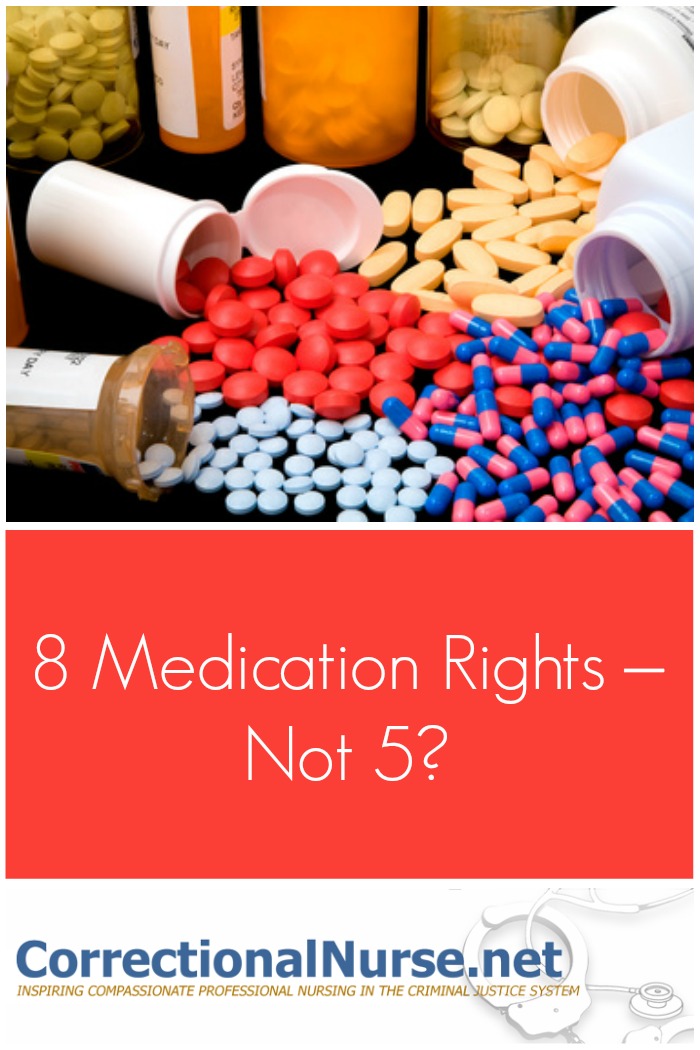 8 rights of medication administration
May 27, 2011 00:10 by
Lisa Bonsall, MSN, RN, CRNP
Chances are that some of you may not have known that in addition to the well-known 5 right of medication administration, some experts have added 3 more to the list.When it comes to patient safety, it's never a bad time to review some of the basics and increase your awareness of newer recommendations. Please add any of your own tips and medication safety advice by leaving a comment. Thanks!
Rights of Medication Administration
1. Right patient
Check the name on the order and the patient.
Use 2 identifiers.
Ask patient to identify himself/herself.
When available, use technology (for example, bar-code system).
2. Right medication
Check the medication label.
Check the order.
3. Right dose
Check the order.
Confirm appropriateness of the dose using a current drug reference.
If necessary, calculate the dose and have another nurse calculate the dose as well.
4. Right route
Again, check the order and appropriateness of the route ordered.
Confirm that the patient can take or receive the medication by the ordered route.
5. Right time
Check the frequency of the ordered medication.
Double-check that you are giving the ordered dose at the correct time.
Confirm when the last dose was given.
6. Right documentation
Document administration AFTER giving the ordered medication.
Chart the time, route, and any other specific information as necessary. For example, the site of an injection or any laboratory value or vital sign that needed to be checked before giving the drug.
7. Right reason
Confirm the rationale for the ordered medication.  What is the patient's history? Why is he/she taking this medication?
Revisit the reasons for long-term medication use.
8. Right response
Make sure that the drug led to the desired effect.  If an antihypertensive was given, has his/her blood pressure improved? Does the patient verbalize improvement in depression while on an antidepressant?
Be sure to document your monitoring of the patient  and any other nursing interventions that are applicable.
Reference: Nursing2012 Drug Handbook. (2012). Lippincott Williams & Wilkins: Philadelphia, Pennsylvania.
Which of these 8 medication rights is the most challenge in your correctional practice? I would say right response. Share your thoughts in the comment section.
Photo Credit: © Denis Pepin – Fotolia.com