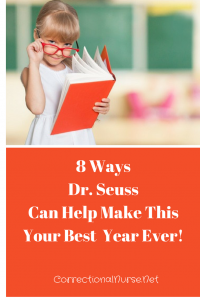 As you ponder the 12 months ahead, I hope you consider how you can make a lasting impact in the lives of your patient population. Ours is not the most glamorous of nursing specialties and it can be a struggle to provide even the most basic of care in our low-resourced and highly volatile setting. Yet, just a little insight into our patient's situation makes it clear that we have great opportunity to make a difference for the most vulnerable and marginalized of our nation's citizens. As you contemplate what lies ahead in your correctional practice, consider these quotes from Dr. Seuss as inspiration.
"A person's a person, no matter how small."
Horton Hears a Who!
Majoring on the basics of nursing practice applied in our unique criminal justice environment can have a huge impact on the care you deliver and how you feel about your nursing practice. Just the simple consistent application of humanness in your nurse-patient relationships can transform your correctional practice. No matter the circumstances that led your patent into incarceration, they deserve the same respect as any other patient you have ever taken care of.
"Unless someone like you cares a whole awful lot, nothing is going to get better. It's not."
The Lorax
Have you ever considered how your nursing worldview gives you an important and needed perspective in the criminal justice system? Nursing values of caring, therapeutic communication, and centrality of the patient's concerns shine a much-needed light in many a dark correctional setting. What one thing might get better for your patients this year because you care a whole awful lot about it?
"So, open your mouth, lad! For every voice counts!"
Horton Hears a Who!
It is so easy, in a hostile environment, to go along to get along. Survival mode is a normal human response to a constant threat. Nurses are most often outnumbered in a correctional setting. Speaking up about an injustice, incivility, or even illegal activity in that type of environment can seem impossible. What can you speak up about in 2017 that can make your voice count?
"Think left and think right and think low and think high. Oh, the things you can think up if only you try!"
Oh, the Thinks You Can Think!
Are you struggling with an issue in your clinical practice that will just not go away? Maybe it is a difficult relationship that is not changing. Make 2017 the year you think deeply about this issue or relationship and how your words and actions might finally get things moving in the right direction. Oh, the things you can think up if only you try.
"You have brains in your head. You have feet in your shoes. You can steer yourself any direction you choose."
Oh, the Places You'll Go!
Dr. Seuss reminds us that we have everything we need to move forward – brains in our head and feet in our shoes. With the basic equipment available, all we need is to be sure to steer in the right direction. Remember, nurses steer in the direction of the patient; making a positive impact on patient health and well-being.
"Now my troubles are going to have troubles with me!"
I Had Trouble in Getting to Solla Sollew
Feeling beat up by your troubles? Turn the tables on those troubles and get on the offensive. With a plan and a little attitude, you can target a few troubles for destruction this year.
"I know it is wet and the sun is not sunny, but we can have lots of good fun that is funny."
The Cat in the Hat
Many correctional facilities are difficult places to work. Our patients are there against their will. Many of our officer colleagues really wanted to be in the police force rather than the custody force. Some of our health care colleagues are marking time until they can get their ideal job. Like the Cat in the Hat, we can enter a gloomy environment and be an instrument for optimism and fun.
 "Step with care and great tact, and remember that life's a great balancing act."
Oh, the Places You'll Go!
Dr. Seuss affirms that we can't do everything at once but, instead, need to carefully prioritize our goals along with plenty of self-care. Keep this in mind as you ponder the year ahead.
Oh, the Places You'll Go! is my favorite Dr. Seuss book. Here is a video rendition of the short book to inspire you.
The story of Dr. Seuss's final book about life's ups and downs, told by the people of Burning Man. Directed by:Teddy Saunders – http://fb.com/yoteddyParker H…
What are your correctional nursing goals for 2017? How might you apply one or more of these Dr. Seuss quotes? Share your thoughts in the comments section below.