Fran Tompkins RN, MS, CCHP-RN, CCN/M, is Nursing Training and Education Supervisor with Correct Care Solutions, Nashville, TN. This post is based on her session "Critical Thinking: Best Practices for Best Results" taking place at the 2016 National Conference on Correctional Health Care in Las Vegas, October 22-26, 2016. Learn more about the conference and register HERE.
Critical Thinking is "…the disciplined intellectual process of applying skillful reasoning as a guide to belief or action."
-Paul, Ellis and Norris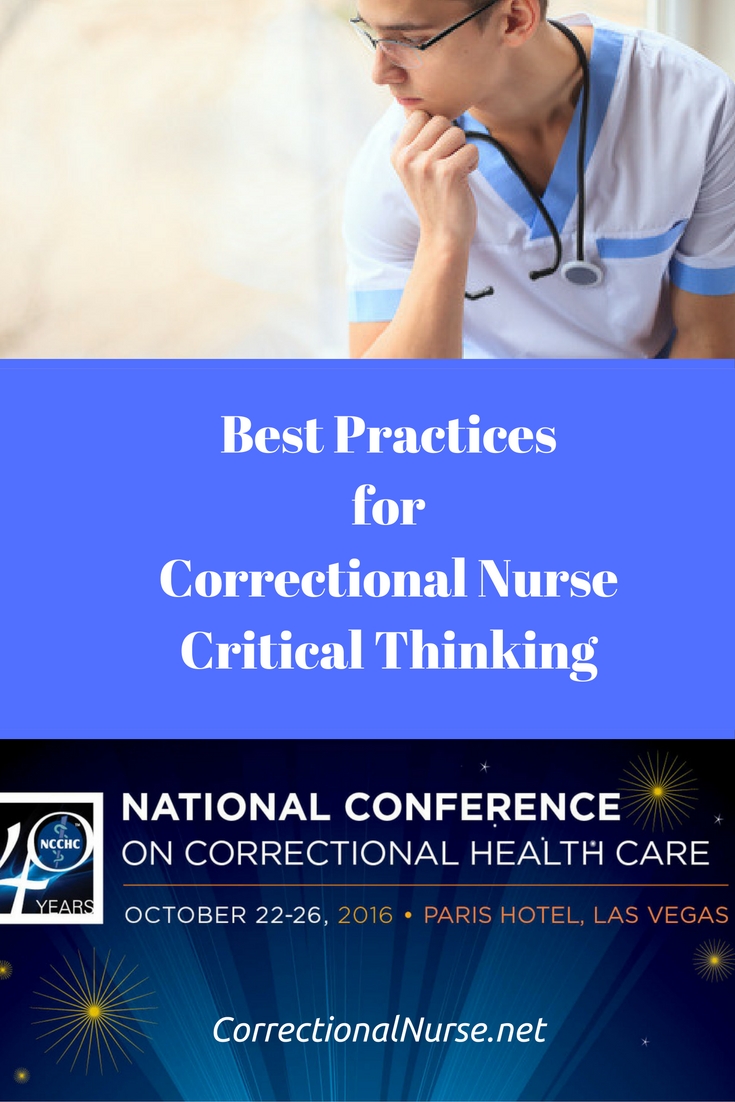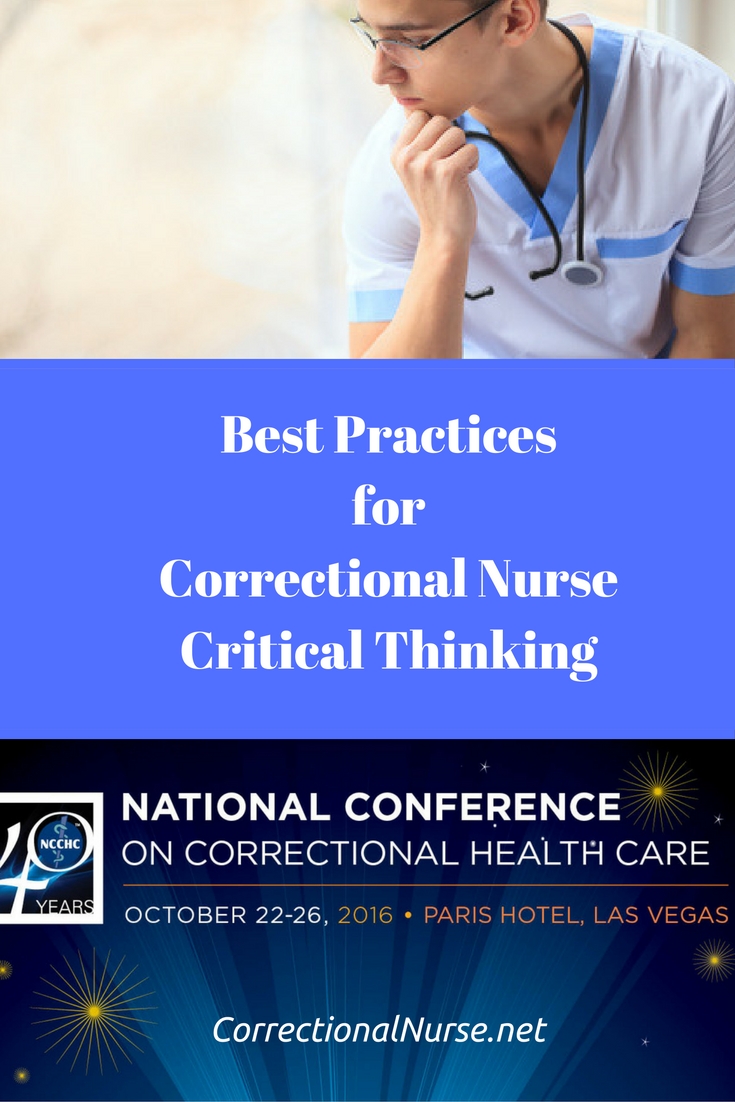 The correctional environment and patient population can lead to imbalanced thinking just when we need to be clear-headed. Biases in our mental process, both conscious and unconscious, can derail our efforts to critically appraise a clinical situation. For example, a middle-aged patient complains of chest pain for the 3rd time in 2 weeks. The previous times he had a complete work-up that showed no cardiac disease. The housing officer tells you this guy had no signs of distress and she thinks he is faking 'again'…and there is a long line of patients waiting for sick call. What to do?
Short Cuts – Good and Bad
Cognitive short cuts help us reach conclusions or decisions quickly. Driving is an example: when we drive automatically, we can conserve cognitive energy for alternative uses. The problem arises when something out of the ordinary happens and we are caught without being prepared: a blowout, or someone changes lanes into our lane without looking. Now we are placed in a reactive situation: trying to problem solve without preparation.
We place ourselves in automatic drive every day when we recognize common patterns of patient behaviors and assessments. Cognitive shortcuts can help us quickly put the puzzle together to rule out appendicitis or recognize early signs of alcohol withdrawal.
Unfortunately, we can just as easily take mental short cuts that short circuit good clinical judgment.  Errors are not caused by not knowing, but by the well-intentioned efforts of hard working people in imperfect systems using flawed thinking. It's not that we do not KNOW, it's how we THINK about our patients that gets us into trouble. Deciding that the patient with chest pain is feigning illness based on past experiences and the officer's evaluation can spell trouble.
Best Practice Tips
Best practices to help develop correctional nurse critical thinking skills include:
Using each other for reference points. Bounce your theories off fellow staff members. Ask questions like "What do you think about this patient?" or "What have I missed?" can encourage deeper thinking. Even retroactively, these situations become learning opportunities.
Practicing reflective thinking and encouraging it in others. Debrief challenging situations and talk about what you were thinking and feeling during the event.
Encouraging each other to read, write, listen and speak critically. Use a worksheet for caregivers to objectively and constructively self-criticize their own thinking.
Discussing current cases and care decisions at staff meetings and during new staff orientation. Stories have been the best teaching methods since preschool. Start the conversation early, and keep it going!
Avoid labeling patients by their condition. Naming a patient by their diagnosis "the diabetic in A pod" or perceived adaptive behaviors "He's a Momma's boy" gets us into trouble by creating a lens we begin to use with all our patient encounters. .
What do you think about the challenges of critical thinking in correctional nursing practice? Share your experience in the comments section of this post.
This post is part of a series discussing topics addressed during sessions of the 2016 National Conference on Correctional Health Care. All posts in this series can be found HERE.