Caring for and about the inmate population has a variety of challenges to overcome. Besides the dilemma of caring for a criminal, there is the issue of showing care and concern to this population. Can Correctional Nurses Care for their patients?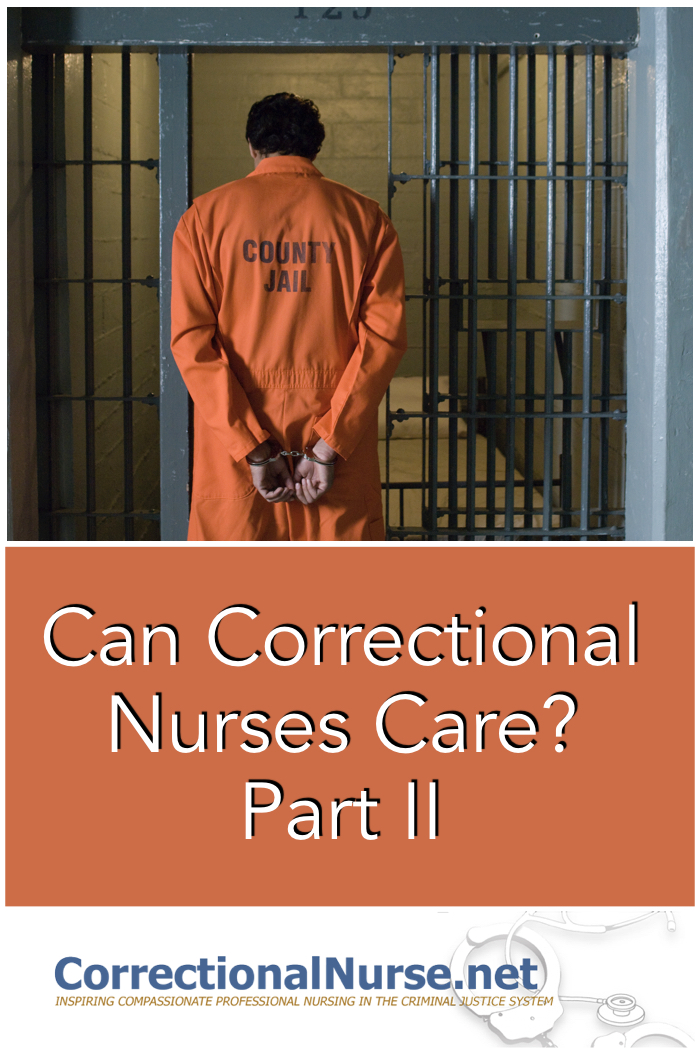 Can Correctional Nurses care?
'Warm and Fuzzy' is Not the Way to Care for Inmates
 Many healthcare environments allow, and even encourage, physical expressions of caring such as touching the arm, patting the shoulder, or holding a hand during a painful procedure. These are not appropriate caring behaviours in the corrections setting. These actions in the correctional setting can frequently be sexualized and misinterpreted as making advances.  Touching the patient is limited to necessary procedures and treatments.
Firm, Fair and Consistent
Verbal interactions with inmate patients require similar boundaries. Idle chat or asking personal questions which may come naturally in other care settings are inappropriate in corrections. Being firm, fair and consistent in all communication with the patient reduces misinterpretation.  A goodly amount of inmates have socially deviant or manipulative behavior patterns. This group of inmates will prey on staff members with insecurities or poor self-esteem. Being ever vigilant to deflect these behaviors can establish the necessary boundaries for good nursing care.
Caring by Protecting from Themselves
Another avenue of caring in correctional nursing is through protecting the inmate from breaking custody rules. Establishing and maintaining barriers in the care environment prevents access to contraband or opportunity for theft. Keeping narcotics, sharps, syringes, and dental equipment under constant observation or locked away prevents the inmate from taking a foolish action that could cause harm to themselves or others.
Caring by Advocating within the Custody Environment
My final thought is that correctional nurses care through advocacy for inmate healthcare needs within the custody environment. I have great respect for my custody colleagues – they provide protection and safety 24/7 in very challenging situations. Sometimes the goals of security and healthcare conflict. Depending on the situation, advocating for a patient's health need can be percieved as counter to the immediate security needs or the general goals of the facility. Challenging the status quo in these circumstances is an act of caring.
What other ways do you think correctional nurses care for their patients? Leave a comment
If you like this post, you might like:
Correctional Nursing on a Remote Island (Podcast Episode 129)
Summer Reading Series: Patient Safety
Preventing Inmate Suicide: The Ultimate Patient Safety Measure
How to Spot a Good Place to Work
Top Ten Skills for Correctional Nurses