Lawrence Mendel, DO, CCHP, Leavenworth Detention Center and Nicholas Jellots, PharmD, Diamond Pharmacy Services presented the session "Medication Verification: Perils, Pitfalls and Best Practices" at the 2016 National Conference on Correctional Health Care in Las Vegas, October 22-26, 2016. This post is based on their presentation.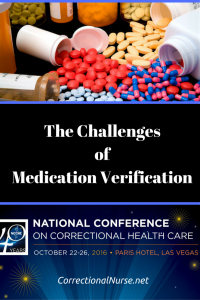 One of the great challenges of correctional health care practice is the verification of medications for patients entering the criminal justice system. Let's face it, our patient population is not often well-plugged-in to the health care system. Prescribed medications could come from various sources such as public clinics, primary care providers, or the local emergency room. In addition, a good number of this patient group are poor historians or even untruthful about their prescribed medications. Yet correctional health care standards such at those of the National Commission on Correctional Health Care require that prescribed medications be reviewed at intake and appropriately maintained during detainment (Standards D-2 and E-2).
The Starting Line
The usual medication verification process begins at intake. Information about current medications is obtained during the medical screening process and a release form is often completed and faxed to the pharmacy of record. While this process usually works well, the most common issue is delayed verification in the event that the pharmacy responds that they have no record of the patient or fails to respond in a timely fashion. Other delays can result from inadequate information that must be tracked down, requiring the need to contact family members for prescription information. Some individuals can arrive with their medications in unmarked containers with little more information than that the white pill is for "high blood" and the green pill is for "my sugar".
When dealing with mystery medications, online resources may be of assistance. Here are four online resources for correctional nurses.
Taking Stock
Many facilities carry stock meds that enable them to promptly continue key medications.  Very small facilities may rely on patient-provided medications but this practice is rarely used at larger facilities. A targeted stock medication system to carry the most commonly needed medications until patient-specific medication is obtained can be a lifesaver. However, state laws in some jurisdictions could severely limit this practice.
Priority Categories
Although there is no universal list of priority medications, some organizations have created a list of "no-miss" medications that provide staff with guidance for prioritizing certain medications.  While no-miss policies are currently uncommon, they represent a best practice that should be considered for adoption. Here is a suggested list of top priority no-miss medications.
Antivirals such as HIV and HCV medications
Antibacterial agents such as those for TB
Diabetes medications such as insulin
Steroids
How to Talk to a Pharmacist
While obtaining accurate information from the patient is one challenge, on the other end of the spectrum, pharmacy communication can add to the difficulty of medication verification. Here are some tips for smooth sailing in this part of the process.
Always ask to speak to a pharmacist on duty. While skilled technicians can verify medications on a patients profile, not all medications may be "active" and a pharmacist may be better able to identify filling habits and actual use.
Use patience and understanding. Like correctional facilities, pharmacies are often understaffed and busy. You may have to wait to speak with a pharmacist.
Clearly identify yourself and your purpose – State your name, your position, and the purpose of your call.
Have pertinent patient information available

Full name
Birthday
Home address
Home phone number

If a patient brings in medication bottles; the prescription number can be helpful in identifying the patient in the pharmacy database.
Avoid using a blanket request such as "What medications does this patient take?" – Many patients can have dormant, unfilled, or changed therapy that is still listed on the patient profile. Blanket verification of this nature may not accurately portray a current regimen.
Instead, start by verifying the medications either brought in or listed by the patient as their active regimen. Then ask for other chronic medications the pharmacy may have in the records.
HIPAA Issues with Medication Verification
Although many retail pharmacies have processes in place for telephone medication verifications, you may encounter HIPAA concerns when calling from a non-traditional health care setting such as a jail or prison. If this is the case, reiterate your name, title and purpose of the call. The pharmacy patient information security process may include a need for faxing a release of information form or communication with the pharmacy corporate office.
While medication verification can seem a tedious and sometimes exasperating process, adequate patient care requires that we persevere to obtain the medication information needed to adequately care for our patients.
How do you verify medications at your facility? Share your process in the comments section of this post.
This post is part of a series discussing topics addressed during sessions of the 2016 National Conference on Correctional Health Care. All posts in this series can be found HERE.