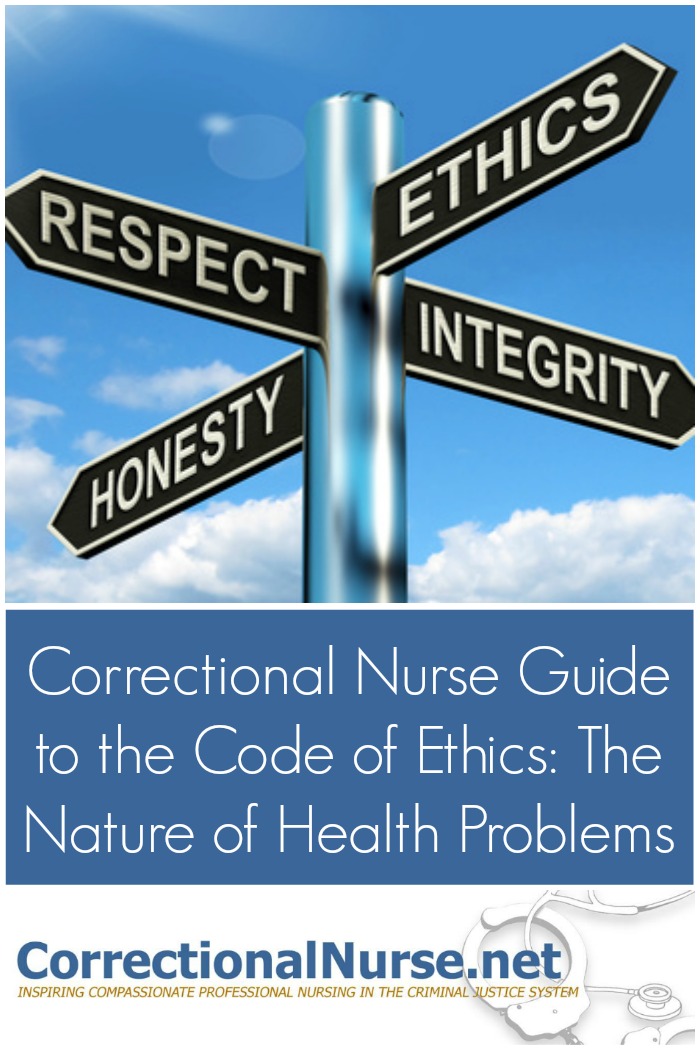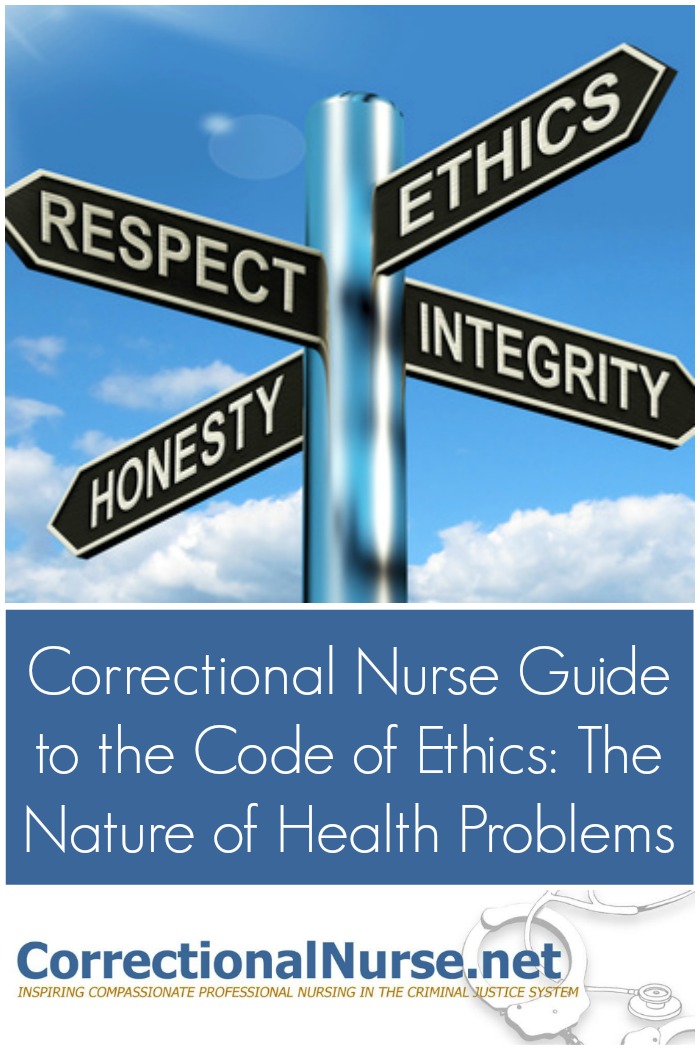 This post is part of a continuing series applying the Code of Ethics for Nurses to correctional nursing practice. Find other posts in the series here.
Kim was not happy with her assignment in the large city jail infirmary where she worked. The patient load was manageable but she didn't want to deal with the patient in cell B-5. Kim was a new mother with an eight month old baby girl. She had done everything right during her pregnancy; strictly following medical advice and not drinking at all. Her baby was born with a slight esophageal defect that required surgery in the early days. Although her baby was doing well, it was a continual concern for her. Now she is struggling with bad feelings toward the pregnant woman in cell B-5 who is six months pregnant and going through alcohol withdrawal while being maintained on methadone for her heroin addiction. How could this woman have so little regard for her child's future? Kim did not know how she would be able to make it through the shift.
Code of Ethics Proposition 1: The nurse, in all professional relationships, practices with compassion and respect for the inherent dignity, worth, and uniqueness of every individual, unrestricted by considerations of social or economic status, personal attributes, or the nature of health problems.
Kim definitely has an ethical dilemma. She cannot get past the nature of her patient's health problem. She is unable to provide nursing care in this situation with compassion and respect for the inherent dignity, worth, and uniqueness of this patient. What are her options?
Gift Exchange
An easy option would be for Kim to broker an assignment exchange. Another nurse who is less sensitive to these concerns may be willing to care for this patient and get beyond the ethical matter. This exchange provides Kim with the gift of time to work through her ethical dilemma. Smaller facilities may not have enough staff on shift to provide this option or nursing leadership may be unwilling to juggle assignments. Best for Kim to approach a fellow staff member with the idea and then present a plan to the nurse manager for consideration. This can only be a short-term solution, though.
Shifting Perspective
Kim needs to both objectively and subjectively analyze her feelings toward this patient. It may, in fact, be true that this woman is totally disregarding the health of her unborn baby, however, providing appropriate infirmary care is reversing this disregard. Managing the withdrawal of alcohol in this situation may be of great benefit to the baby, as well as the mother. This shift in perspective may allow Kim to engage in an appropriate therapeutic nurse-patient relationship. Caring concern might be what this patient needs to make a life change. Even if this doesn't happen, Kim's nursing care will be of benefit to the unborn child.
Out of Body Experience
Kim does not respect or value the actions of this patient. This is true for many of our incarcerated patients. They have made poor life decisions that most nurses would disagree with. Kim is able to overlook this when dealing with other patients. Why is this one a problem? This is the heart of the ethical issue that Kim must struggle through. This patient's decisions hit close to home as Kim has a young child and is sensitive to how the life choices of this patient are affecting her unborn child. Kim may benefit from considering the situation from a third-party perspective. This practice (sometimes called bracketing) involves consciously setting aside personal feelings or biases in a situation. No doubt, if she has strong feelings about this patient's seeming disregard for her baby, bracketing will be challenging.
Most important is that Kim actively engage in working through her ethical dilemma rather than respond poorly to this patient or deny that she is having difficulty.
Have you struggled with a similar situation in providing correctional nursing care? Share your thoughts in the comment section of this post.
Photo Credit: © Stuart Miles – Fotolia.com