News that there are big issues with MRSA (methicillin-resistant Staphylococcus aureus) in some Illinois prisons got me thinking about how observant correctional nurses can have a great impact on reducing the incidence and spread of this deadly infection in inmate community, thereby protecting custody staff, as well. I am not familiar with the healthcare staffing patterns in IL Prisons, however, many facilities have a designated infection control (IC) nurse who focuses on prevention, containment and treatment of infections in the inmate community. Here are some of the key activities for correctional nurses keep infection under control.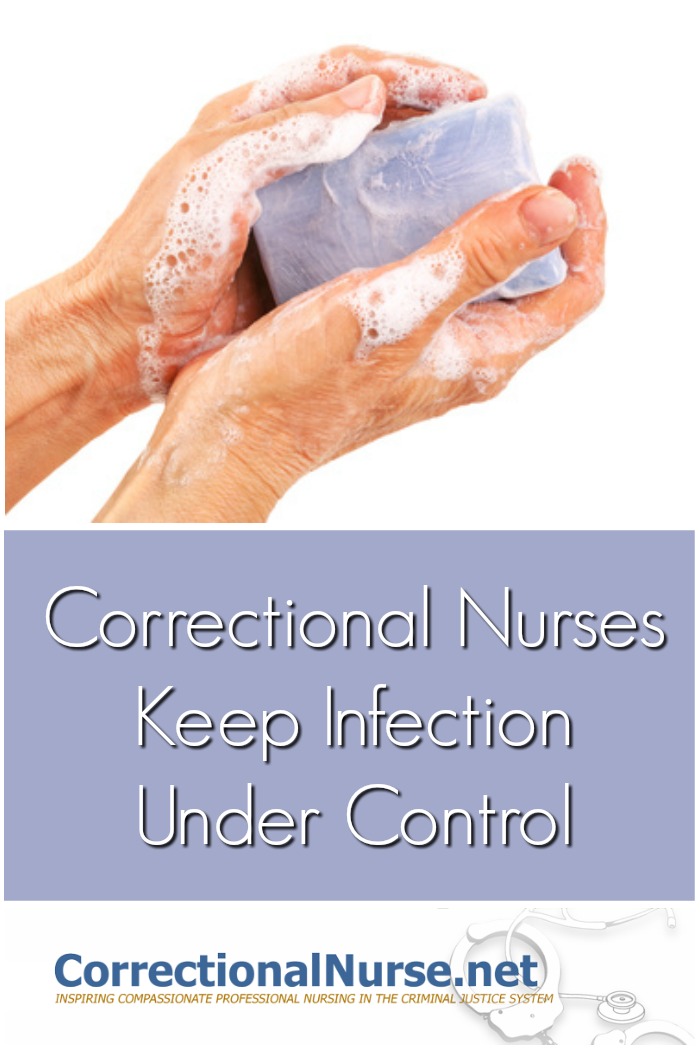 Education to Prevent Outbreaks
One of the main ways infection outbreaks are prevented is through continuous education of the inmates and custody staff about methods to decrease the spread of infection (Frequent Handwashing!!!). Inmate workers such as porters, kitchen help, and laundry workers need special education in methods to decrease infection spread. The generally low literacy levels of the inmate population require simple and practical instruction methods.
Environmental Scanning
IC nurses regularly round throughout the facility specifically checking for any conditions that might indicate an infection issue. From the temperature of the water in the laundry area to the location of raw foods in the kitchen, the nurse is looking for opportunities to prevent disease spread. Shower stall mold, empty soap dispensers and even leaks resulting in stagnant water are areas of concern. Custody staff are less likely to be attuned to the health implications of these issues. An alert nurse, working in conjunction with custody peers, can improve health conditions.
Inmate Assessment and Early Treatment
IC nurses focus on intake assessments which determine any potential infections which might be brought into the inmate community by new arrivals. Evaluations for TB, skin infections, and H1N1 or other flu symptoms take place at intake. Those with high potential for these conditions are isolated from the general population until definitive diagnosis can take place. These nurses are also often involved in the ongoing treatment of chronic infections such as HIV and hepatitis, by managing the Infectious Diseases clinics with the ID physician specialist.
Reporting and Responding
Most states have health departments which manage the public health and require reporting of any potential outbreak or pandemic situations. An IC nurse can be the key point person with the health department and initiate immediate action in the event of a potential outbreak. It appears that there was lack of communication with the health department in the IL situation cited above. Immediate response to a potential outbreak through containment and treatment can prevent further spread.
How do you keep the spread of infection under control? Share your tips in the comments section of this post.
If you like this post, you might like:
Botulism and Prison Brew
What's Bugging You? Lice Identification and Treatment
Hand Hygiene Challenges for Correctional Nurses
New Latent TB Regimen from CDC: Good News for Correctional Nurses
Double Down on TB in Jails and Prisons