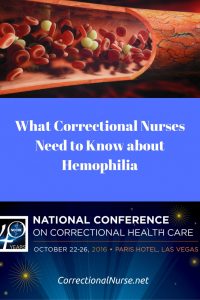 Angela Lambing, MSN, ANPC, GNPC, is a Clinical Support Specialist with Bayer HealthCare. This post is based on her session "Hemophilia: What You Need to Know" taking place at the 2016 National Conference on Correctional Health Care in Las Vegas, October 22-26, 2016. Learn more about the conference and register HERE.
Jena, an RN working in a medium security state prison, is making sick call rounds. In housing unit C she is approached by an inmate in his late 30's. He is barely able to hobble into the sick call room. He says he has hemophilia and is experiencing a bleed in his right ankle after having to walk with shackles for several hours earlier in the day. He also said he told those at intake two weeks ago that he had the condition and needed an infusion three times a week but no one has set him up with anything yet.
The 411 on Hemophilia
Hemophilia is an X-linked recessive bleeding disorder. Mothers carry the gene and pass on to their sons. This results in a bleeding disorder described as Hemophilia A (FVIII deficiency) or Hemophilia B (FIX deficiency).  Severe hemophilia (<1% Factor level where the normal range is 50-100%) causes acute bleeding episodes, bleeding after injury, and spontaneous joint bleeding that leads to end-stage joint disease. The mainstay of therapy is replacement of the missing factor to raise levels to a near normal. This reduces bleeding risk.
A Common Inmate Condition?
While over 20,000 men are estimated to have hemophilia in the US, it is unclear how many incarcerated men have the condition. Given that this is a male-dominated disease and more inmates are male, it is expected that correctional nurses, like Jena, may encounter patients with the condition.
Hemophilia Issues Behind Bars
If you have a patient with hemophilia, they are likely to know more about the condition than you do. Take their lead about treatment and injury. This is a life-threatening condition that can need immediate attention. Here are a few important areas to consider for hemophilia patients.
Bleeding may not be objectively evident: Listening to the patient who states he is having a bleed, even though it might not be readily evident. If you wait until you see swelling, warmth, or pain, it may be too late. By then, blood is already in the joint, causing damage.
Treatment coordination: Develop a relationship with the patient's primary provider who manages their hemophilia. As an expert in management of this disease, they are an excellent resource and liaison for treatment.
Security coordination: Hemophilia is an example of a medical condition that our officer colleagues need to know about. They need to be aware of the high potential for bleeding events from head injury or fights. Work details may need modified as repetitive motion can lead to joint bleeding.
Patient self-care: Treatment for this condition requires the replacement of the missing factor. This is given in an infusion by IV push. Patients are trained at an early age to start their own IVs, prepare the medication and give it to themselves IV push. Your patient may know the best veins to use or know their way around the equipment. On the other hand, our patient population is known to make poor health decisions. Some hemophilia patients may not be managing their condition well and, therefore, have severe joint disease from frequent bleeds.
High cost of treatment: Factor infusions are expensive. Work with the patient's regular hemophilia infusion center to develop a cost-effective option for the 3-times-per-week infusions many with hemophilia require.
Jena had to fast track a solution for this inmate. She called for assistance and had him transported by stretcher to the prison infirmary. The prison medical director contacted the patient's primary provider and arranged for an emergency transfer to the local hospital. The patient received factor infusions and was monitored for other bleeding such as intracranial bleeding. By the time he had returned to the prison, arrangements had been made for regular infusions and the Health Services Administrator had scheduled staff inservices on the condition.
National Resources
By the way, federally-funded hemophilia treatment centers are located in each state within the US.  These centers are experts in management of the disease. General hematology/oncology practitioners may not be experts or have the latest and greatest information related to this condition. You can find the nearest hemophilia treatment center (HTC) by visiting this site and typing in your city or state.
Do you have patients with hemophilia? Share your experience in the comments section of this post.
This post is part of a series discussing topics addressed during sessions of the 2016 National Conference on Correctional Health Care. All posts in this series can be found HERE.