Many of us have been closely watching the unfolding events surrounding the NY Prison Break over the last month. Here is a timeline of events, concluding with the death of convicted killer Matt and the shooting and capture of convicted killer Sweat in upstate New York. Early in the story Joyce Mitchell, a prison worker who managed the tailor shop with her husband, was taken into custody for her part is assisting the prisoners. It leads to an unhealthy inmate relationship.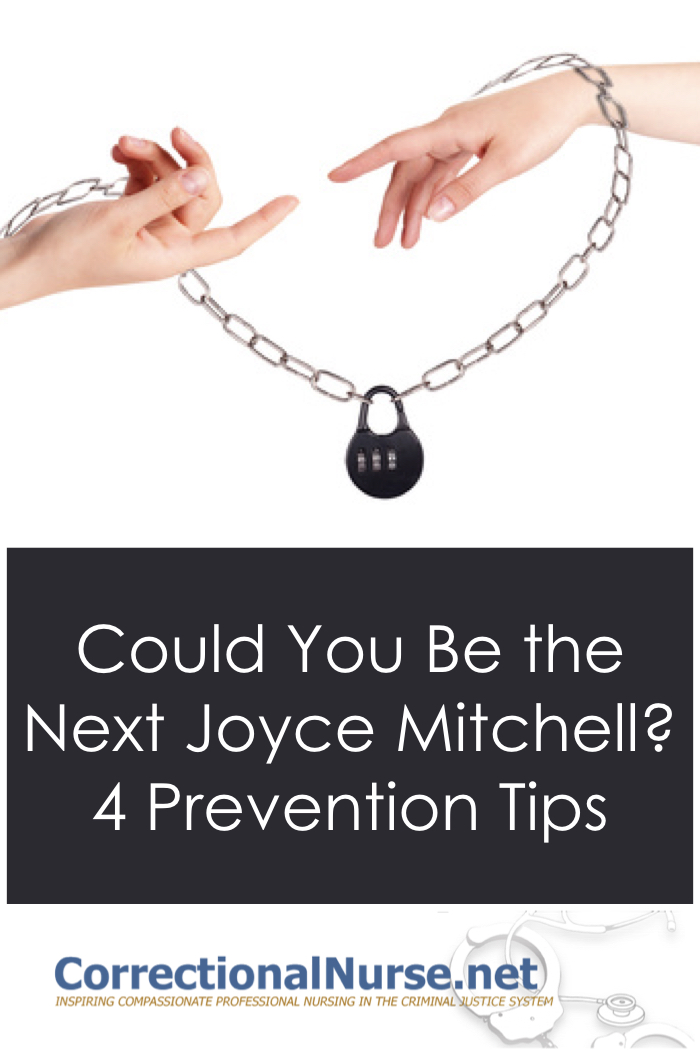 Joyce Mitchell – Unhealthy Inmate Relationship
Those unfamiliar with our patient population find it hard to believe that someone would develop an intimate relationship with a murderer and assist them in this way. Yet, unhealthy inmate relationships are a constant threat and should be a continual concern for anyone working in the criminal justice system. No one is immune to this work hazard. Here are my four prevention tips along with some links to prior posts and podcasts on the topic.
Know Your Patients
Prisoners are ten times more likely than the general population to have an antisocial personality disorder (ASPD). That means many of our patients are sociopaths or psychopaths; individuals who use others to gain what they want without remorse, guilt, or conscience. Among other things, that means that they may appear charming and charismatic in their interactions with you. Unfortunately, that charm is often 'turned on' in order to manipulate and deceive. Always be aware that things may not be what they seem in the words and actions of patients. Click here for more information about dealing with lying and manipulative patients.
Know Yourself
Most of us became nurses in order to help people in distress – the injured, ill, and suffering. This motivation can make us prey to antisocial patients. Empathetic people are natural targets for sociopaths. We are even more vulnerable when our emotional lives are in turmoil such as when we are having relationship issues (divorce or break-up), work stress (new job, discipline, understaffed), health issues (illness, pregnancy, new baby) or are under financial stress (foreclosure, credit card debt). Be aware of your emotional and psychological state when dealing with this patient population.
Remember Where You Are
Many of us spend the majority of our time at work. What is unusual for most people (working behind bars) becomes normal and common place for correctional nurses. It can become so normal that you forget where you are and who is nearby. This can result in 'letting down your guard' and becoming too familiar with your patients. Talking about your personal life around workmates and patients alike can make you vulnerable to those interested in gaining rapport and influence. Small breaches of professional boundaries can lead to great harm. It is unlikely that Joyce Mitchell woke up one morning determined to help two murderers escape prison. But, she is reported to have been very chummy with at least one of them including bringing in meals.
Help Each Other
Manipulative patients will note any friction among staff members and use that to advantage. One of the best ways to avoid being drawn into an inappropriate patient relationship is to have good working relationships with your team mates. Present a united front before the patient population and keep any friction or personality differences for behind the staff-room doors. Talk openly in staff meetings about professional boundary challenges and be willing to confront team mates who may be slipping into danger. It seems hard to believe that no staff member noticed Joyce Mitchell's over familiarity with Matt and Sweat. Would life be different for her right now if someone had intervened?
Learn from this News Event
Could you be the next Joyce Mitchell? It is easy to become accustomed to your surroundings and lose sight of the relationship goals of some of your patients. We can all learn from the recent events at Clinton Correctional Facility. Take this opportunity to double down on your professional boundaries with patients and have a conversation with your workmates about how to prevent inappropriate relationships from starting.
Resources to Keep You Safe
Working with Inmate-Patients Series
Podcast Episodes
What tips do you have for avoiding unhealthy patient relationships? Share your thoughts in the comments section on this post.
Photo Credit: © boule1301 – Fotolia.com