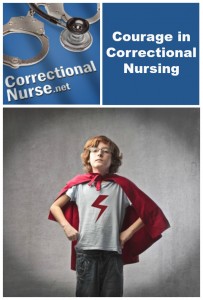 I'm at the International Association of Forensic Nursing Annual Scientific Assembly this week drinking in the sunshine of lovely Puerto Rico (It IS an international association, after all!) and absorbing lots of information of importance to correctional nurses. As I pause to contemplate and apply what I've heard today, I am struck by the brief, but powerful, words of President Elect Polly Campbell at the Annual Meeting Luncheon. She spoke of the need for courage in our practice of nursing. How true that is. Did you know you were courageous in accepting the challenge to work with our patient population and in our work environment? Many nurses are not that bold. They do not seek out experiences that involve security escorts, the clanging of automatic barred doors or the need to have their personal belongings searched when entering and leaving the workplace. Yes, you are a courageous nurse!
Polly suggests three categories of courage needed for our profession. These come from the courage to be a great leader. Let's apply them to our work:
TRY Courage: The courage of initiative and action— making first attempts, pursuing pioneering efforts and stepping up to the plate
TRY Courage motivates us to act when needed – even if it is hard. Have you had to advocate for the needs of one of your patient? Have you had to confront cruel or disrespectful actions of a staff member? Have you had to address inappropriate patient behavior? It takes courage.
TRUST Courage: The courage of confidence in others— letting go of the need to control situations or outcomes, having faith in people and being open to direction and change
TRUST Courage allows us to let go of controlling the outcomes of what we do. We are responsible for right action, but can't control the outcomes of those actions. Do you have the courage to take a right action and let go of the outcome? You are a courageous nurse.
TELL Courage: The courage of voice— raising difficult issues, providing tough feedback and sharing unpopular opinions
TELL Courage is the courage to speak up when the issue is difficult or you are the only one in the situation who is disturbed. Correctional nurses are sometimes put in situations where there are no other health professionals available for consultation. Social pressure might be applied to 'go along' with the situation. Have you spoken up in a difficult situation? You are a courageous nurse.
How can you be courageous for your patients or your fellow staff members in your work this week? Are you willing to meet the challenge? Share your stories of courage in the comments section of this post.
Photo Credit: © olly – Fotolia.com