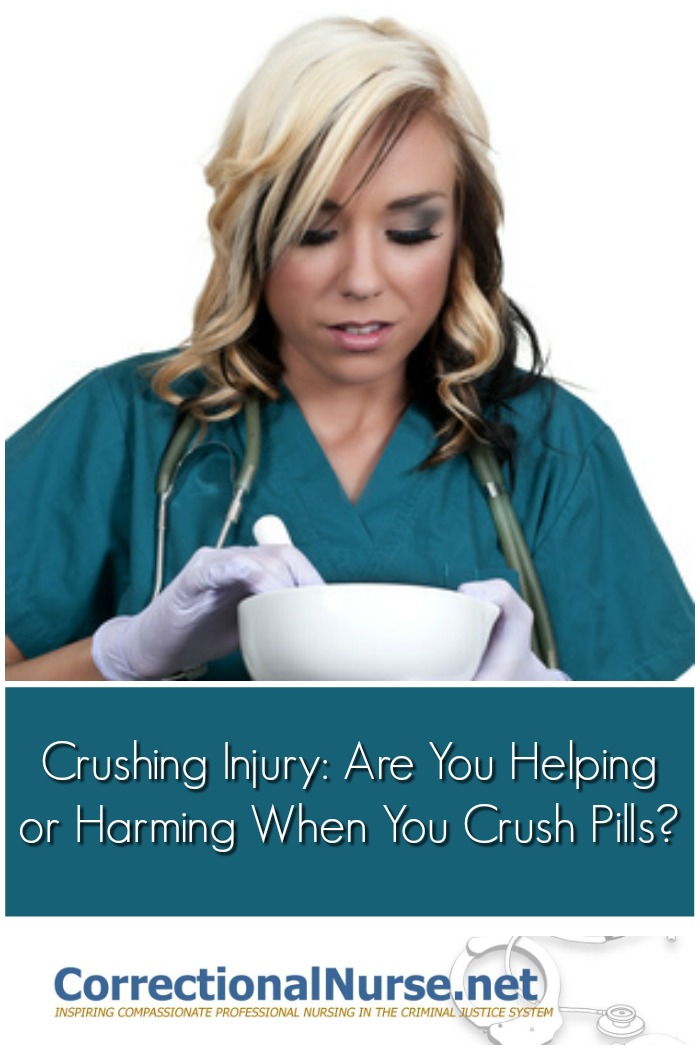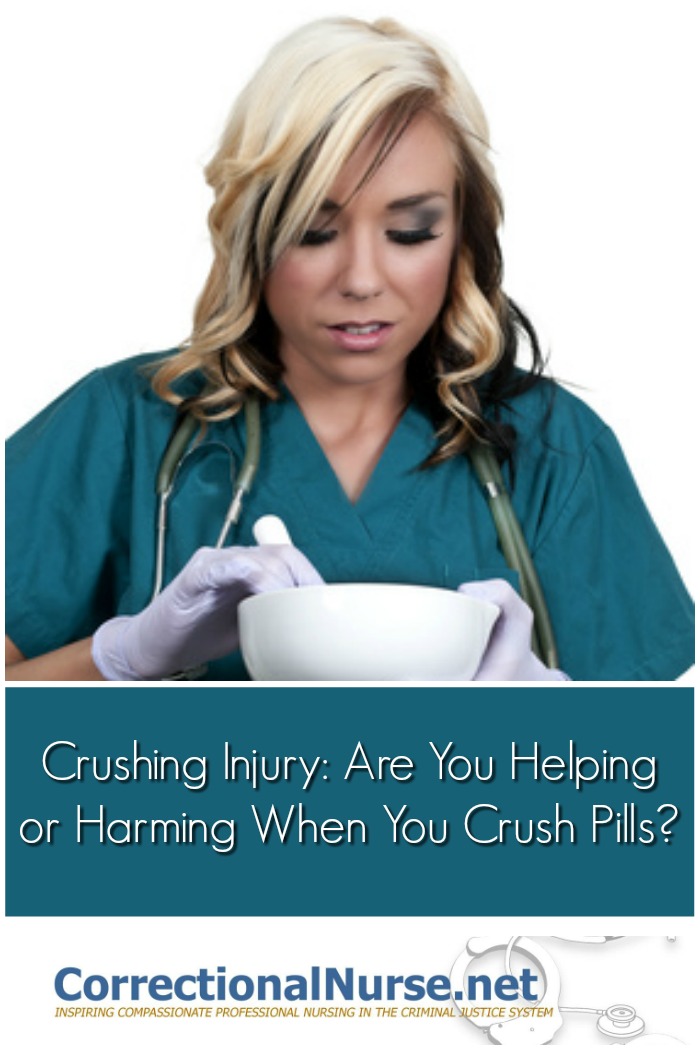 Inmate Dexter was found cheeking his psyche meds. The facility has a blanket policy that all narcotics are crushed and, in addition, all pills are crushed for patients found to divert their medications. This morning he is to receive Effexor XR, Ery-Tab, and Kaletra. Now what?
Some correctional systems require that medications be crushed to avoid diversion. There are few studies about this practice and many concerns. Besides the increased time needed to crush medications, some formulations are not absorbed correctly once crushed. In particular, time release capsules and slow-release tablets are based on the medication remaining in the manufactured format for correct absorption. Other medications are caustic to the intestinal system and require enteric coating to avoid adverse effects. Thus, pharmacy experts strongly advise against crushing both time-released and enteric coated preparations. The ISMP provides a detailed listing of medications that should not be crushed.
Little is available on the practice and outcome of crushing medications in the correctional setting but much can be learned from observation of nursing practice in long-term care. One study in Australia found many medications being crushed with communal crushing equipment and multiple medications being crushed at the same time. Both practices can cause adverse effects or expose patients to an allergic reaction according to experts.
Crushing Injury: Are You Helping or Harming When You Crush Pills?
Harm to Patient – Harm to Nurse
Other concerns with indiscriminate crushing of medications is the possibility of teeth staining and irritation of the mouth, esophagus, and stomach lining.  Binders or other substances included in the tablet formation may be needed to buffer Ph or other irritating qualities of the medication. The erythromycin (Ery-Tab) that Inmate Dexter is to receive is enteric coated for this purpose.
Opening capsules or crushing medications can be harmful to staff, as well as patients. Exposure to active ingredients may be carcinogenic and harmful to an unborn fetus (teratogenic or fetotoxic). Sensitive individuals may have an allergic response. In the example above, Kaletra should not be crushed and a pregnant staff member should not come in contact with the active ingredients.
Harm to the Treatment Plan
The effectiveness of medication can be altered or eliminated by crushing. For example, medications that are sublingual or effervescent should not be crushed for this reason.
Medication toxicity can result when sustained-release or extended release tablets are crushed or capsules opened. The patient may receive the entire dose immediately rather than over a longer time period, as intended by the formulation. Inmate Dexter's Effexor XR is such a medication.
Sometimes you can immediately identify these danger medications by their prefix or suffix. Common controlled-delivery indicators are:
CC
CD
CR
ER
LA
Retard
SA
Slo-
SR
XL
XR
XT
Time Pressed
Crushing medication properly is a time-consuming operation that can increase the time-stress of medication administration, thus increasing error risk. So, medication crushing should not be required indiscriminately but used judiciously when necessary for the patient and patient community's safety. For example, some settings limit crushing to highly abused medications such as psychotropics and narcotics. Other settings require crushing for individual patients who have been identified as diverting their medications like Inmate Dexter.
Avoiding Crushing Injury
Based on the literature (also here, here, and here) the following safety measure should be considered when crushing medications.
Establish a list of common medications that should not be crushed.
Limit crushing to high risk medications or high risk patients to reduce error potential and increase medication administration efficiency.
Require the prescriber to order crushing as the mode of PO administration.
Require pharmacist oversight of crushing (through the order) as a double check that medications ordered for crushing are appropriate for this delivery method.
Transcribe crushing as the route of administration onto the MAR.
Make every attempt to obtain the medication in liquid formation to avoid crushing.
Only crush medications with approved devices. Use a fully self-contained device. Avoid mortar and pestle or twist devices that need cleaning between doses.
Use individual packets with communal crushing devices to eliminate the potential for mixing medications.
Do not make a slurry of combined medications. Each crushed medication should be administered separately to avoid incompatibilities.
Mix crushed medications with water and not food (like applesauce) or other liquids (like juice) that might interact with the medication.
Another good practice is to eliminate highly abused medications from the formulary; replacing them with an appropriate substitute of lesser abuse potential. Quetiapine (Seroquel), gabapentin (Neurontin), and bupropion (Wellbutrin) have been eliminated as options from some jail formularies due to the high level of abuse in the particular inmate population. While this may reduce abuse, it is important to have alternative medications on formulary to use when therapy is needed for an actual patient condition.
What about Inmate Dexter?
Inmate Dexter's medications were delayed while the med nurse consulted with the pharmacy about options for his daily medications. Although not the most convenient solution; it was the safest and best practice. Later that day she set up a nurse sick call appointment for him to discuss the reason for his medication diversion. The root cause needs investigated. For example: Is it because he doesn't want to take the med? Is it a medication that someone else is pressuring him for? Is it something he thinks he can sell? Armed with this information, she plans to discuss the situation with the provider to see if there are any alternatives such as medication discontinuation or exchange.
What do you do when pills need crushing in your practice setting? Share your procedure and best practices in the comments section of this post.
Photo Credit: © Rob Byron – Fotolia.com