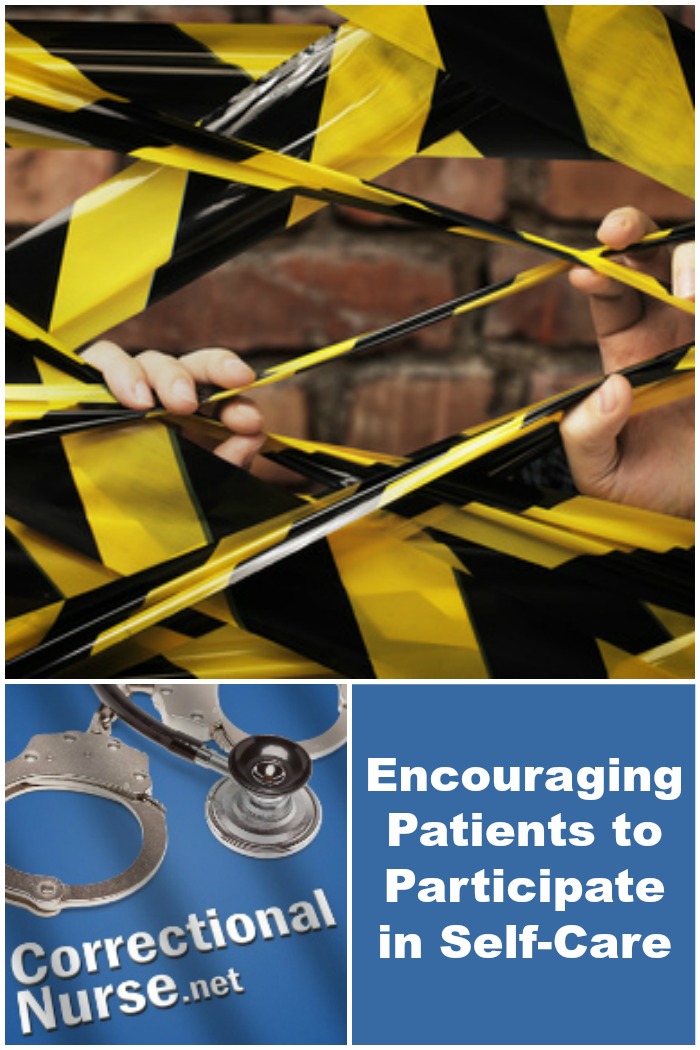 One of the challenges of correctional nursing is engaging patients as full participants in their healthcare. Depending on the organizational culture, you may have limited opportunity to encourage your patients to manage their healthcare needs. Yet, the majority of our patients will be released to the community and they need to take on the responsibility for their health and well-being. Here are a few barriers we must overcome to be able to involve our inmate-patients in their healthcare.
Paternalistic Culture
Some correctional settings have a culture that devalues the patient and discourages patient input in other areas of life. A correctional culture based on order, control, and discipline could stall efforts to actively engage patients in care decisions and therapy monitoring.  A paternalistic culture can develop in a correctional setting where inmates are controlled and are not expected to make personal decisions. This hinders patient engagement in their healthcare and reduces motivation toward self-care activities.
Patient Preparation
The patient population can be ill-prepared to actively participate in their own health care. Limited English proficiency and low literacy levels can make self-care difficult. The inmate patient population is less educated than the general population and is twice as likely to have learning disabilities. It is also difficult to get an accurate evaluation of literacy from the patient's self-report as inmates are more likely to over-estimate their reading and comprehension abilities. The patient's unwillingness to participate in their own care can also be a barrier.
Practitioners Behaving Badly
Practitioner behaviors can also inhibit patient involvement. Involving patients in care provision involves a time-commitment that clinicians may be unwilling or unable to make. In addition, a continuing paternalistic medical culture combine with pervasive attitudes about the correctional patient population can result in an authoritarian stance toward the patient that inhibits involvement. Here are some practitioner behaviors that block patient involvement. Have you seen any of these behaviors in your setting?
Defending an action and blocking continued expression of concern
Interrupting and finishing sentences for the patient
Deliberately changing the subject when uncomfortable
Citing policy as a reason for an action
Minimizing patient's concerns
Condescending comments about patient concerns
Not following through on promises
A primary role of the nursing profession is that of patient advocate. Correctional nurses can advocate for patient involvement in their healthcare. Even small changes can make a difference.
How do you involve patients in self-care in your setting? Share your thoughts in the comments section of this post. 
Photo Credit: © Stocksnapper – Fotolia.com