Unfortunately, your psychopathic correctional patient is not as easy to identify as the fellow in the pix. He or she will be quite charming and attentive. If you aren't careful, you will be drawn right into his current scam. Nurses working medical are not always savvy about the ways of the criminally insane. Always be on the alert for the subtle manipulation of the psychopath. There are many of them to be found in corrections. Although an estimated 1% of the general population have this condition, between 15-20% of your inmate-patients could be classified as psychopathic. Become familiar with the characteristics so you can be on guard.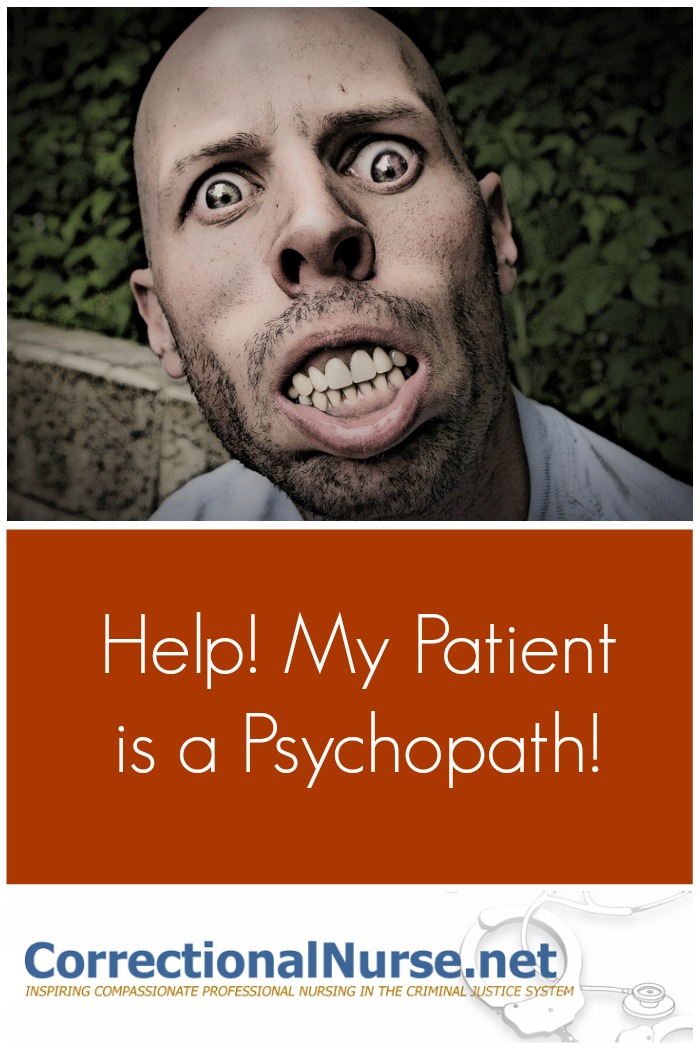 What to Look For
Robert Hare, PhD, considered the top expert on the Psychopathic Personality, created a list of common characteristics. How many of them describe patients arriving at your sick call or medication line?
Characteristics of a Psychopath
superficial charm
self-centered & self-important
need for stimulation & prone to boredom
deceptive behavior & lying
conning & manipulative
little remorse or guilt
shallow emotional response
callous with a lack of empathy
living off others or predatory attitude
poor self-control
promiscuous sexual behavior
early behavioral problems
lack of realistic long term goals
impulsive lifestyle
irresponsible behavior
blaming others for their actions
short term relationships
Protect Yourself
Unless you are working the mental health side, your job is not to 'treat' the psychopathy, but to be aware of it and protect yourself. Psychopaths will use every interaction to their advantage. They are astute at discerning another person's vulnerabilities and they prey on hurting people. Staff members who are lonely, insecure or self-involved are good candidates for the manipulation of a psychopathic inmate. Nursing careers have ended when nurses have been drawn into sexual relationships or nefarious activities such as smuggling contraband or diverting narcotics for these individuals. Guard yourself. Know the characteristics. Keep yourself and your teammates accountable to stop potential issues before they move to a dangerous level.
Firm, Fair, Consistent
Protect yourself by treating all inmate-patients with strict professional behavior and demeanor. Follow all security rules of conduct. Here are a few tips.
Don't get personal. If an inmate comments about your hair or your figure, call them on it. If the comments continue, report them.
Do not perform even the smallest 'extra' activity for an inmate. That cotton ball or paperclip is the first step down a slippery slope.
Treat all inmates with equal respect and professional distance. Do not show any favoritism and do not allow any in return.
If you think you may have already been compromised, report it immediately to your supervisor and take actions to halt the progression. This may include reassignment to another care unit to break the connection.
Have you come across psychopaths as described above in your practice? Tell us your experiences in the comments section of this post.
Resources: