New York State is considering increased oversight of HIV inmates' care. This article had me considering the many issues and barriers to providing care for inmates with HIV. To be sure, healthcare providers have education, drug protocols and clinical practice guidelines specific for the correctional environment. Many of the medication regimens have been standardized and commonly available through prison pharmacy distributors. However, several elements of the operation of correctional facilities and the patients themselves mitigate against consistent care.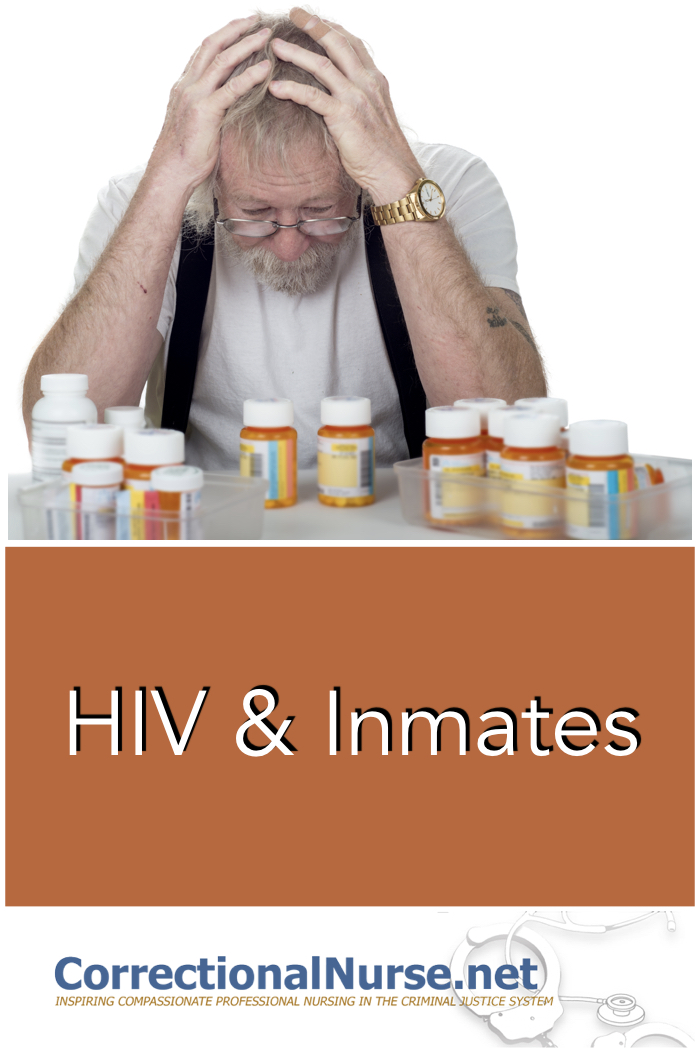 HIV Inmates
HIV is Now a Chronic Condition
Due to advances in treatment and pharmacologics, HIV is now considered a chronic condition. This can result in less attention to the details – not good for long-term outcomes. Many prison medical units now place HIV inmates into an Infectious Diseases Chronic Care Clinic. This is a good practice, as is regularly scheduled visits with ID specialists. The advent of televideo medicine allows for this specialty care practice without the burden of specialist access beyond the security perimeter.
HIV Treatment Requires a Well Educated Patient
The complexities of the treatment plan and medication regimen can overwhelm the most educated of individuals. The average inmate is undereducated and undermotivated toward long-term health, although there are always exceptions to this generality. Information about their condition and directions for any actions on their part need to be clear, simple and repeated often. This information can be mixed with social myths and misconceptions. An open and honest communication channel allows these myths to emerge and be dispelled.
DOT or KOP Medications – Decisions, Decisions
The two options for medication administration in corrections are DOT (Direct Observation Therapy) which requires the inmate to come to a pill line and receive a single dose of medication where it can be observed to be taken, or KOP (Keep on Person) which allows the inmate to self-medicate, having been given a 30 day supply of the prescribed medication.
DOT is inconvenient for the inmate but assures more consistent treatment. KOP allows inmate independence and self-care but requires a highly motivated and diligent patient. Both are used for HIV management depending on the philosophy of medical and correctional leadership.
Inmates Don't Stay in One Place
I know this may seem hard to believe – it was for me – but inmates are not always that easy to find. Just when they are settled into a routine at one of the state prisons, there is a reason for transfer. Security may need to transfer an inmate related to classification, time remaining in the sentence or due to altercations, gang activity, or attempted collusion. In any case, the inmate is moved to another facility. Communication of medical condition or treatment plan can be missed since a medical condition is not a primary consideration, but secondary to the security issue warranting the move.
For all these reasons, and some I probably missed, HIV inmate care will remain a challenge. It requires a well-running system to overcome the inherent barriers to care in a security environment. Many medical units find success through the designation of a nurse who provides case management for the HIV inmates in the facility. However, all staff members, from those working sick call to those working the med pass line, must understand their role in the HIV treatment plan.
What are your thoughts on HIV inmate care? I look forward to your comments.
If you like this post, you might like to visit:
Botulism and Prison Brew
What's Bugging You? Lice Identification and Treatment
Hand Hygiene Challenges for Correctional Nurses
New Latent TB Regimen from CDC: Good News for Correctional Nurses
Correctional Nurses Keep Infection Under Control