Workplace violence is an increasing concern in all care settings. Jails and prisons are full of angry people with poor impulse control. Correctional nurses need skills in deflating potentially violent situations in their clinical practice. They will need to deal with inmate anger.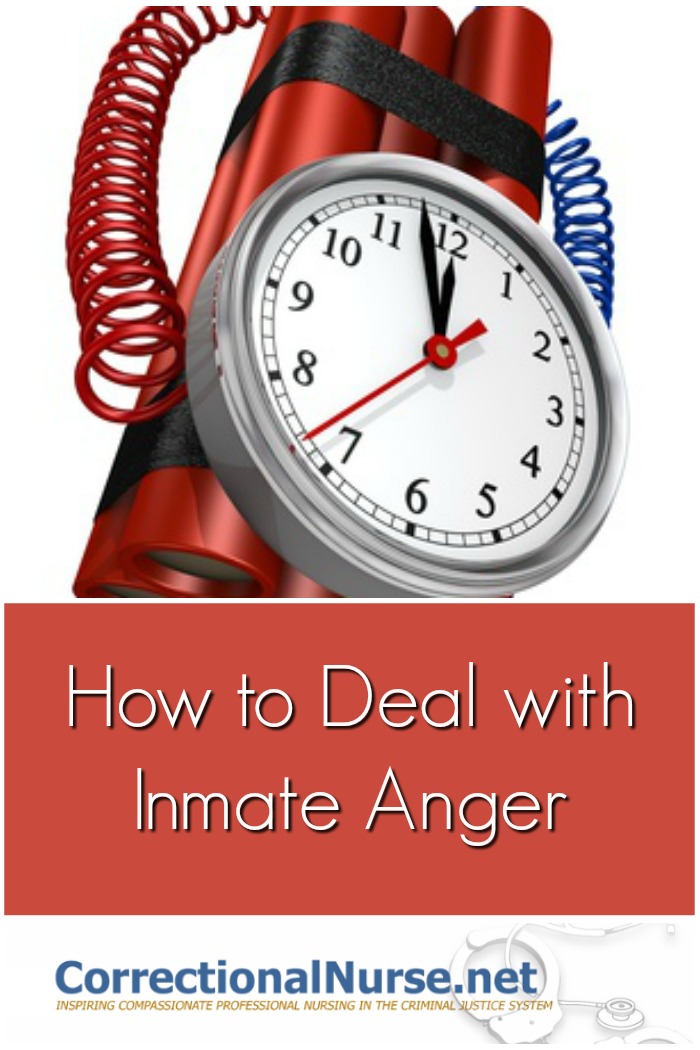 Preventing anger from escalating to violence is a primary tool to increase personal safety in this setting. The nurse's demeanor in a nurse-patient interaction can diffuse potential anger from developing. A positive assertive presence can help reduce anger escalation in a tense patient situation. Being neither aggressive nor servile in responding to an angry patient has been shown to assist in keeping the situation from getting out of hand. Three possible types of responses to anger are aggressive, assertive, or servile. Aggressive and servile are on opposite ends of the spectrum and should be avoided, but it takes practice.
Aggressive responses to an angry patient can be risky. Aggressive responses are arrogant and make the patient feel insecure. Aggressive communication shows indifference to the causes of the situation, is commanding and uncompromising. It shows a lack of concern for the patient.
On the other end of the continuum, servile responses to anger are over-cautious. A servile response seeks to placate the angry person by seeming to do what they want. This can include making unrealistic promises or unreasonable concessions. A nurse might respond to anger in this fashion when feeling intimidated. This type of response can encourage an angry patient to escalate the anger further.
A positive, assertive stance is more likely to de-escalate an anger situation.  This response values the patient and aims to reduce fear. The nurse provides guidance to the patient about the situation, attempting to negotiate a workable solution. This can have a calming effect and lead to resolution.
How to Deal with Inmate Anger
Give extra personal space, double the usual handshake distance. This is not only calming but provides a safety buffer should things get physical.
Listening is an action that can reduce anger. Show by both body language and conversation that you are concerned about what is causing the anger.
Respond to the concerns of the individual using a calm tone and demeanor.
Use mutual negotiation and shared problem solving if dealing with a rational patient
In all cases, engage the assistance of available corrections officers if the patient is irrational continues to be agitated or shows any signs of physical violence.
Have you had to deal with an angry patient? Share your tips in the comments section of this post.
Information in this post was adapted from:
Nau, J., Halfens, R., Needham, I., Dassen, T., (2009). The de-escalating aggressive behavior scale: development and psychometric testing. Journal of Advanced Nursing, 65(4), 1956-1964.
Photo Credit: © mipan – Fotolia.com