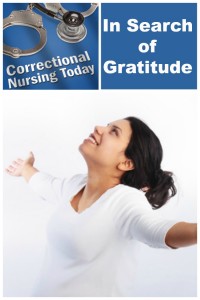 Let's face it, I'm a whiner. Yes, given the choice between appreciating a situation and complaining about it, I will regularly choose the later. According to a study of human nature, I am not alone. Without focused attention, we humans will look on the downside of most experiences. That's why I so appreciate having a holiday every year that focuses on gratitude and thankfulness. What better way to re-center our thoughts on the good in our lives and the contributions of others? Oprah Winfrey had it right – "Be thankful for what you have; you'll end up having more. If you concentrate on what you don't have, you will never, ever have enough." With that in mind, I'd like to offer my Thanksgiving gratitude list (not in any particular order):
Correctional Nurses: Frankly, I didn't know correctional nurses existed 10 years ago. When I discovered this invisible nursing specialty, I know I found a home. It has been a blast getting to know so many nurses who work in difficult environments with often-difficult patients. Our patient population is marginalized and vulnerable, frequently forgotten by society and the traditional healthcare system. I am grateful for your work on behalf of our patients and delighted to have meet so many of you in my travels and through this blog.
Blog Readers: Speaking of blogs, I am still energized by seeing over 2,000 unique visitors each month to correctionalnurse.net. You are my inspiration and the focus of my efforts.
Professional Associations: I am truly thankful for professional associations like National Commission on Correctional Health Care and the International Association of Forensic Nurses. These organizations do great work in advancing correctional nursing practice and providing a wonderful venue for networking and communication.
Correctional Nurse Colleagues: Over the last 8 years I have had the privilege of meeting some exceptional nurse leaders through this blog, Facebook, Twitter, and at conferences. These nurses have inspired me and challenged me to the next level in my professional practice.
My Family and Friends: Without the support of my husband, family, and friends I could not do what I do. Those I know who have a much family stress and drama have no energy left to create new things. I often forget that I am free to write and speak and learn new things because I have a great support system.
A God Who Cares: Having a caring God who made me unique and expects me to use the gifts He gave me is also a cause to be thankful. Even when everything is 'going wrong' there is a comfort in knowing there is a plan in play and I don't necessarily need to know what it is. I do need to do my part, though, by making a difference where I am with what I have been given.
Cultivating Gratitude in the Year Ahead                      
I am inspired to renew my efforts to reduce whining and increase appreciation this coming year. Are you with me on this? Psychology Today offers these two practical recommendations to put into regular practice:
Count Your Blessings
Say Thanks
I am resolved to do more of both! Will you join me in my efforts to 'keep on the sunny side' in the days ahead? Leave your suggestions and encouragement in the comments section of this post.
Photo Credit: © Monart Design – Fotolia.com