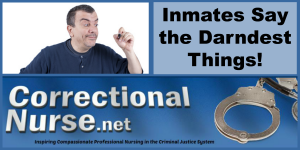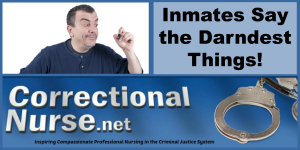 I've written before about the literacy level of our patients. This is not meant in any way to belittle or trivialize their plight. However, they DO send us some interesting messages via sick call slips with some frankly funny requests. I gleaned these gems from my friends over at the correctional nursing forum on allnurses.com. This is a great community of nurses struggling to provide care to our needy patient population and I recommend this group as a place to connect and chat about our specialty.
I have Fishers
I am having trouble with towel movements. Please give me something to move my towels
I need a pedicure- my feet scrubbed, rubbed, and exfoliated
swollen phallus and itchy knutz
Have you had a chuckle over an inmate sick call request? Share your experience in the comment section of this post.
Photo credit © mico_images – Fotolia.com