It's that time of year again-Summertime. Time to be hot and bothered at work if you are one of many correctional nurses working in a setting that lacks air conditioning. Then, you need to keep your cool. It is a heat injury alert. Jails and prisons were not built for comfort and many older ones are without air conditioning or even good ventilation. Heat injuries such as heat exhaustion and heat stroke should be on our minds when evaluating vague patient symptoms during the summer months; especially when the weather is both hot and humid, like many of our southern states. For example, as identified in a recent lawsuit, most of the Texas state prisons are without air conditioning, although some have climate control in the medical unit. So, what should you do to identify and treat heat injuries?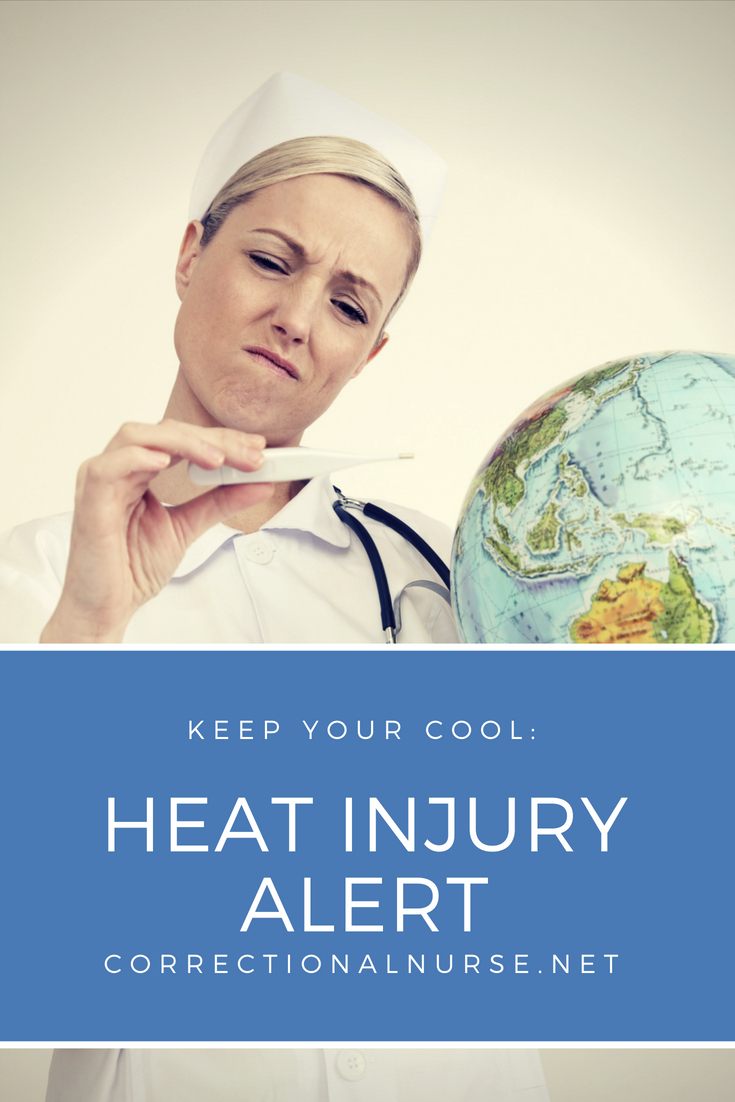 Heat Injury Alert
Vulnerable Conditions
Although anyone can succumb to heat and humidity, the young and old have fewer reserves to overcome heat stress. If possible, move patients with the following conditions to special housing or provide with additional monitoring and fluids during high heat alerts.
Elderly
Heart disease
Pulmonary disease
Mental illness
A main reason those with the above conditions are prone to heat-related illness is the medication they are likely prescribed. The following medications or substances increase heat injury risk.
Anticholinergics (Atrovent, Chlor-Trimeton, Cogentin, Spiriva)
Antihistamines (Allegra, Benadryl, Zyrtec)
Benzodiazepines (Klonopin, Librium, Valium, Xanax)
Beta blockers (Atenolol, Corgard, Lopressor)
Calcium channel blockers (Cardizem, Norvasc, Procardia)
Diuretics (Chlorothalidone, Diuril, Lasix)
Neuroleptics/Phenothiazines (Haldol, Mellaril, Prolixin)
Tricyclic antidepressants (Pamelor, Tofranil, Vivactil)
Rapid Cooling and Hydration for Heat Injury
Heat exhaustion and heat stroke are the two most common heat injuries, although sunburn and heat cramps are also often listed.  In heat exhaustion, the body is decompensating having difficulty maintaining normal body temperature in an extended high heat situation. Heat stroke begins when the body becomes unable to keep internal temperatures in a livable range. Without intervention, heat exhaustion can progress to life-threatening heat stroke. Here is a quick comparison of the presentation and treatment of heat exhaustion and stroke.
Heat Exhaustion Presentation
Body temperature under 104 degrees F
Heavy sweating
Muscle and stomach cramps
Headache
Nausea or vomiting
Tiredness, weakness
Dizziness and fainting
Heat Stroke Presentation
Body temperature above 104 degrees F
Hot, dry skin
Confusion, strange behavior, seizures, or unconsciousness
Rapid pulse
Throbbing headache
Nausea
As you can see, many of the symptoms are similar as heat stroke is an intensification of heat exhaustion. A differentiating factor is the change from heavy sweating to hot, dry skin. In both cases, treatment focuses on rapidly cooling and hydrating the body. Heat stoke definitely requires hospitalization while heat exhaustion, if mild, can be treated at the facility and may require infirmary monitoring.
Move to a cool area (Shade, AC)
Remove or loosen restrictive clothing
Rehydrate with fluids
Use evaporation methods

Spraying water on the body and fan the air
Sponge body with cool water

Rest
Monitor until body temperature returns to normal
Move to a cool area (shade, AC)
Removal of restrictive clothing
Use evaporation methods

Spraying water on the body and fan the air
Sponge body with cool water
Covering the patient with cold water–soaked sheets
Place ice packs in the axillae and groin

Supplemental oxygen, if available
Prepare for possible initiation of IV therapy
Prepare for transfer to acute care
Patient Education for Prevention
Helping patients to manage heat and humidity can prevent heat injury. These reminders are important for officer staff, as well.
Keep hydrated. This can be difficult where bad-tasting water and fruit-flavored Kool-Aid are the only options. Advocate for healthy fluid options for your patients when possible. Ask about fluid intake during your subjective assessments.
Reducing physical exertion. Now is not the time for basketball competitions or lifting challenges. Many inmates are on outdoor work duty with many hours in the sun. Be mindful of the work status of inmates coming to sick call with symptoms of dizziness, weakness, headache, and general body tiredness. Instruct patients to take frequent rest breaks and seek out shaded areas at work and recreation sites.
Use available cooling methods. Teach patients evaporation heat reduction methods to stay cool such as sponging body areas with cool water and body fanning.
Personal Safety in the Heat
Don't forget yourself in your summer heat preparations. You are also vulnerable to heat injury. Even if the medical unit is air conditioned, many health care activities take place outdoors or in housing units. Be sure to follow all the instructions provided to patients. Stay hydrated and monitor your mental and physical status regularly. Urine output and characteristics can be a good indication of adequate hydration. If you are basically healthy, pale urine is an indication of appropriate bodily fluid volume and generally good kidney function. Concentrated darker urine or decreased urine output can indicate a need to increased fluids. Double up on the fluids you bring on shift. Water is always a better option than sweet or caffeinated drinks.
Do you work in a high-heat setting? How do you keep your cool and manage your patient's heat regulation during the summer? Share your thoughts in the comments section of this post.
Photo Credit: © OlegDoroshin