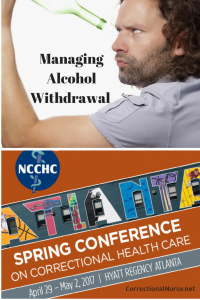 Andrea Moldstad, DNP, is a Nurse Practitioner with Mayo Clinic Health System, Mankato, MN and Renee Dahring, NP, CCHP, provides services at Ramsey County Adult Detention Center, St. Paul, MN. This post is based on their session "Alcohol Withdrawal Management Protocols and Staff Education" taking place at the 2017 Spring Conference on Correctional Health Care in Atlanta, April 29-May2. Learn more about the conference HERE.
Alcohol withdrawal can be a big issue in the correctional population.  Individuals coming into the correctional system have a high incidence of chemical dependency.  In fact, in Minnesota, 90% of incarcerated individuals have a history of chemical dependency. This is especially an issue for individuals just entering the correctional system following arrest where they will have their first stretch of abstinence.
Urgent Concerns
Alcohol withdrawal is life threatening in some cases and failure to recognize the symptoms and provide appropriate management can be dangerous. The most urgent concerns are the management of the hyperexcitable state of the central nervous system which produces the symptoms of withdrawal.  Symptoms management is of the utmost importance. When symptoms are well-controlled, outcomes improve.
Withdrawal from alcohol causes increased excitability in the nervous system leading to the following manifestations.
Confusion
Nausea and/or vomiting
Tremors, tremulousness, or agitation
Unsteadiness or lack of coordination
Delirium Tremens (DTs), a severe and life-threatening form of alcohol withdrawal can occure within 48-96 hours of the last alcohol intake if withdrawal is not effectively treated. DT mortality is 5-25% and has the following symptoms.
Disorientation, hallucinations, seizures
Tachycardia, tachypnea
Hypertension
Hyperthermia
Metabolic Collapse
Follow a Protocol
Because alcohol withdrawal is both a frequent and a high-risk situation for this patient population, a standard protocol needs to be in place for consistent assessment and treatment.  An alcohol withdrawal protocol should have these components.
When to Seek Provider Orders: If a patient is determined to be at moderate to high risk for alcohol withdrawal at intake, prescriptive therapy is in order.
Patient Evaluation Format and Timing: The Clinical Institute Alcohol Withdrawal Assessment (CIWA) is an objective evaluation tool for ongoing evaluation of alcohol withdrawal symptoms. The ten measures of withdrawal severity provide a numeric score of the patient's progress through the withdrawal ordeal. Timing of assessments can be determined by the intensity of the symptoms such that higher scores indicate a need for more frequent evaluations.
Benzodiazepine Therapy:  While some correctional providers recommend long-acting options, such as Valium, as they have the ability to self-taper over time, the FBOP guidelines recommends Ativan, a shorter-acting option.
Vitamin Therapy: Many alcohol-dependent patients will be malnourished and particularly thiamine deficient. Withdrawal protocols often include thiamine replacement therapy.
Symptom Management: While many withdrawal symptoms are reduced through benzodiazepine therapy, there can still be symptoms to address such as headache and nausea. Comfort measures like pain relievers and anti-emetics should be a part of the protocol.
Nutrition and Hydration: Dehydration and nutritional deficits can lead to electrolyte imbalances and hypoglycemia. Encouraging eating and drinking is important. Daily blood glucose checks may be a part of the protocol for high-risk patients.
Staff Education
For patient evaluations to be consistent, staff must be educated on the proper use of tools such as the CIWA scale. Studies have shown the most effective way to educate staff is through self-paced learning module in which the adult learner is able to direct their own learning.  Case studies have also been shown to be an effective means to practice implementing protocol processes.
What has been your experience with alcohol withdrawal and using the CIWA evaluation process? Share your thoughts in the comments section of this post.
This post is part of a series discussing topics addressed during sessions of the 2017 Spring Conference on Correctional Health Care. All posts in this series can be found HERE.