On Mother's Day our thoughts turn to our own Moms and the relationship we have as sons and daughters. Correctional nurses working today in jails and women's prisons come into contact with mothers who may have not seen their children in a long time. They may be estranged from their children or worried about their care and safety.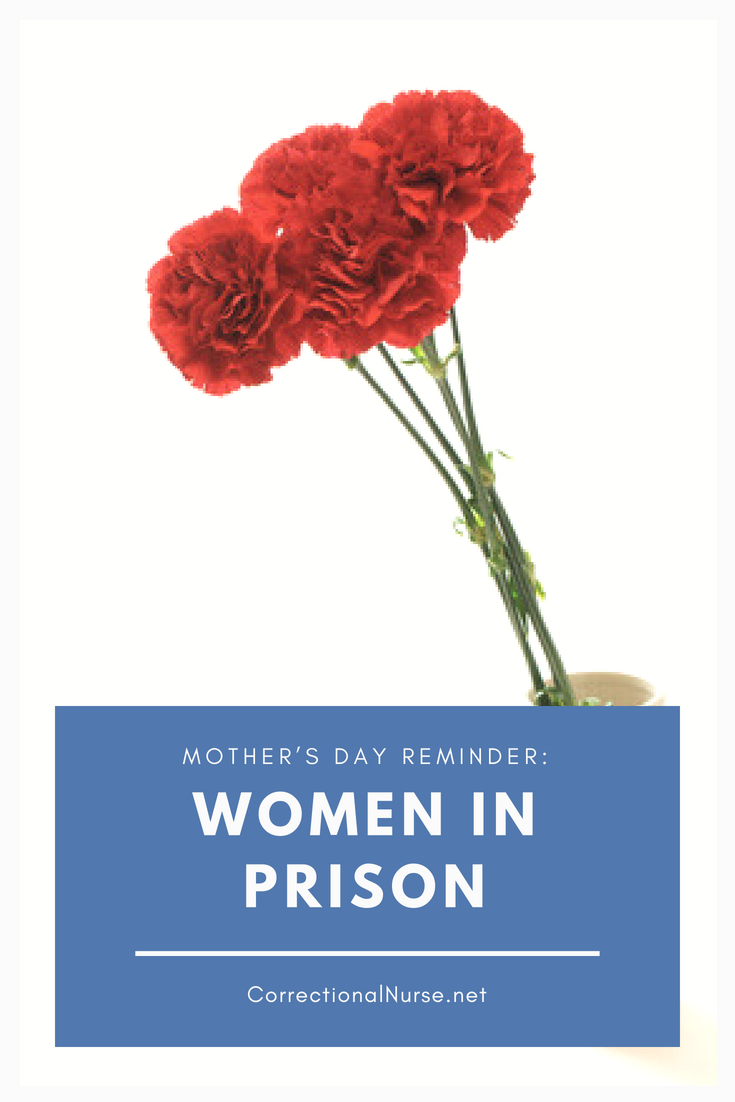 Women in Prison
A Bureau of Justice Report indicates that the majority of female prison inmates have minor children (62% of state and 56% of federal). More than half of these inmates were the primary financial support for their children.  While incarcerated, mothers depend on others to care for their children – the majority are cared for by grandparents (42%) followed by fathers (37%) and other relatives (23%). The remaining 19% are in foster care or with a friend.  This can be an additional life stress while in custody.
The specialized needs of female prisoners along with the small numbers relative to the size of the male inmate population means there are often only one or two locations for female prisoners in a large geographic area. Women in prison, therefore, can be kept a great distance from their children, family and friends, making visitation difficult. The isolation created by geographic distance can be intense. Female inmates received fewer visitors than their male counterparts. Add to this the relational nature of this gender and a great desire for belonging and group identity emerges.  Pseudo-family units provide financial, psychological, and safety benefits to inmates and can be, but are not always, sexual in nature.
How does this affect correctional nursing practice? Correctional nurses have opportunity to assist in encouraging parenting skills for inmate mothers as they relate to healthy living and disease prevention.  If you note a female inmate is interested or concerned about her children, use this as an opportunity for patient teaching. Be alert for pseudo family groups in your patient population. The interaction within female family groups can impact care and communication with the nursing staff. Patients may seek the input and approval of pseudo-family members before agreeing to critical treatments or procedures.
A special Happy Mother's Day to all my correctional nursing Mom's who are spending this day on shift. Thanks for all that you do to provide care for disadvantaged, marginalized and difficult Moms in our patient population.
Do you have a story to share about Mother's Day in correctional nursing? Do tell…….
Photo Credit: © Contrail – Fotolia.com
If you like this post, you might like:
Older Women in Prison: Menopause and Osteoporosis Concerns
Caring for Pregnant Women
Butterfly McQueen Would Not Make It as a Correctional Nurse
Dealing with Abused Women: Tips for Correctional Nurses
Are Women Inmates Special? WHO/UN Checklist