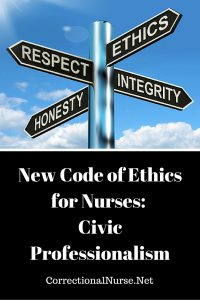 In 2015 the Code of Ethics for Nurses (Code) was revised to reflect the evolving profession of nursing as well as the changing social context of nursing practice. While the core values and ethical ideals of the profession are unchanging, the application and emphasis need re-evaluated regularly. In this way, the Code remains relevant and vital to nursing practice. The prior edition of the code is dated 2001 so this new edition reflects the changes in nursing practice context over more than a decade. Certainly, health care has changed in 14 years and so has correctional health care. This change is reflected in the new Code of Ethics for Nurses.
Correctional Nurses in the Public Square
One significant area of increased emphasis is the growing involvement of nurses in national, international, and global health care issues. This has been identified as the application of Civic Professionalism; setting nursing practice within the broader moral and political context that shapes health and health care.
Although the individual nurse-patient relationship is the backbone of nursing practice, the profession of nursing seeks to promote the health, welfare, and safety of all people. This ethical principle is embedded in Provision 8 of the Code:
The nurse collaborates with other health professionals and the public to protect human rights, promote health diplomacy, and reduce health disparities.
A Need for Civic Professionalism in Correctional Practice
Correctional nurses, in particular, are well-positioned to collaborate with others toward these ends. Human rights issues and health disparities abound among the incarcerated patient population. Many of our patients enter the system having been without access to health care, are homeless, or come from abusive backgrounds. While in the criminal justice system they can experience degrading, humiliating, and traumatizing situations. Indeed, there is much injustice in the criminal justice system.What, then, is the ethical response to the life condition of our patient population and to assault on their human rights?
Taking the Road Less Traveled
It may be natural to think of our nursing practice as merely a collection of interactions with individual patients during our assigned shifts behind bars. Yet, the Code of Ethics for Nurses clearly identifies our ethical responsibility to also engage in activities that will improve health care for our patients in a much broader sense. How can we, as correctional nurses, engage in a broader professional practice to affect the health of our incarcerated patient population. Here are a few ideas.
Children of Prisoners
More than half of our patients have children. These little lives are affected in every way by having a parent behind bars. We can encourage and participate in programs that maintain the parent-child bond through reading, reading programs, and increased visitation. Here are some facts about children of prisoners to get you started.
Health Care for the Indigent and Under-Served
Many of our patients have huge health care needs that go unmet once they are released. Could we participate in developing or supporting health care efforts for the underserved in our communities? Are there free clinics in your town that need some volunteers? Could local nursing schools be encouraged to place students in these settings?
Shackling the Pregnant Inmate
How are pregnant inmates transported to visits outside your facility? How about while they are delivering their child at the local hospital. Are they shackled to the delivery bed? In many systems, they are. For some time now health care organizations such as the American College of Obstetricians and Gynecologists (ACOG)  and the National Commission on Correctional Health Care have advocated the reduction of restraint use for pregnant and delivering women. A best practice document was developed by a collaboration of organizations in 2014 . Yet, in many systems, the practice continues. How can we, as correctional nurses, increase the safety of our pregnant patients?
Reducing Solitary Confinement
The health effects of solitary confinement are now well known and many organizations have encouraged change in this area; most recently the National Commission on Correctional Health Care. Yet, the practice of socially isolating individual inmates for long periods of time continues in many correctional facilities. As correctional nurses, we have an ethical responsibility to do what we can to reduce this practice. We can work within the structure of our own systems as well as through national organizations such as NCCHC and the Vera Institute of Justice to make solitary confinement a rare alternative in our settings.
Strength in Numbers
Although each of us is called to consider the public purpose of our nursing work, we are not able to meet our obligation alone. Only through collaboration with other health professionals and among our nursing peers can we hope to affect the health and well-being of our patients and their families. It is challenging to think about our correctional nursing practice in this broad way. Will you join me in exploring how we can make a lasting impact on the current and future health of incarcerated patients?
What do you think? How can correctional nurses engage in civic professionalism as part of our ethical practice? Share your thoughts in the comments section of this post.
The American Nurses Association (ANA) designated 2015 as the Year of Ethics for American nurses. I have personally designated 2016 as the Year of Ethics for Correctional Nurses. This year I will be blogging regularly about the Code as I write a book to help correctional nurses apply the Code of Ethics in our challenging setting. Read all posts about the Code of Ethics here.