The Centers for Disease Control and Prevention (CDC) announced recommendations for a new treatment option for latent tuberculosis infection (LTBI) this past week.  These recommendations are welcome news for correctional nurses challenged with managing LTBI treatment for their inmate population. Correctional nurses are in contact with a significant portion of the more than 11 million people in the US who are infected with the TB bacterium (4% of the population). Reports clock the incarcerated TB infection rate in US prisons at least 4 times higher. This rate is escalated further in under-developed countries. Improving behind-bars treatment of LTBI can significantly improve public health, in addition to the immediate benefit of decreasing infection transmission to inmates and corrections staff.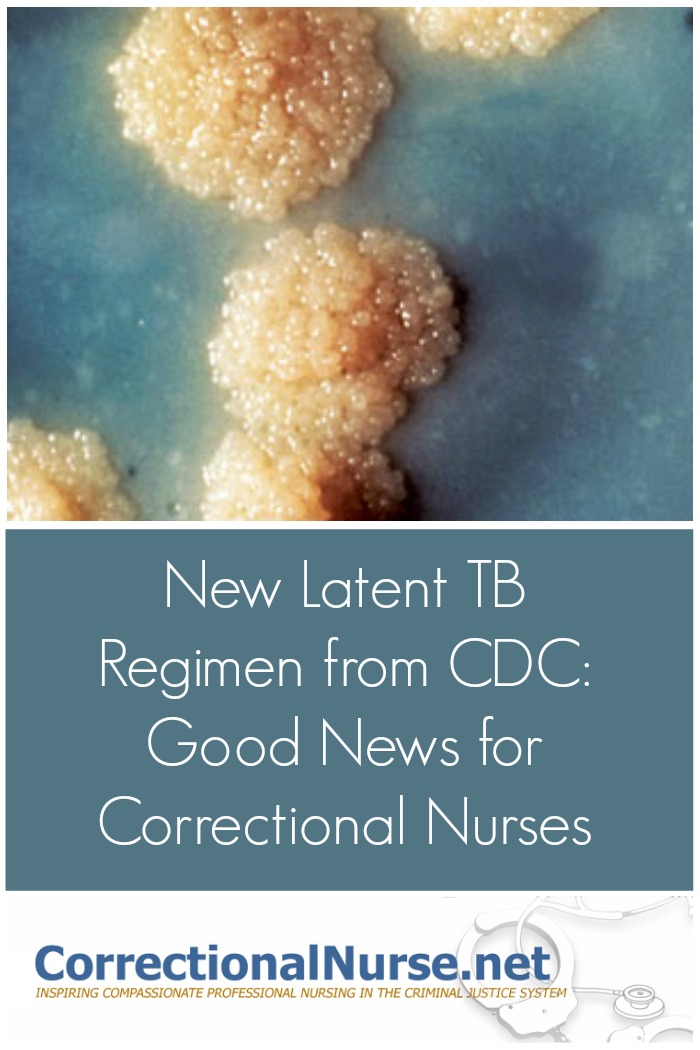 The current medication regimen for LTBI treatment is onerous, especially in secure settings. Treatments can last for 9 months and require daily doses of one or more mediations. The serious nature of tuberculosis makes this treatment most often given by direct observation, requiring the patient to be transported to the medical unit daily and observed taking the medication. The new guidelines still require DOT administration, but now the medication is only needed once weekly for 12 weeks for most patients with LTBI. This is a much more efficient regimen for the correctional setting.
New CDC Recommended Treatment for LTBI
Isoniazid (INH) and rifapentine (RPT) – a long acting rifamycin-class antibiotic
Once weekly in direct-observation dosing for 12 weeks
Monthly clinical appointments for side effects and physical assessment
Patients Inappropriate for this Regimen
HIV-infected patients receiving antiretroviral treatment
 Pregnant women
Patient with LTBI and presumed INH or RIF resistant
Children under 2 years
The CDC is currently collaborating with the Infectious Diseases Society of America and the American Thoracic Society to update their guidelines to include these recommendations. In addition, it is likely that the Federal Bureau of Prisons (FBOP) will include these significant changes in the next update of their January, 2010 Clinical Practice Guidelines.
2012 will be a good year to re-evaluate and revamp your TB clinical processes. How will these new guidelines change your practice as a correctional nurse?
Photo credit: George Kubica/CDC