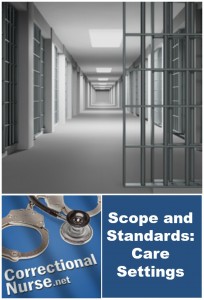 This post is part of an ongoing series discussing key components of the Correctional Nursing Scope and Standard of Practice, 2nd Ed. Review prior posts in this series here. Purchase your own copy of this highly recommended book through Amazon (affiliate link).
The other day I was trying to explain correctional healthcare to an attorney who was considering taking on a case involving care in a county prison. I was familiar with the facility and told her that although the facility's name used the word prison, it was really a jail. Thus began an extended conversation about the differences between a prison and a jail and why that might matter to the case and the clinical experts she would want to engage. One of the challenges of correctional nursing advancement is the great diversity of practice settings in which we work.
In an earlier post I discussed the definition of correction nursing, which encompasses the ANA definition of professional nursing tempered by the particular location of the criminal justice system. This location defines our practice being framed by our patient population (discussed here) and our care setting. The care setting is a unique component of correctional nursing and part of our scope of practice.
Where in the Pipeline
Our care location is first defined by where our patients are in the criminal justice process. The two primary areas are jails and prisons but I have also been involved in nursing care consultations that involved courtroom detainment and half-way houses after release. Our correctional patients can also be found in locked hospital units and addiction treatment centers.
Jail – The majority of arrested individuals are brought to a jail. Jail detainees may be awaiting a court hearing, trial, or sentencing. Many jails also hold those sentenced to a term less than one year as transfer into the prison system would not be cost effective and 12 month or less sentences are rarely high security issues. Jail health care, especially in urban areas, involves high concern for drug and alcohol withdrawal. Jails also have higher suicide rates than prisons so this is also a top-of-mind issue in this setting. Jails have a high rate of turnover, with people coming in for short stays before being released or bonded out to await trial. Therefore, it can be difficult to keep track of your patients and manage chronic care issues or diagnostic follow-through.
Prison – Once convicted of a crime and sentenced to longer than 12 months, an inmate is transferred to prison. Depending on the type of crime, this could be a state or federal prison. Each prison system designates intake facilities that evaluate and classify inmates as to security level and, possibly,  healthcare requirements. Security classification is primarily determined by violence potential and escape risk, although some systems also house sex offenders or gang members in separate locations. Health requirements can affect classification if the system has a central hospital facility or a working prison such as a farm or industrial site. Prison health care is generally more stable than jail health care as the patient population is less transient.
Mixture – Smaller states combined the jail and prison system. Delaware, Rhode Island and Massachusetts have combined jail and prison systems where both detainees and sentenced inmates reside.
Who is in Charge?
The government entity in charge of the criminal justice setting also changes based on location within the system. For example, most jails are managed the county government, although some large urban jails are managed by city officials. Prisons are managed by the state or federal government. The chief executive of a jail may be a sheriff or a jail administrator who reports to the sheriff while the chief executive for a prison most often holds the title of warden. A jail may have deputies as officers while a prison may use the term custody officer or correctional officer (CO).
Age Matters
Offenders under the age of 18 are usually held in juvenile or youth facilities. Some youth are also held in adult facilities if they have been sentenced for an adult crime.
Picture This
Here is a graphic representation I like to use to help visually describe the primary components of the criminal justice system.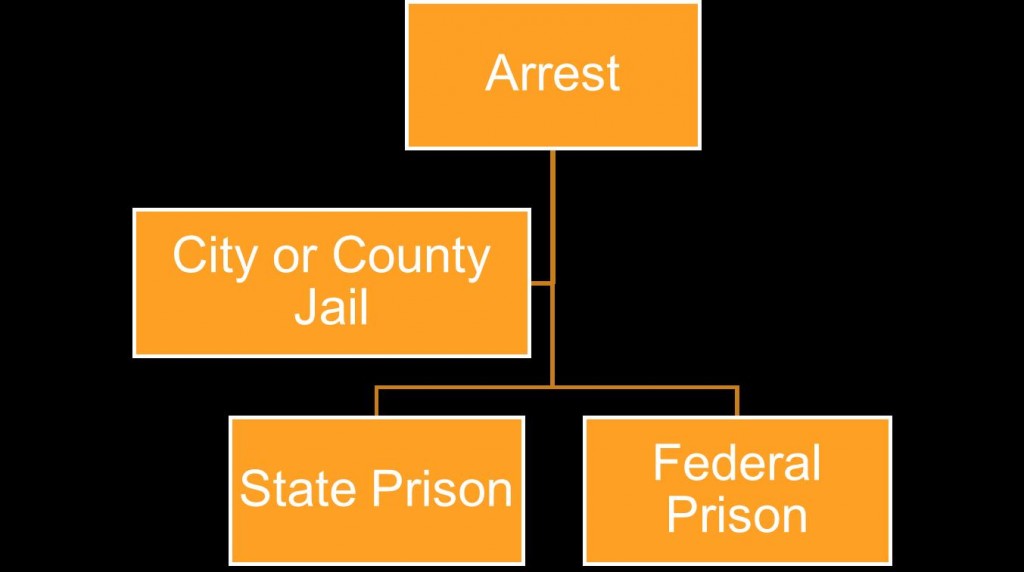 This is a fairly simple explanation of the criminal justice system – the setting of correctional nursing practice. After talking with the attorney, she decided she needed a jail nurse expert for her case.  Have you ever tried to describe the criminal justice system to another nurse or care provider? How do you do it? Share your tips in the comments section of this post.
Photo Credit: © viperagp – Fotolia.com