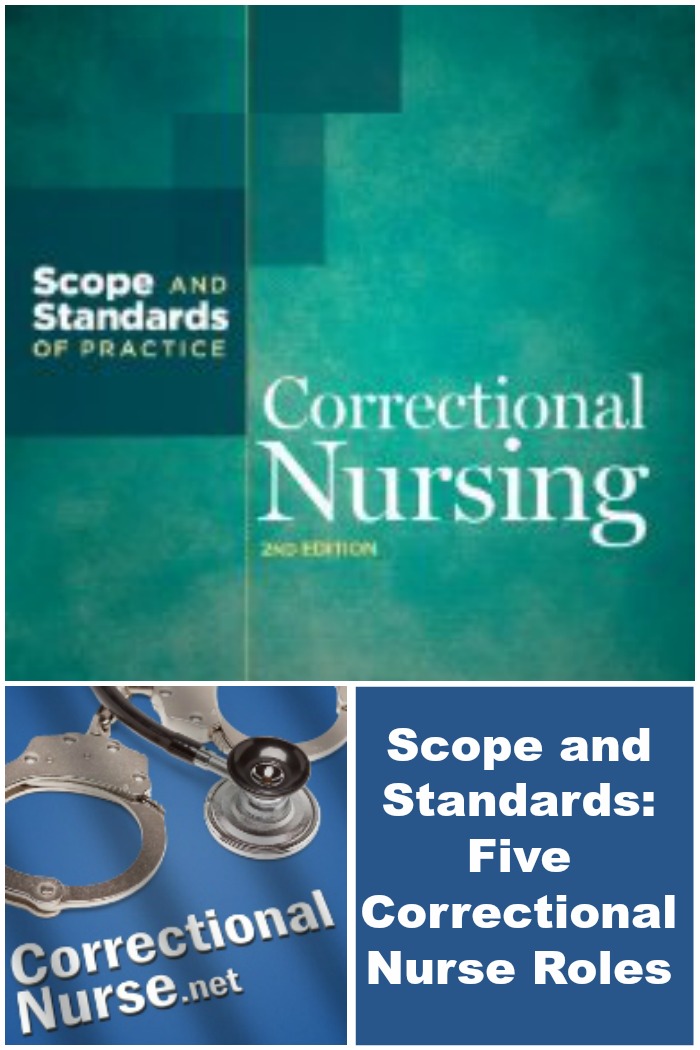 This post is part of an ongoing series discussing key components of the Correctional Nursing Scope and Standard of Practice, 2nd Ed. Review prior posts in this series here. Purchase your own copy of this highly recommended book through Amazon.*
I love helping nurses discover the invisible specialty that is correctional nursing. In fact, that was my original purpose in starting this blog over 5 years ago. I was sure that if more nurses knew about our specialty then more would join our ranks. From my own experience I know that few nurses get exposure to incarcerated patients during their education. There are practical reason why student nurses don't have clinical rotations in the local jail, but it hampers the ability for new nurses to consider entering our challenging specialty. Regularly I am asked by new nurses if they should apply for a correctional nursing position. Although I enthusiastically encourage these individuals; I also caution them to be careful in selecting their first correctional nursing position if they are a new graduate. Here is why: Correctional nurses have so many roles and must often do them with little support and resources. This can be overwhelming for a new nurse; who may need a good bit more structure to get a solid foundation for their nursing career.
Based on the Correctional Nursing Scope and Standards of Practice, here are the five leading roles of a correctional nurse.
Primary Care
Correctional nurses are most often the first point of contact for incarcerated patients with healthcare needs. They manage access to all other aspects of healthcare and make determinations of appropriate level and type of care needed. In this way they coordinate ambulatory care provision to the patient population.
Emergency Care
Correctional nurses also provide immediate treatment of injury and acute illness while determining if a life-threatening injury exists that would warrant emergency transport to an emergency room. Patients are stabilized for transport with the provision of first aid and basic life support.
Health Promotion
The inmate patient population is often underserved with limited healthcare access in the community. They enter the correctional system having made poor lifestyle choices and often have little knowledge of how to manage chronic conditions.  Therefore, correctional nurses have a major role in promoting heathy lifestyle choices while educating the patient population at every encounter.
Patient Advocacy
Healthcare is not the primary mission of correctional institutions. Security concerns and community safety may vie with an individual patient's healthcare needs. Correctional nurses negotiate the security system and collaborate with officer peers to meet patient health needs within system constraints. They act as patient advocates through these efforts.
Care Coordination
Correctional nurses coordinate patient care within a system arranged for other purposes. Barriers to care must often be overcome. Standard security constraints such as restricted movement or limited personal items can inhibit continuity of care. Correctional nurses must creatively navigate the system to coordinate appropriate care.
Along with the above roles, correctional nursing practice is a merger of multiple nursing specialties: Occupational health, emergency nursing, acute care, community health, psychiatric care, geriatrics, women's health, adolescent health, palliative and end-of-life care.  A correctional nurse must be prepared to deliver a full menu of assessment and interventions within the security perimeter; knowing when a patient needs to be transported to an advanced level of care or specialty. This can be a daunting task for even the experienced professional.
Although I caution new nurse graduates to pick their first correctional nursing position with care; it can be done. With an extended orientation and good management support, many new nurses have made correctional nursing their first specialty.
Do you have a story about the various roles of correctional nursing? Share your thoughts in the comments section of this post.
*Affiliate Disclosure: I am grateful to be of service and bring you content free of charge. In order to do this, please note that when you click links and purchase items, in most (not all) cases I will receive a referral commission. Your support in purchasing through these links enables me to keep this blog going. Thank you!