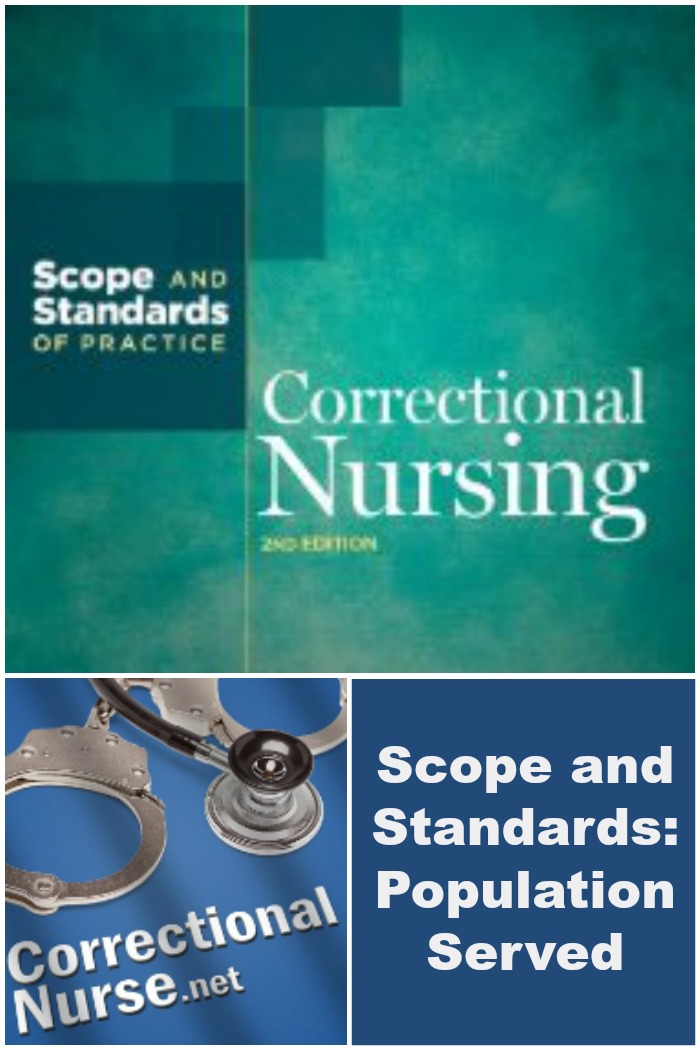 This post is part of an ongoing series discussing key components of the Correctional Nursing Scope and Standard of Practice, 2nd Ed. Review prior posts in this series here. Purchase your own copy of this highly recommended book through Amazon.
Many of us entered the nursing profession to help those in need. I can't think of a needier patient population than those in correctional facilities. The demographic make-up and specific health needs of our patient population contribute to what makes correctional nursing a specialty. Because our patient population is defined by location and jurisdiction, rather than disease or health need (as in most traditional settings), correctional nurses must be proficient in a broad array of conditions and, often, a variety of ages and genders. For example, a small jail may house detained men, women, and juveniles. While, larger systems such as a state or federal prison system have the volume and support necessary to separate populations by gender and age.
Although the majority of prisoners in the US criminal justice system are white, there is a disproportionate number of minorities behind bars. Therefore, conditions found more frequently in black and Hispanic populations are prevalent in the inmate patient population. According to the CDC, blacks are three times more likely to have diabetes and strokes and have a higher death rate from HIV disease. Likewise, the CDC reports Hispanics having higher rates of death from these conditions along with higher rates of chronic liver disease. Therefore correctional nurses must be proficient in assessing for and treating these conditions.
Coming from disadvantaged backgrounds, with less access to regular healthcare services, the incarcerated patient population has many untreated conditions and a high burden of chronic disease. A study of jail and prison inmates found higher rates of diabetes, hypertension, asthma, and prior MI than the general population. The correctional nurse may be a first contact with the healthcare system. Therefore, correctional nurses must be proficient in evaluating symptoms that might indicate an undiagnosed chronic condition. For example, I have seen newly diagnosed diabetes and asthma in the correctional setting.
Our patients are also prone to infectious disease with high rates of sexually transmitted infections, tuberculosis, and blood-borne infections such as HIV, HCV, and HBV. Many have poor hygiene practices and a cramped correctional environment can contribute to the spread of infection, like norovirus, throughout a facility. Correctional nurses often become infection control specialists; containing a varicella outbreak, reporting food poisoning to the health department, and educating patients to reduce transmission.
The inmate patient population has high rates of mental illness. Every correctional nurse is a mental health nurse! Among the mental conditions over-represented in the incarcerated are mania, major depression, psychotic disorders, and borderline personality disorder. Not only must correctional nurses understand the assessment and treatment of these conditions but must be aware of the implications of personality disorder, sociopathic, and psychopathic tendencies on the nurse-patient relationship.
The often violent and abusive backgrounds of the correctional patient population means higher rates of traumatic brain injury, post-traumatic stress disorder, and suicidality. Correctional nurses must be astute in detecting the potential for self-harm and seeking to prevent it. Histories of abuse require sensitivity in nurse-patient interactions to avoid triggering panic, anxiety, or suspicion. An understanding of the effects of traumatic brain injury is needed when providing patient instruction.
Finally, our patient population is highly substance involved. Drugs and alcohol are a way of life for so many under our care. An extensive study found nearly 85% of all U.S. inmates involved with alcohol or illegal drugs. You can bet that means withdrawal concerns when they enter the criminal justice system. Our patients are also willing to coerce others (including you!) to obtain drugs for them while they are 'inside'. Their desire for alcohol can lead to hooch-making from spoiled fruit and potato peels – that can be deadly. Amazingly, alcohol –based hand sanitizer has also been ingested in the correctional setting.
In summary, it is clear that correctional nurses work with a unique patient population that requires specialized knowledge, skills, and attitudes. Did you see your patient population in this description? Share your thoughts in the comments section of this post.