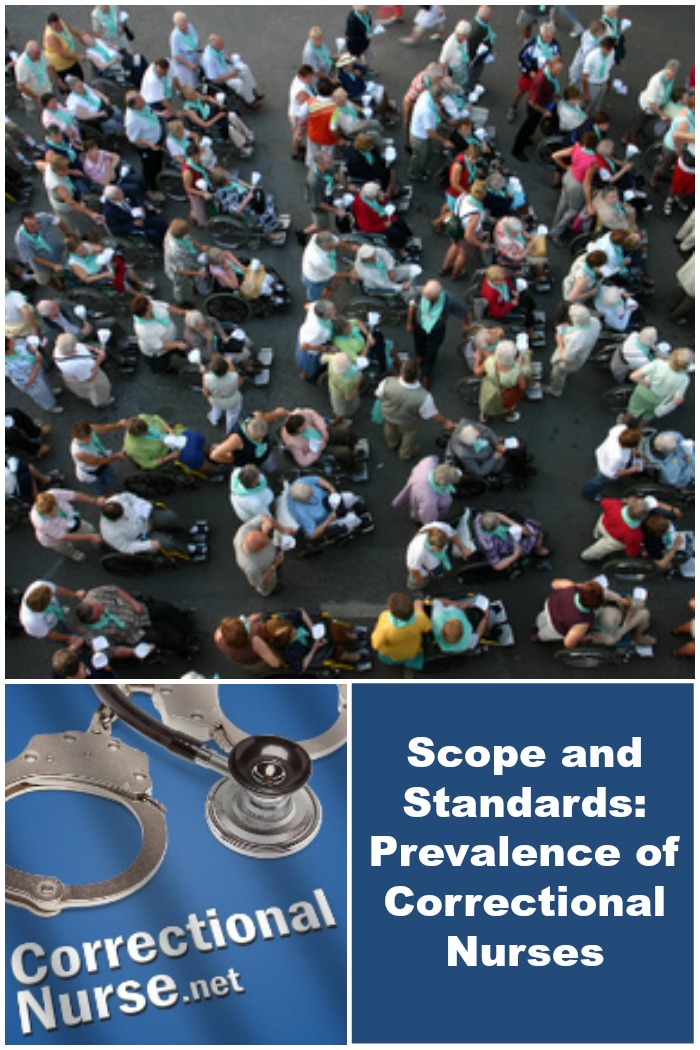 Before I accidentally became a correctional nurse, I didn't even know the specialty existed. However, I soon learned that, although we work in a hidden practice setting, there are many correctional nurses. Unfortunately, we are almost invisible to the larger profession. Take any nursing survey that asks for your specialty area and you will see what I mean. I have never seen a place to check for correctional nursing. Most often we are filling in the open space next to 'other'.
The task force revising the Correctional Nursing Scope and Standards of Practice had quite a time searching for verifiable information on the number of correctional nurses working in American jails and prisons. We finally settled on reporting numbers from the Health Resources and Services Administration (HRSA) data from the National Sample Survey of Registered Nurses. This survey estimated a total of 20,772 registered nurses working in correctional settings. That is almost 1% of all nurses working in the US (0.08%).
To those of us active in the profession, however, this seems a low number. Could it be that more nurses work in criminal justice? The way nurses are employed to work in a correctional setting may skew survey findings. For example, correctional nurses may be employed by a university medical system (like those working in Connecticut and New Jersey prison systems. Many jails are staffed by nurses working for the public health department. Nurses may provide care to inmates but work for private companies such as those who manage dialysis units within prison systems.
Maddie LaMarre, in a chapter on nursing practice for Clinical Practice in Correctional Medicine (2006), cited an estimated 2-3% of US nurses work in corrections. With Bureau of Labor Statistics of over 2.6 million employed registered nurses in 2008, this would suggest between 52,374 and 78,561 correctional nurses. The figure does not include the many LPN/LVN nurses practicing in the specialty.
Also not reflected in the National Sample Survey are nurses who work in correctional settings in a part time or per diem capacity. Some prison settings in remote areas must rely on traveling nurses to meet healthcare needs. Many settings regularly employ agency nurses to fill gaps in the schedule.
Without a professional association specifically dedicated to correctional nursing practice, there is no reliable collection on information on the number and characteristics of correctional nurses. More the pity.  Correctional nursing might be more visible with an accurate idea of the number and strength of the specialty.
How many correctional nurses do you think there are in the country? Share your thoughts in the comments section of this post.
The full Correctional Nursing Scope and Standards of Practice, 2nd Ed. Is available through Amazon.  The updated 2019 version is expected be in print December 2019.
Photo Credit: © piccaya – Fotolia.com