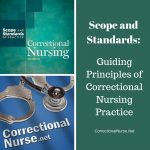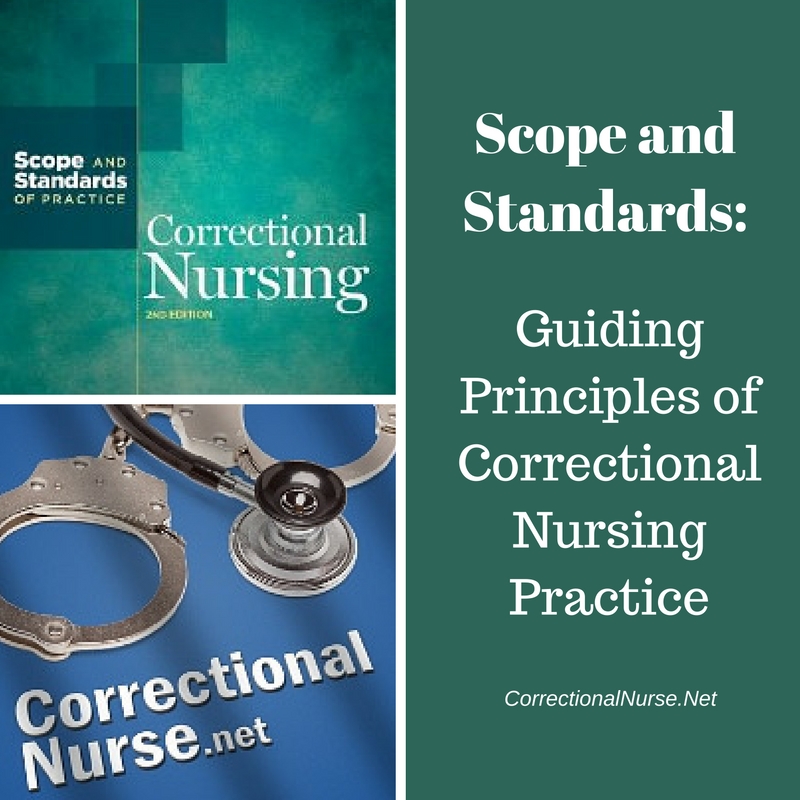 It has been a while since my last post on the Correctional Nursing Scope and Standards. Time to think again about the foundations of our professional practice in the criminal justice system. The scope of our correctional practice is guided by principles of our profession that transcend location or patient population. These 11 principles of correctional nursing practice remind us of just how values-driven our practice must be.
1-Primary Duty to the Patient: We have a therapeutic duty to our patient at all times. This duty is to restore and maintain health, prevent illness, and promote health and wellness through education. Our duty is not to become part of security or to deliver punishment.
2-Interprofessional Collaboration: Not only must we collaborate among other health professions to fulfill our primary duty, but we must strive to include our officer colleagues in our health mission.
3-Encouraging Health Care Responsibility: Our patients will not always have us around to keep them healthy. More than 95% of them will leave the correctional facility. We have a duty to encourage responsibility for health maintenance.
4-Professional Patient Encounters: As correctional nurses we struggle to maintain the balance of care and compassion while being mindful of professional boundaries with a risky patient population.
5-Treating Patients with Dignity and Respect: The general population (and sometimes our officer colleagues) does not think very highly of our patients. It can be easy to absorb this perspective. Yet, our calling is to treat all patients with dignity and respect.
6-Patient Confidentiality: Preserving patient confidentiality can be a challenge when nursing care must be delivered cell-side or with an officer present.
7-Cost-Effective Quality Care: Keeping up with the latest evidence-based practice concepts is important for correctional nursing practice; as is keeping costs down and creatively using available resources.
8-Including Family and Significant Others in Care: While family and significant others may be absent from the correctional practice setting, they are still an important part of nursing practice. Engaging family to encourage health promotion and keeping them informed of health status is a priority.
9-Collaboration with Correctional Staff: Like principle two, this principle emphasizes the contribution of security administration and staff to the health of our patient population. Good working relationships among officer and health care staff improve the delivery of health care in any correctional facility.
10-Encouraging Life-long Learning: There is always something new to be learned in correctional nursing. However, there is always a time crunch, as well! Encouraging life-long learning needs to be a part of our personal practice and, hopefully, supported by our leaders.
11-Contributing to New Knowledge: Research into improved correctional nursing practices is needed to continually grow as a specialty.
As you can see, these principles would be helpful to guide any professional nursing practice. They are, however, vital for practicing professionally in the criminal justice system. When faced with a decision about how to respond in a risky situation in the correctional setting, these 11 principles can shine a light on the best path to take.
What is the most challenging principle of correctional nursing for you? Share your thoughts in the comments section of this post.
This post is part of an ongoing series discussing key components of the Correctional Nursing Scope and Standard of Practice, 2nd Ed.