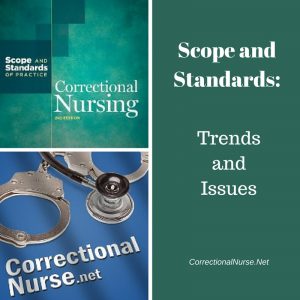 The Correctional Nursing Scope and Standards is a document that defines and guides the specialty practice of nursing in the criminal justice system. A key section of the scope of practice is dedicated to identifying trends and issues that affect our particular specialty.  Here is a synopsis of the issues and trends facing correctional nurses today.
Key Issues of Correctional Nursing Practice
Poor health status of patient population: Incarcerated patients are less likely to be effectively managing chronic illness and more likely to have an infectious condition than the general population.
Volume of healthcare services utilized: The poor health status of the patient population combined with high rates of mental illness contribute to high use of health care services while incarcerated.
Conflicts with security: A correctional facility is arranged and managed to maximize safety for the public, staff, and other inmates. Health care goals can conflict with security goals, requiring superior advocacy skills.
Correctional environments: Many correctional facilities are older and in need of significant upgrading. This living environment can be unhealthy and contribute to worsening health conditions.
Response to Key Issues
The following actions are suggested to deal with these issues.
Partner with health providers from the community: Collaboration across the health care continuum is necessary to improve the poor health status of the patient population.
Build partnerships: A team approach is needed to overcome environmental and security barriers to health care delivery.
Commit to caring for patients with mental illness: Government entities must come to terms with the mental health needs of the incarcerated. Resources must be invested in behavioral health and substance abuse programming both in-custody and at re-entry.
Screen, test and treat for infectious disease: Screening tests and treatment of infectious diseases is needed in every U.S. prison and jail, in collaboration with the public health departments.
Future Trends
New Technology: Technological advances such as telehealth and electronic medical records can assist in managing health care in a secure setting. Telehealth for specialist appointments increases patient access while decreasing public safety issues in moving patients outside the correctional setting. Electronic medical records, especially when connected to the local health system, can improve continuity of care when incarcerated patients are released or when patients enter the correctional system.
Administrative Segregation: While separating dangerous or vulnerable inmates from the general population in a correctional facility is part of safe correctional practice, a growing body of evidence indicates the far-reaching dangers of this practice to the health and well-being of the patient population. The National Commission on Correctional Health Care recently published a position paper on the need to reduce the use of segregation and isolation due to the negative health effects of the practice.
Collaboration and Entrepreneurship: Correctional health care systems are challenged to collaborate both within and without the criminal justice system to provide the continuum of care necessary for today's incarcerated patients.
Do you agree with these trends and issues for our specialty? Share your thoughts in the comments section of this post.
This post is part of an ongoing series discussing key components of the Correctional Nursing Scope and Standard of Practice, 2nd Ed. Review prior posts in this series here. Purchase your own copy of this highly recommended book through Amazon.