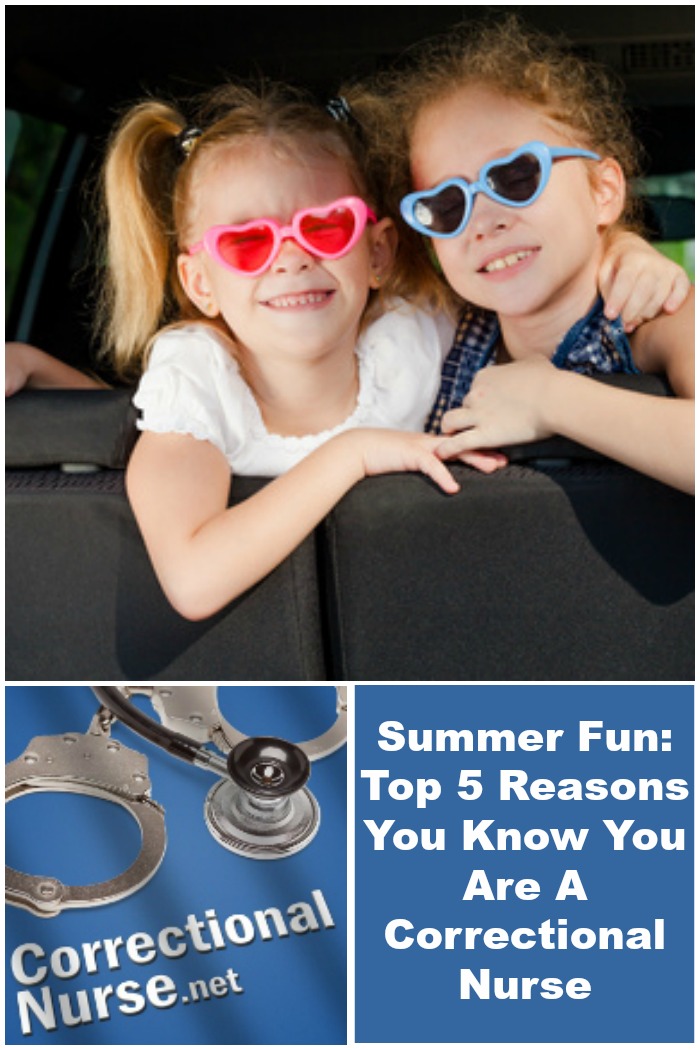 Hope you are including some fun in your summer. Correctional nursing is stressful. Relaxation, humor, and entertainment go a long way to keeping us sane in our crazy world. Nurses have a wild sense of humor, probably generated from a need to break the intensity of our work helping those who are suffering. It can sometimes be misinterpreted by outsiders as being unkind or unfeeling, that is true. With that in mind, I wanted to take the idea of the "You Know You Are…." List and clean it up a bit for public consumption. There are a couple lists making the rounds for correctional nurses – here is one from a ways back on Scrubs Magazine and a recent one that was published on CorrectionsOne. With a hat-tip to these lists and my own good-natured spin, here is my list of reasons you know you are a correctional nurse. In true Letterman fashion, I have listed them in a countdown:
You Know You Are A Correctional Nurse because
#5 – Your Patients are the Ones in Color-Coded Uniforms
When I started as a nurse in the 1980's it was fashionable in hospitals to have the staff where scrubs based on the unit they were working in. I was in Telemetry/Critical Care and we all wore tan and peach scrubs and lab coats. I guess that was supposed to be soothing. In corrections, our patients are the ones whering designated colors and staff members are more likely to get a list of colors they are not to wear. This might be, for example, khaki or denim.
#4 – Your Patients Make Up Reasons to See You and Don't Want to Leave
When I worked in the hospital we had many an AMA Discharge (against medical advice). Even patients interested in the treatment plan were eager to depart the unit and move on with their lives. Correctional patients, however, often see the medical unit as a safe refuge or entertaining diversion. This can mean increased requests and access.
#3 – Shift Count includes Every Sharp Item in the Unit
I cringe when I think about some of my past practices with sharps in a community hospital setting. Things are probably tighter now, but leaving needles and syringes lying about was not of great concern in years past in my 'free world' practice settings. You can know you are a correctional nurse if you are acutely aware of the location of every sharp item in your work area. It is important to your own safety and the safety of your colleagues and patients.
#2 – You Get a Police Escort When Making 'House' Calls
Having officer colleagues is one of my favorite advantages of being a correctional nurse. Many of my emergency nurse colleagues wish they had more security in their world; especially in major urban settings. Our custody peers watch out for our safety and provide an escort when we are working in the housing area or making segregation rounds.
#1 – When You Look at a Patient Who has Done Cruel and Violent Things, You See a Human Being in Need of Nursing Care
Yes, this is the number one way you know you are truly a correctional nurse. We don't have the luxury, as in some other nursing settings, to be unaware of the character or background of our patients. If you are working in a supermax setting, for example, you can try to ignore it, but your patients have a violent background. Gaining the ability to look past that and see the inner patient in need of your professional service – that is when you truly know you are a correctional nurse!
Christmas in July  – Add to My List and Grab a Correctional Nurse.Net Coaster
Just to increase the summer fun, I will be sending a CorrectionalNurse.Net Coaster to the first 10 readers who add to my list of 5 reasons. Keep it clean, now!
Photo Credit: © altanaka – Fotolia.com