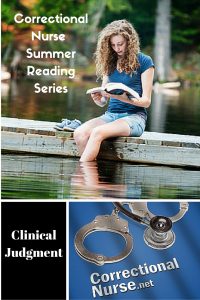 While I am on summer sabbatical for the month of July, catch up on some important info with this summer reading series of past Correctional Nurse posts. 
Correctional nurses need plenty of good clinical judgment. Often times we are the only health care professional in the building when an inmate is injured or a sick call patient might have something serious going on. Correctional nurses must triage patient issues and determine if an on-call provider needs  to be contacted or if the condition can await the next provider sick call. Assessment findings from a patient encounter need evaluated and an astute determination made.
While many definitions exist for clinical judgment, my favorite comes from Dr. Christine Tanner, a nurse scholar who has extensively researched the concept. She defines clinical judgment as:
…..an interpretation or conclusion about a patient's needs, concerns, or health problems, and/or the decision to take action (or not), use or modify standard approaches, or improvise new ones as deemed appropriate by the patient's response.
How can you improve your clinical judgment and gain correctional nurse expertise? Here are some past CorrectionalNurse.Net posts about this topic.
So, how are you been using your clinical judgment skills this summer? Share your experiences in the comments section of this post.