The ending of another year brings a time of review and reflection as we set our minds and hearts toward the year ahead. 2018 was a year of change for CorrectionalNurse.net as we moved from a blog to an author website. However, our readership continues to grow and we increased page views by over 20% in the last 12 months. I hope this means you are finding useful information for your correctional healthcare practice in the pages of this site.
While 2019 means less frequent blogging and no further podcasting, the lights are still on at the CorrectionalNurse.net offices. Be sure to subscribe to the blog and/or sign up for the monthly newsletter so you don't miss any news or information.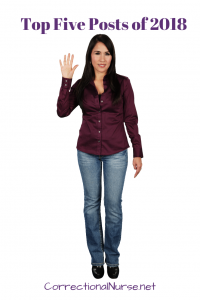 Here are the most frequently visited blog posts that were written in 2018.
If you have been a correctional nurse for a while, you have probably read or heard about some crazy sick call requests. Our patients are not always well informed about their health care needs and can come up with some funny wording for their conditions. In addition, the sick call request system can easily be abused for reasons other than health needs. Besides a professional responsibility to respond well to health requests, there is a legal obligation to provide necessary health care to prisoners. A negative or punitive response to sick call requests can be construed as a barrier to necessary health care and a violation of an inmate's constitutional rights.
Understanding the inmate subculture is important for correctional nursing practice. By being aware of social and cultural norms in your facility, you can apply the principles to your correctional nursing practice. This improves your safety and the safety of your patients. This post discusses prisonization, the convict code, and how inmates do time.
Microaggressions are those subtle verbal and nonverbal indignities that demean, insult, or invalidate a person or group. While in society, we see microaggression defined as it relates to race, gender, sexual orientation, or religion, nurses can experience microaggression as a part of everyday life when working in a correctional facility. This post discusses the A-C-T-I-O-N approach to microaggression.
Moral distress can feel like a heavy weight on your shoulders that is slowly building as you work in the criminal justice system. You may not even notice the developing distress until something snaps. Correctional nurses need to monitor moral distress and seek morally satisfying solutions to the ethical dilemmas encountered in day-to-day practice. Find some helpful tips to respond to moral distress in this post.
While not all our patients are criminals, many are. One way to better comprehend prisoner patients is by grasping the concept of the criminal lifestyle. This post discusses common elements of a criminal lifestyle and belief system. Learn about entitlement, power orientation, and other key concepts in this post.
How about you? Which post was your favorite from the past year? Share your thoughts in the comments section below.