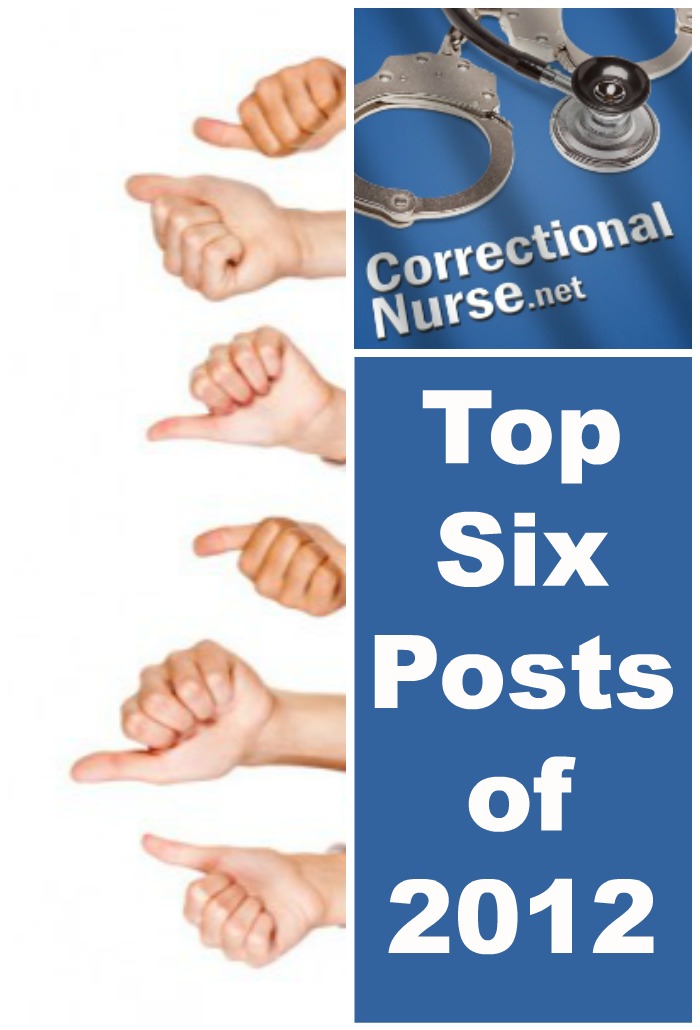 CorrectionalNurse.Net is going strong – well into a fourth year of publication. The following 6 posts were viewed over 1000 times this past year. Check them out if you missed them when they originally aired. Stay tuned for more great information in the year ahead. CorrectionalNurse.Net is here to inspire professional correctional nursing practice. I hope you visit often and include your views by commenting frequently.
#6 8 Medication Rights – Not 5?
This post was the sixth busiest in 2012. I guess I was not the only one surprised that the 5-rights of med administration I learned in nursing school had grown to 8. It is always good to have a reminder of the key elements of patient safety when working with medications.
#5 Risky Business: Pre-pour Meds in Jails and Prisons
Speaking of medications, the number five spot also goes to a medication administration topic in corrections. Pre-pouring medications may be a necessity in some settings, but it is always risky. This post reviews some important pointers to reduce the risk of error.
#4 Shoptalk
Number four this year is really a standing page on the blog. Shoptalk is a listing of terms that may be unique to correctional nursing. Nurses new to jails and prisons can get up to speed quickly by reviewing these definitions. Since some terms are popular by geography, I hope you will help out be adding some common terms from your practice setting. Just provide them in the comments section and I'll add to the list.
#3 Dental Issues for Correctional Nurses
By far, dental issues were the greatest learning curve for me in entering this specialty. This post has some great pictures provided by Dr. Stephen Mitchell and is a big help for nurses who need to know what is routine and what is a possible emergency when dealing with dental conditions.
#2 How to Work with Inmate Patients Part I: Be Alert for the Con
Inmate patients show up in the health care unit for many reasons. This post is the first in a four-part series about dealing with our patient population. Not every patient is looking to con you, but some are and you need to be ready.
#1 Resources
The number one viewed location on the blog this year was my list of resource links.; more than 2000 visits for this page. Resources are listed in alphabetical order and include the publication date. I'm glad they are so useful but I wish I could figure out a better organization scheme. Let me know if you have ideas.
Photo Credit: © Picture-Factory – Fotolia.com