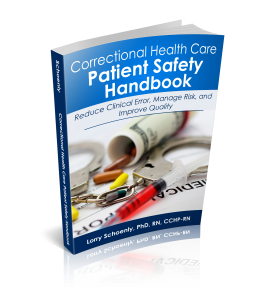 I am excited to announce that my newest publication – The Correctional Health Care Patient Safety Handbook – is now available for purchase on Amazon (affiliate link). It is a steal at $29.50 for print and $9.99 for the Kindle version. But, even better is to get a free copy, right! So, I'm holding a raffle for 3  correctionalnurse.net readers to get an autographed copy sent directly to you. How cool is that?
Just click on this link and enter your first name and email address. If you are a winner I will contact you for a mailing address for the book. You can enter once per day until November 1 – so you have plenty of opportunity to win!
Why do you need this book?
Most of us entered health care to help those who are ill, injured, or suffering. Yet our patient care systems can get in the way, leading to patient harm instead of the quality care we intended. The Correctional Health Care Patient Safety Handbook provides practical evidence-based help to improve your clinical program and, thereby, reduce clinical error, managing risk and improving clinical quality. By reading this book, you will discover:
How a patient safety framework can reduce legal liability while enhancing continuous quality improvement efforts
The best methods to assess and improve an organizational culture to support patient safety
The key ways therapeutic systems support patient safety
Why communication and teamwork are so important for reducing clinical error
How to involve your patients to reduce errors and liability
The practitioner issues that can sink your clinical program and what to do about them
So, click on the link and enter to win your own copy!