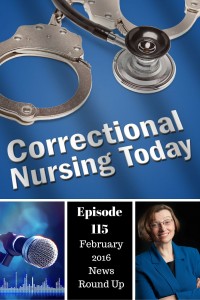 Correctional nurses Mari Knight and Johnnie Lambert join Lorry to discuss the latest correctional health care news.
What dying looks like in America's prisons
This first story is about prison hospice care and recounts the experiences of author Ann Neumann as she visits the Walsh Regional Medical Unit in northeastern New York State. The state prison has a large skilled nursing wing that includes a hospice program. As the author recounts, There are more than 75 hospice programs in US prisons and most rely on inmate volunteers to provide supportive care. We've talked about prison hospice programs many times on new round ups. This author brings up some important points about hospice care inside the walls. She identifies pain and trust as primary challenges.
Lawsuit alleges Georgia prison supervisor raped women inmates
Our next story is painful but important to talk about. CNN reports on a lawsuit brought by a former inmate at Georgia's Emanuel Women's Facility against a Captain who she claims repeatedly raped her and coerced her silence by threatening to keep her from visitation with her children. She said the Captain's behavior was an open secret in the facility. These types of stories make it to the press occasionally and I wanted to use this current one to talk about correctional nurse response to this type of officer and staff behavior. Is this none of our business or do we have a responsibility as nurses to do something in a case like this?
Volunteers help pregnant Ga. inmates parent behind bars
Everything is not bad in the GA prison system. Our third story is about the Motherhood Beyond Bars program at the Helms Facility in the GA Department of Corrections. Helms is a small medical facility housing about 100 pregnant women and medically challenged males. The Motherhood Beyond Bars website says they provide childbirth education, prenatal yoga, postpartum health education and counseling to pregnant incarcerated women and new mothers in GA prisons.
Photography class for Cook County Jail inmates develops passion for art
Our last story is about a photography class at the Cook County Jail. The class held its first photography exhibit recently and it was profiled in the Chicago Tribune. Inmate exhibitors were asked how the class affected them. One said "It has brought me peace through pictures". Another said "It allows you to look at things different than before". Sounds very therapeutic.
What are your thoughts on this month's news stories?