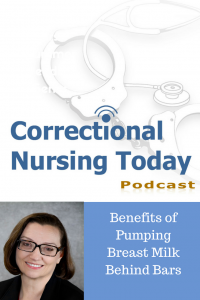 Lorry's guest on this podcast episode is Donna Jackson-Kohlin, MSN, CNM, CCHP, a Certified Nurse Midwife providing obstetric and gynecology care at the Western MA Regional Women's Correctional Center. She  presented a session called Benefits to Pumping Breast Milk Behind Bars at the 2017 NCCHC National Conference on Correctional Health Care.
It is estimated that 6-10% of incarcerated women are pregnant at some point while incarcerated as almost 80% of female inmates are of child-bearing age. Pre and postpartum care is an important part of correctional nursing for those of us working in facilities that detain women. One healthy practice to encourage is breastfeeding, but this normally simple process is complicated by the isolation and security procedures in a correctional setting. Nurse Midwife Donna Jackson-Kohlin manages a successful breast milk pumping service at the Western Massachusetts Women's Correctional Center (WMWCC). Surprisingly, this service started at the request of a breastfeeding mom almost 10 years ago.
Encouraging Breast Feeding
At WMWCC, the breast milk pumping program generally has one to three women at any given time. While this may seem a small number, coordination can be complex. Women come to the medical unit for pumping and storing the milk. This happens several times a day on various shifts. A point person in the medical unit coordinates the pumping schedule.
Once obtained, the milk must get to the person(s) caring for the baby in the absence of the mother. This may be a family member, spouse, or foster care. If anyone in the supply line lacks motivation, whether mother, baby care provider, or staff member, the system can fail.
Another part of the breast milk program at WMWCC is mother-baby visitation. This bonding time is important to encourage milk production and relationship-building. Once again, consistent coordination is vital to success. A private visitation room is used for these visits that are coordinated by a member of the social services department.
Refrigerators for milk storage
Point person for coordination
Hospitals or social groups may donate supplies or raise money
Equipment, Locations, Personnel
When asked about resources needed to start a breast milk pumping program at a facility, Jackson-Kohlin identified the following:
Equipment: Breast milk pump(s), refrigerator for milk storage
Locations: private location for pumping milk, mother-baby visitation area
Personnel: pumping schedule coordinator, visitation coordinator
Benefits of the Program
Jackson-Kohlin shared several benefits for the mom, baby, and facility when a breast milk pumping program is in operation.
Breastfeeding decreases the incidence of diabetes, breast cancer, and ovarian cancer in mothers
There is possibly less postpartum depression
Breastfeeding can improve mother-baby attachment and the ability to mother the baby
A breast milk pumping program can validate the mission of a correctional organization
Encourages maintaining an intact family on re-entry and may reduce recidivism
Learn more about incarcerated women's healthcare:
Do you have a breast milk program at your facility? Share your thoughts and experiences in the comments section in this post.
This post is part of a series discussing topics addressed during sessions of the 2017 National Conference on Correctional Health Care. All posts in this series are found HERE.