Emma was having a busy evening shift at the minimum security prison she has worked at for the last couple years when officers called on her to evaluate an inmate having trouble breathing. While he was transported to the medical unit, Emma pulled his medical record and was reminded that she had seen him before for asthma exacerbation. He had been in for a chronic care clinic visit about 2 weeks ago. Emma evaluated the patient and gave him a nebulizer treatment. His air hunger seemed to ease and his vital signs improved. She instructed him to request a return visit if he again developed symptoms and made an appointment for him to see the physician at her next opening. Emma was off for two days and, on her returned, was told the patient was found unconscious the next morning. He did not respond to treatment and expired at the emergency room. Emma was devastated.
 Have you ever had an experience like Emma's where a patient outcome was drastically different than expected? Second Victim Syndrome (SVS) is defined as the "feelings of guilt, inadequacy, or incompetence following an unexpected negative patient outcome". Emma went over and over in her mind the clinical encounter with this patient. Did she misinterpret her assessment? Was there something else going on that she should have spotted? Should she have contacted the on-call provider? She may never know the answers to those questions but they haunted her for some time.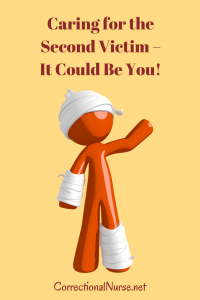 While Emma may have done everything right, there are few of us in healthcare that haven't made any clinical errors in our careers. After all, we ARE humans. While we often think of the patient as the victim of a clinical error, care providers can also be secondary victims. There is individual aftermath to being involved in an error, especially when it negatively affects a patient.
Health care workers directly involved in the error are often a second victim in the error episode, suffering extreme stress, depression, anxiety and other psychological effects. They are likely to punish themselves for the failure and relive the incident repeatedly. Compounding this personal punishment, other health care professionals may distance themselves from this second victim, withdrawing support when it is most needed. In Emma's case, a quality management chart review was undertaken and she was questioned by her manager and the Medical Director the week following the incident. There was a formal Mortality Review and she was asked to write a statement to be included in the In-Custody Death Report.
To overcome the aftermath of error, clinicians must be able to trust that the organization will treat them fairly, with compassion and understanding. This includes respectful, supportive care during the evaluation and resolution of the episode.
A study of various professional healthcare staff involved in a clinical error revealed desired organizational support strategies deemed most helpful in obtaining personal resolution of the incident. The most frequently indicated actions were prompt debriefing with crisis intervention, opportunity to discuss any ethical concerns about the event, input into system changes, timely information about the upcoming evaluation processes, and access to psychological and emotional support (See Table).

What can you do if you are involved in a clinical error or unexpected negative patient event? Here are a few suggestions from an education program for emergency staff who are often involved in unsuccessful resuscitations.
Nurture positive feelings, thoughts, and behaviors. We are usually our own worst critics. Extend kindness to yourself and those around you.
Practice gratitude and intentional acts of kindness during this difficult emotional time. Looking outside ourselves can overcome feelings of incompetence or inadequacy.
Talk with someone who is non-judgmental and supportive. It helps to put into words the emotions and feeling roiling within you. You want concern and support, not further condemnation or shame.
Once your mind is in the right place, constructively consider any needed change – personally and organizationally.
How have you dealt with a negative patient outcome? Share your thoughts in the comment section of this post.