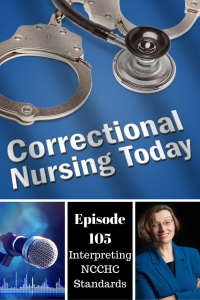 Tracey Titus, RN, CCHP-RN, Manager of Accreditation Services for the National Commission on Correctional Health Care joins Lorry to discuss common pitfalls in interpreting the National Commission's Accreditation Standards. She presented the session Tips, Tricks and Troubleshooting: Common Pitfalls in Interpreting NCCHC Standards at the National Conference on Correctional Health Care in Dallas, TX, October 17-21, 2015. 
The National Commission accredits jails, prisons, juvenile facilities, and opioid treatment programs through a voluntary program based on quality standards developed by experts in the field. Facilities seek accreditation to establish a system for providing health care services to incarcerated populations. Preparing for accreditation includes accurately interpreting the Standards and then applying them to the specific setting. Misinterpretation of the intent of any standard can lead to inappropriate application.
Common Reason for Misinterpretation
NCCHC has analyzed implementation of standards in a wide range of facilities and has found that standards can be misinterpreted by being only partially applied or even omitted. In addition, now that there are new editions of the standards (2014 for Jails and Prisons, 2015 for Mental Health and Juvenile, and (soon) 2016 for Opioid Treatment Programs), one common mistake is applying the older standards rather than the most recent ones. To help with correct interpretation and implementation, the Standards themselves offer compliance indicators, definitions, and a discussion section, often with examples of how to comply. It's important to keep in mind, however, that a common misinterpretation is to consider an example prescriptive when the example might not be the best or only way to apply a standard in a particular context.
The Most Difficult Standard to Interpret
Based on NCCHC surveys, the most often misinterpreted NCCHC standard is Continuous Quality Improvement. This may be because leaders see CQI as a simple audit of their health care system rather than a process designed to focus on problem issues and develop meaningful solutions. Other common standards where compliance has proved challenging for some facilities are Chronic Disease Services, Initial Health Assessment and Health Record Format and Contents.
Tips for Interpreting the Standards
Here are some tips for better standards interpretation.
Read the intent of the standard (first sentence of Discussion) within the context of the standard itself
Determine what the standard is attempting to achieve
Consider how it could be achieved in your facility
Review the examples provided for common facility solutions
Where to Get Additional Help
NCCHC offers several ways to obtain assistance with interpretation and application of the Standards and to increase your knowledge.
Email NCCHC for help: info@ncchc.org or http://www.ncchc.org/contact
Attend the preconference seminars at NCCHC's Spring and Fall conferences
Read the Standards Q&A topics for specific questions about various standards
Read the Spotlight on the Standards column for in-depth discussion about selected standards
Are you preparing for an NCCHC accreditation visit? Share your tips for preparing and interpreting the standards in the comments section of this post.