Skin conditions are a common concern in nursing sick call evaluations. Most are easy to assess and treat with protocols; like athlete's foot and contact dermatitis. However, one skin condition that can be dangerous if not identified and treated appropriately is cellulitis. Unfortunately, cellulitis can mimic other conditions and is easily misdiagnosed. Here is a quick clinical overview of cellulitis to help you determine if the next skin condition you evaluate in sick call needs an immediate provider consult or appointment.
What is Cellulitis?
Cellulitis is a bacterial infection of the skin and tissues underneath. It is most common in the lower extremities but can also affect other areas such as:
Eyes – from sinus infection
Ear, nose, or abdomen – from piercings
Arms, neck, feet – from skin popping (drug use)
While cellulitis develops through a break in the skin, that opening may be microscopic and difficult to see. Staphylococcus aureus is the most common cause of cellulitis, and increasingly, that staph is Methicillin-resistant Staphylococcus aureus (MRSA). A less common infecting agent is streptococcus. Group A streptococcus (GAS) is a bacteria that leads to necrotizing fasciitis (commonly called 'flesh-eating bacteria').
What Does It Look Like?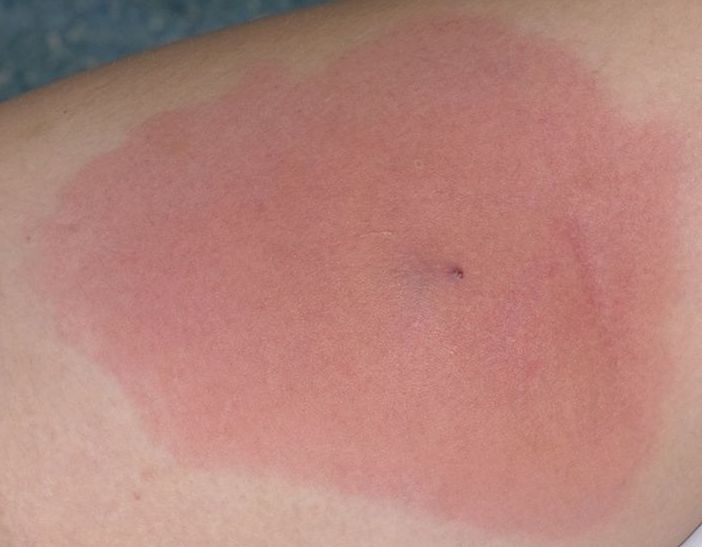 Cellulitis presents as diffuse inflammation. It is rarely bilateral, so if the skin condition you are evaluating is on both lower legs it is likely something else, such as venous insufficiency. Because cellulitis includes inflammation of both skin and underlying tissue, it is less likely to have clearly defined borders. Drainage can sometimes be present, which could be indicative of MRSA infection.
Cellulitis will present with the usual signs of infection: redness, swelling, warmth, and tenderness over the affected area. If the cellulitis has progressed, your patient may feel generally unwell with a fever, chills, sweating, and overall body aches. If left untreated, the infection will spread systemically and can lead to altered mental status (confusion), rapid heart rate, increased respiratory rate and low blood pressure. If not identified and treated, life-threatening sepsis will develop.
Who is Likely to Develop Cellulitis?
Knowing the risk factors for cellulitis will help you be particularly aware of its potential with certain groups of patients. Here are the most common risk factors for developing cellulitis.
Alcoholism
Diabetes
Elderly
Obesity
Under-nourished
Weak or suppressed immune system
As you can see, many in our patient population have multiple risk factors for cellulitis, especially when we consider that alcoholism and substance use disorder lead to poor nutrition.
What is the Current Treatment?
As cellulitis is a bacterial infection, treatment is dependent on antibiotic administration specific to the causative agent. There is no consensus in the literature as to when oral or IV antibiotics are most beneficial. Advanced cases of cellulitis will require hospitalization. The evidence-based Infectious Disease Society guidelines for cellulitis suggest antibiotics that cover both strep and staph infection such as flucloxacillin (floxacillin) or clindamycin.
What are the Nursing Goals?
The first nursing priority is to quickly determine that your patient needs to be evaluated by a provider. Once diagnosed, nursing interventions focus on administering prescribed antibiotics, monitoring side effects, and providing supportive therapies. Below are key nursing actions.
Confirm allergy profile – especially penicillin allergy
Document a thorough initial assessment and ongoing assessment at regular intervals, including measurement of the affected area.
Monitor for antibiotic side effects such as gastric upset, diarrhea, rash, or yeast infection
Document pain level and provide analgesics, if ordered
Provide patient education regarding extremity elevation, side effect monitoring, proper skin care, and when to immediately contact health staff.
More Information on Cellulitis
If this quick overview of cellulitis piqued your curiosity, find more in-depth information from these online resources (with images!).
Mayo Clinic Cellulitis Symptoms and Causes
Have you had a cellulitis case come in your Correctional Nursing practice? Share your experiences in the comments section of this post.