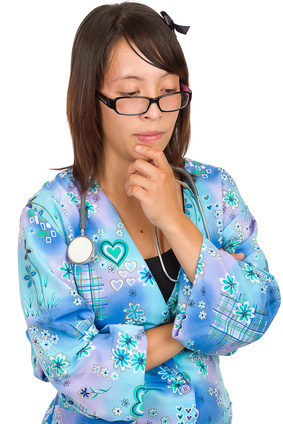 Some days it is hard to remember why you chose Correctional Nursing, right? Maybe you were finally able to convince the laundry staff that you really DO need sheets in the infirmary this morning. Or, possibly you've just been told that the medical officer was pulled to a housing unit for a contraband sweep and afternoon med pass will be delayed at least an hour until she returns. Then again, it could be that "emergency" chest pain patient who comes to the medical unit for a full evaluation, only to tell you he is not really having chest pain, he is just out of his tums and needed something to hold him over until tomorrow until he sees the nurse in sick call.
How do you maintain your "reason for being" in the midst of the sometimes chaotic world that is correctional nursing? I have found it helpful to return to the principles of professional nursing practice found in the Correctional Nurse: Scope and Standards of Practice to re-center my practice and remind my frustrated soul what it is all about.
Principles of Correctional Nursing
Patient-centered care is at the core of correctional nursing practice. Correctional nurses respect the dignity and diversity of each patient and considers the patient while respecting the established safety and security rules and regulations.
The nursing process is fundamental to correctional nursing practice. Critical thinking guides problem-solving, decision-making, and each step of the nursing process.
Professional nurses know their correctional nursing role, which is first and foremost the provision of nursing services. Correctional nurses respect and adhere to the professional boundaries that exist between themselves and other disciplines in the correctional environment, and themselves and their patients.
Correctional nurses recognize the value of teamwork and collaboration by establishing partnerships within the correctional environment and with outside providers in the healthcare community.
A strong link exists between the professional work environment and the professional nurse's ability to provide quality care and achieve optimal outcomes. Correctional nurses recognize that the obligations of their practice do not diminish or change because of their practice environment.
All correctional nurses promote quality patient care. Correctional nursing practice is guided by nurse administrators and leaders who foster professional and personal development, while promoting knowledge of the scope and standards of correctional nursing practice. They also encourage life-long learning, specialty certification and participation in professional organizations.
Correctional nurses demonstrate compassion and caring within secure facilities. They use truthful and respectful communication with patients, and demonstrate intentional and nonjudgmental listening during patient encounters. They provide culturally-competent care.
*From American Nurses Association, 2020
Reason for BEING in Correctional Nursing
This list reminds me that the essence of correctional nursing is caring for and respecting the human dignity of the incarcerated. Somehow that helps me rise above the current fray. limited resources, challenging patients, competing security priorities, and ongoing concern for personal safety that can thwart anyone's efforts toward principled nursing practice. A frequent return to our core values and goals that are foundational to our correctional nursing practice reminds me of the meaning and importance of our role.
What do you do to regain your 'mojo' in your nursing practice? Share your thoughts in the comments section.