I was recently honored to address the nursing leadership of a state-wide Department of Correction at their quarterly meeting. When trying to decide upon a topic, I opened my Correctional Nursing: Scope and Standards of Practice book, and discovered a section that I did not remember – guiding principles for Correctional Nurses. I believe these principles are hidden gems in our book, and wanted to share them with all of you as well. To that end, this month I have written two posts that discuss the seven guiding principles for Correctional Nursing practice that are included in our Correctional Nursing: Scope and Standards of Practice. While I am sure you would agree with me that much of the following information is intuitive, I think periodic reinforcement of each of these seven principles is important to our practice and our development as Correctional Nurses.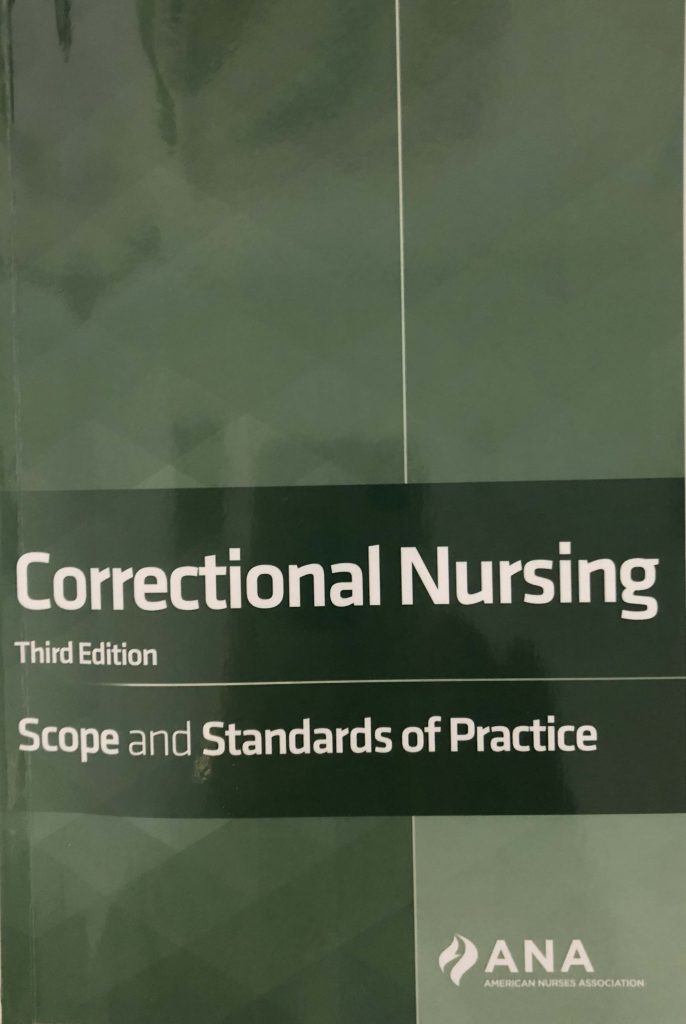 Principle 1
Principle 1: The core of Correctional Nursing practice is patient-centered care. Implicit in this principle is respect for the diversity and dignity of all persons. Having the patient be the focus while we must abide by the security regulations and potential safety issues may be challenging at times, but we must always remember that we are the patients' advocate. That is where our understanding of the patient goal, our creativity, and our negotiation skills are needed.
Principle 2
Principle 2: The Nursing Process is fundamental to Correctional Nursing practice. We use it to provide individualized care for our patients, and critical thinking is at the center of our actions. Critical thinking is not something we are born with, but rather a skill that can be developed with training and practice. Activities that promote critical thinking skills include discussing case studies like the ones posted on Nursing Behind the Wall at your monthly staff meetings. Asking questions like "what if…" will promote expanded thinking and the ability to transfer the learning from one situation to another.
Principle 2 also states that Correctional Nurses use evidence-based knowledge to assess, diagnose (nursing diagnoses), identify outcomes, plan, implement and evaluate care. Our interventions should produce beneficial results, and we should be evaluating our patients' response to the interventions to ensure that they do.
PRINCIPLE 3
Principle 3: Professional nurses know their correctional role. Although there are some systems where nursing staff are also considered part of the custody staff, we must recognize that our primary role is the delivery of nursing services. Correctional nurses demonstrate excellence in clinical practice through the use of the Nursing Process, through the use of strong assessment skills and by demonstrating clinical competence based upon principles of evidence-based practice.
PRINCIPLE 4
Principle 4: Correctional Nurses recognize the value of teamwork and collaboration by establishing partnerships. Interaction and collaboration with custody staff can lead to the maintenance of a clean, safe and secure environment for all. This has certainly become more apparent as we address the COVID-19 pandemic. Many, many facilities were able to implement programs for screening and isolation quickly because nursing staff shared their knowledge and training in infection control. Correctional nurses should also share their knowledge and expertise by volunteering for committees; and collaborating with mental health staff, dietary staff, outside providers, and community resources for their patients who are being released.
Please take a moment and review these seven guiding principles for Correctional Nursing practice in your Correctional Nursing: Scope and Standards of Practice book. They are hidden gems which, if followed, will lead to an enhanced practice for you and your staff (if you are in a leadership role), and will lead to the provision of quality care for your patients.
Please check out our upcoming post, Correctional Nurse Professional Practice: The Seven Guiding Principles II for a discussion of the final three principles.
Share your thoughts about our Guiding Principles in the comments section below.