Cindy Peternelj-Taylor and Phil Woods are Professors of Nursing at the University of Saskatchewan College of Nursing in Saskatoon. This post is based on their session "Correctional Nurse Roles, Responsibilities, and Learning Needs" taking place at the 2016 Spring Conference on Correctional Health Care in Nashville, TN, April 9-12, 2016. Learn more about the conference and register HERE.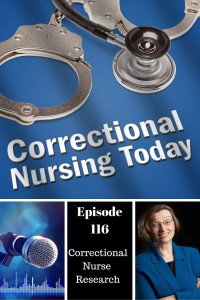 Correctional nurse research is sparse but greatly needed. Therefore, research about our roles, responsibilities and learning needs is valuable and appreciated. Drs. Peternelj-Taylor and Woods surveyed nurses working in the Canadian provincial correctional system in Saskatchewan. Provincial correctional settings in Canada are similar to jails in the US system in that they detain 'remanded' inmates awaiting trial and also house sentenced prisoners with less than a 2 year term.
The Research Study
This mixed methods study started with a 20-question online survey to ask questions about participant background, learning needs, and professional development. Another questionnaire, based on one used with correctional nurses in the UK, was also completed by participants to gain information about specific nursing responsibilities. This second questionnaire included 45 competencies categorized in five skill sets.
The second phase of the study used focus groups of the respondents to further explore areas of interest.
Health needs of offender groups
Key clinical skills needed for the role
Demands of correctional nurse work
Evidence-based interventions used in practice
Use of practice standards
Effectiveness of preparation to work as a correctional nurse
Orientation to their role as a correctional nurse
Coping with therapeutic relationship issues
Challenges of ethical dilemmas
Needs of special offender populations
Study Findings
Findings of this study validate what many in correctional nursing already know by experience.
Correctional nurses see a wide variety of clinically complex issues such as trauma, infection control, mental health.
Medication management and administration are major elements of correctional nursing care.
There are a variety of skills needed for day-to-day work. All 45 skills in the survey tool were considered important.
Contextual issues such as the friction of custody and caring and the balance of the professional role and the custodial role emerged.
The challenge of seeing correctional patients as persons rather than as inmates.
The challenge of continuing competency and the barriers to continuing professional development
The need for keen assessment skills; especially mental status, suicide, and self-harm.
Managing special populations such as mentally ill, addictions, fetal alcohol spectrum disorders, and intellectual impairments.
This research adds to the body of evidence regarding the unique nature of the correctional nursing specialty.
How do the results of this research compare with your experience as a correctional nurse? Share your thoughts in the comments section of this post.
This podcast is part of a series discussing topics addressed during sessions of the 2016 Spring Conference on Correctional Health Care. All posts in this series can be found HERE.