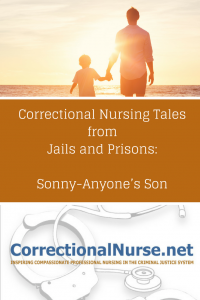 Cindy Domenici RN, BC, is the Nurse Case Manager/Coordinator for the New Hampshire Department of Corrections. She shares this true tale approved for publication with identifiers removed.
There is no good time to hear that you have cancer. There is no good place to be in your life to hear that news.  For Sonny, hearing this devastating news in prison, at age 44, was almost more than he could handle.
He became extremely ill in a matter of days.  It started with abdominal pain that sent him from the prison infirmary to the local hospital. Sonny returned from the hospital a week later with the news that he has liver cancer.  It spiraled quickly. He was back in the hospital a couple of weeks later, with intractable pain and hematemesis.  More testing and scans showed new metastasis to the esophagus, the right humorous and to the lungs. Chemotherapy was initiated with poor results; his labs plummeted and he felt horrible.  Sonny returned again to the prison infirmary with a grim prognosis.
Medical Parole
Medical parole is granted when a patient has become incapacitated, debilitated, incurable and costly. It is a special policy and procedure that doesn't follow the rules of compassion but instead must focus on whether an individual poses a risk to society. If medical parole is granted the inmate leaves before the minimum parole date.  The process for medical parole starts when the doctor writes a letter explaining the diagnosis and the cost associated with the condition(s).  This letter is given to the Commissioner of the Department of Corrections and to the Director of Medical and Forensic Services of the Department of Corrections for approval. Once approved the case is presented to the Parole Board.   In my experience, there is a 50/50 chance for medical parole each time a case is presented.
One of my job responsibilities is to coordinate medical parole cases through the system.  This is how I came to know Sonny.
Sonny and I met a few times to discuss medical parole and discharge plans.  He had nowhere to live on the outside. No family except his mother who was in rent controlled housing and raising Sonny's 12-year-old daughter.  He could not go there.  His sister previously died of cancer and he did not have immediate relatives to care for him.  Meanwhile, his condition was deteriorating, to the point where he was becoming activity intolerant and short of breath with every bit of energy he exerted.  He never gave up–always keeping himself showered and neat. He was angry. He was bargaining with himself, hoping for more time:  if he could only ride a motorcycle one more time, be with his daughter for what time he had left, to be free.  His mind could not accept his diagnosis but his body was giving him a different message.  I started to explore the possibility of a hospice house discharge.  The word hospice just frightened him, "I will just stay here and die, I have no hope if I go to a hospice house" and "Are you are telling me to have no hope?"  I could feel him shutting down. Sonny wouldn't look at me. We sat in silence for what seemed like hours but it was only minutes.
Hospice Inquiry
I called a hospice house close to his mother's and, without hesitation, they told me to send his demographics and medical history. They said that they would put him on the wait list.  This would be the first time that I made a positive contact with a hospice house in my nine years as a nurse case manager at the Department of Corrections.  Usually, I would receive a "no" within the first minute of conversation.  I contacted his mother to inform her of this possibility. It was nice to provide her with some hope.
A few days later, Sonny met with the doctor and told him that he could not go through chemotherapy as he could not bear being that sick again. Sonny stated that he was ready for hospice. He had reached acceptance.  Now, we had to get through the final piece: the medical parole hearing.
Parole Hearing
I wheeled Sonny down to the parole hearings room within the prison. He sat handcuffed, gaunt looking, skin sallow, prominent facial bones and eyes seeming too large for his face. He was diaphoretic, his belly swollen and firm. He tried so hard to be strong, polite and say the right thing but I know how much energy this took from him. This man no longer looked just 44– he wore the face of a cancer patient looking much older than his stated age. Medical parole was granted. Sonny would leave prison six years before his minimum date.  Now, we had to wait for a bed to become available at the Hospice House.
Sonny remained full of anxiety, fearing this plan still would not work. He could not rest well, his pain was increasing. I asked him to trust me again. I reassured him this would happen soon. He couldn't see beyond the four room infirmary cell with the sounds of thick steel doors opening and closing, nurses waking him for scheduled pills, and experiencing foul smells only those sharing close quarters know about. Every hour of waiting felt like a lifetime.
One week later a bed was available. We found out in the morning and quickly made arrangements to start his Medicaid, order discharge meds, fax the final paperwork, and arrange transportation. Sonny was leaving at 2:00 P.M. The ambulance was an hour late. We sat in the receiving unit and waited.  I told him he was the first inmate that was medically paroled to hospice house. I told him that I hoped he would be the poster guy and pave the way for future inmates so that they, too, would have the opportunity not to die in prison.  Sonny promised that he wouldn't do anything to mess this up.  I believed him.
At Hospice
A few days later I called the nurse at the hospice house and I was told that he was polite and respectful. The nurse added that Sonny was a very sick man.  Another case manager and I went to the hospice house about a week later.  He was lying down in just a pair of shorts. When he saw us he struggled to sit up as he wanted to be a good host. He was short of breath for the entire visit and his legs clearly filling up with fluid.   He was very pleased we were there and thanked us profusely for making this possible.
The room was large, equipped with chairs, a couch, and French doors. The colors of the room were all soft and soothing. It was quiet and peaceful.  Sonny's anxiety was minimal. He said to me, "this is where it will happen". I asked him if he was ok with that and without hesitation, he said he was. It was clear that he had found peace and acceptance.   His mother and daughter were able to visit daily something that could not have happened at the prison. As a family, they were able to process this situation and just enjoy the moments they had left with each other. Sonny was even allowed a visit with his pet rabbit.  His mother told me that she was so happy to be able to thank me in person and shared how hard it was to watch another child taken away by this horrible disease. A mother's love is unconditional and she loved her son very much.
It came time to leave. He promised me he wouldn't let me down and that 10 years down the road we would be able to say, "Hey, remember we did that with Sonny".  I struggled with my inner boundaries as I wanted to give him a hug.  Instead, we reached out to shake hands. He grasped my hand with his two hands and I put my other hand on top. We held all four hands tightly, witnessing the power of human touch.  He looked at me and said, "I trust you". It was an emotional moment for me as I had worked so hard to achieve this. I told him, "I trust you too and I am very proud of you".
The Lesson
As we walked out into the parking lot, I was overwhelmed with emotion.  Facilitating this discharge was one of the best moments in my 43-year nursing career. I strive to make a difference every day as a nurse and realized at that moment the enormity of it. Nursing is all about making a difference no matter where we work whether it is in small increments or in life changing events for our patients and their families.   We have to make that human connection in our profession and never lose sight of that.
Sonny passed away peacefully 12 days after arriving at the hospice house. His mother was holding his hand.
Do you have a tale to share with others? Send your story to lorry@correctionalnurse.net. Let's help each other become better correctional nurses!