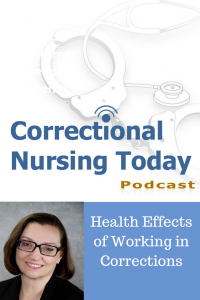 Caterina G. Spinaris, PhD., Founding Director of Desert Waters Correctional Outreach in Florence, CO joins Lorry to talk about the health effects of working in a correctional setting. Dr. Spinaris is a licensed professional counselor with nearly three decades of clinical experience, including offering psychotherapy services to correctional staff and their families. Currently, as Executive Director of Desert Waters she is focusing on the development of research-based products and services for corrections personnel of all disciplines.
Dessert Waters has completed several research studies and the discussion in this podcast focused on their research into Depression, PTSD, and Comorbidity in United States Corrections Professionals: Prevalence and Impact on Health and Functioning.
Research Highlights
The study's participants consisted of 3599 current corrections professionals in a variety of positions across many types of US facilities
Twenty-six percent (25.7%) of corrections professionals were found to have moderate to severe ranges on the depression scale
Sixty-seven percent of those scoring for depression were also found to be positive for PTSD
Next to security/custody personnel (43%), medical health care providers were the second highest percentage of overall disorder vulnerability (34%)
Study Recommendations
Increase employee insight into the common and unhealthy aspects of the corrections work culture
Educate on symptoms and signs of mental health-related conditions that occur at increased rate in the corrections field
Recognize and treat depression and PTSD in their early stages or prevent altogether
Encourage effective self-help activities for individuals
Optimize healthy and supportive coworker interactions
Promote critical role modeling of healthy and effective attitudes and behavior by those in leadership positions
What do you think? Has working in corrections affected your health? Share your thoughts in the comments section of this post.