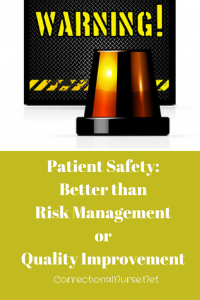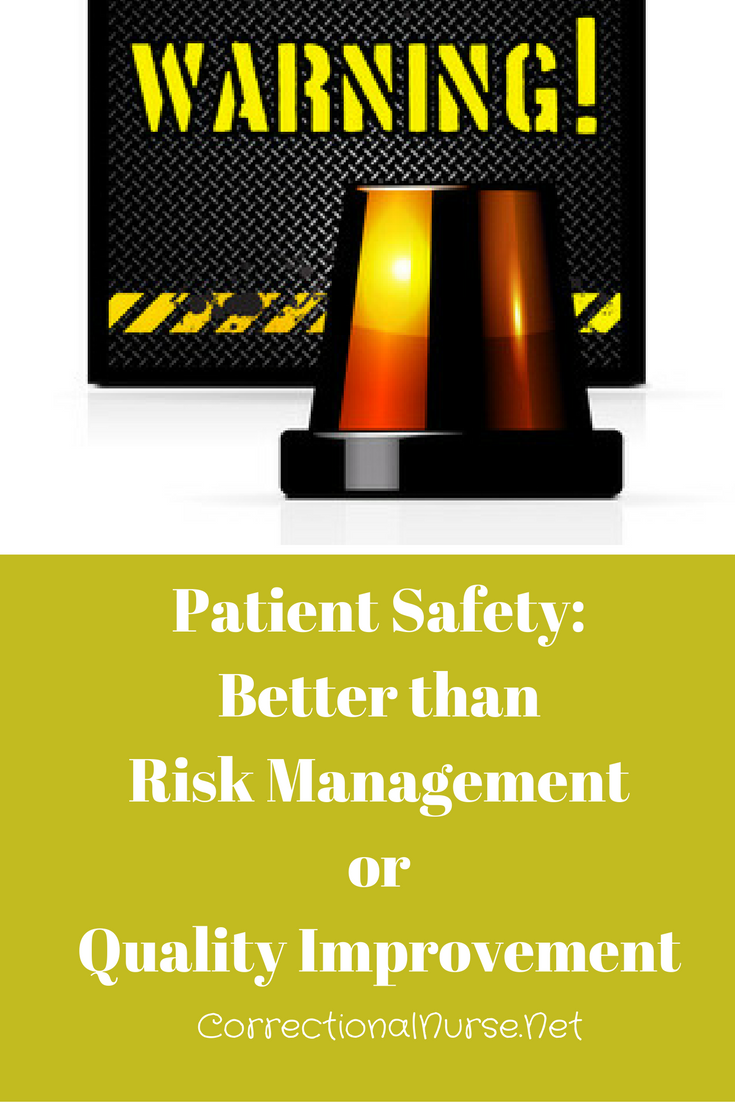 A 50-year-old man, serving time for drunk driving, collapses in his jail cell and is pronounced dead of a pulmonary embolism after emergency transport to the nearby hospital. A lawsuit is settled by mediation and two staff members are disciplined for negligent behavior after an internal investigation.
Keeping patients safe is fundamental to our roles as correctional health care professionals. Most of us entered health care to help those who are ill, injured or suffering, yet our patient care systems can get in the way, leading to patient harm instead of the quality care we intend. Thus, patient safety is a growing field within traditional health care and an increasing emphasis in the correctional setting. In the NCCHC 2014 Standards for Health Services, standard B-02 Patient Safety establishes the need to "proactively implement patient safety systems to prevent adverse and near miss clinical events." Yet, most clinical sites already have quality improvement systems and risk management processes in place. How would a situation like the case above be handled differently from a patient safety perspective? While risk management programs focus on reducing legal liability and quality improvement programs respond to clinical quality issues, patient safety systems seek to reduce clinical error. This is, then, a patient-centered approach to fulfill our professional ethical obligation to do no (or at least less) harm in the delivery of necessary health care. A comparison of the concepts of risk management, quality improvement and patient safety can clarify differences and support the proposition that a patient safety framework for organizing care delivery is superior.
Risk Management
The purpose of risk management is to reduce the chance for organizational loss. In the case above, organizational risk managers would view the care concerns from a perspective of reducing financial loss to the organization during litigation or poor press coverage. Although risk managers seek to prevent and reduce loss in other areas such as property, financial risk, employees and medical staff privileges, a prime focus is prevention of loss related to legal claims against the clinical program. Thus, a risk management program includes claims management, contract and policy review, and regulatory and accreditation compliance functions. Risk management, then, is a financial function. By its nature, risk management primarily focuses on reducing financial loss. Reducing clinical error is a welcome byproduct of risk management activities but not the primary motivation.
Quality Improvement
The focus of quality improvement is to improve processes and outcomes of patient care. Quality improvement actions are often taken when a catastrophic clinical situation such as the case above occurs. The health care unit manager could perform a chart review to determine whether all policies and procedures were followed for this patient during his stay at the facility. Quality improvement activities seek to improve the efficiency and effectiveness of patient care and are often a part of a clinical administrator's role. Quality improvement is, then, primarily a management function. Benchmarking and best practices are used to determine goals for improvement activities. As with risk management, a secondary benefit of quality improvement activities can be the reduction of clinical error.
Patient Safety
The primary focus of patient safety is preventing patient harm. Rather than a financial focus, as with risk management, or a management focus, as with quality improvement, a patient safety framework is patient-centered and seeks to reduce clinical error. Systems thinking, clinical process change and standardization to build in reliability of clinical processes lead to improved patient outcomes and decreased patient harm. From a patient safety perspective, clinicians would use an extreme situation like the case above to evaluate the clinical systems and processes to determine gaps that led to the diagnostic and treatment decisions. This model turns the current system upside down, making increased process effectiveness and decreased financial risk secondary benefits.
Patient safety can be a lens through which all correctional health care clinical processes are viewed and evaluated. A patient safety framework is patient-centered and focuses on reducing patient harm. This focus also reduces risk of litigation and improves care quality, enhancing both of these traditional functions.
Originally published in the Winter 2015 issue of CorrectCare™, the quarterly magazine of the National Commission on Correctional Health Care.