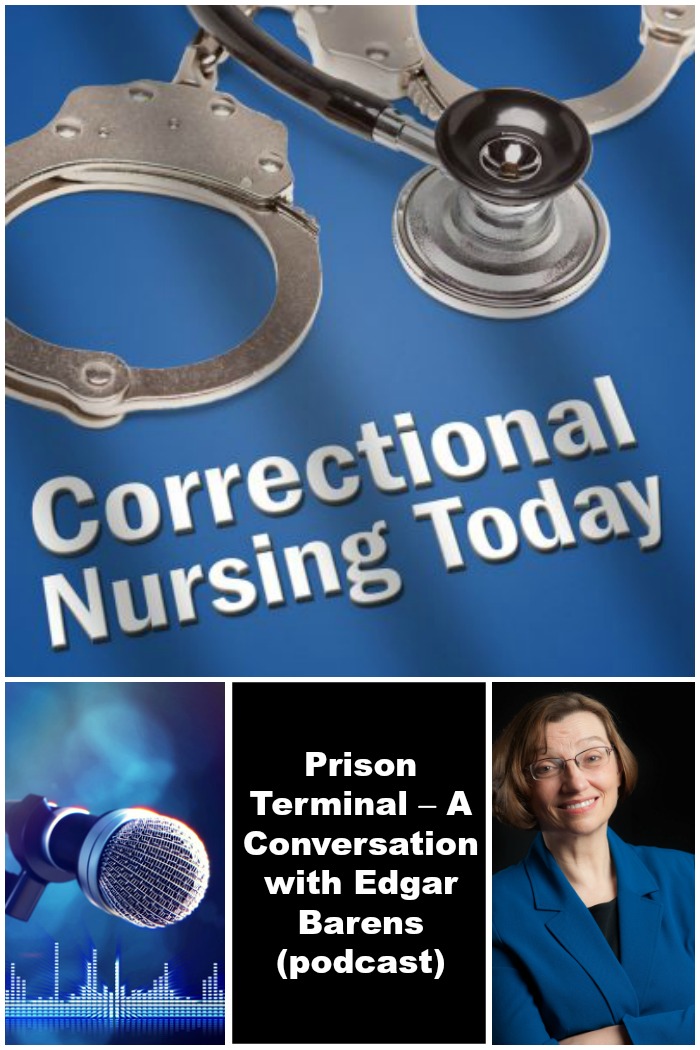 In this episode Edgar Barens, an independent film producer from Chicago, talks about prison hospice from the context of his Oscar-nominated documentary "Prison Terminal: The Last Days of Private Jack Hall" that debuted on HBO March 31, 2014. Find out where the film is currently showing by visiting his website: prisonterminal.com. Edgar talks about:
How long it took to film and when he starting the project (Hint: A l-o-n-g time!)
Stories about the inmate workers and correctional nurses he was in contact with during the weeks he was filming in the Iowa State Penitentiary.
Why a prison hospice is good for all the inmates, not just those who need terminal care.
Future documentary plans.
Productivity Tip
Go low-tech with pencil and paper to increase your productivity
Behind the Scenes
Its back to the bedside for me as my husband recuperates from hip surgery
In the Nursing News
This week's info comes from the Academy Insider – a weekly newsletter from the Academy of Correctional Health Practitioners. If you are not a member, you can still get this free newsletter. I'll link to the subscribe button in the episode notes:
Changes in Hypertension Treatment: Jeff Keller over at his Jail Medicine blog reviews the changes to hypertension treatment guidelines in a recent blog post. You are likely to care for patients with hypertension so you need to keep up with the latest guidelines. His entire post is a valuable read. Here are the high points.
In Adults 60 and older, the new BP treatment goal is 150/90 or below.
The BP treatment goal for all patients under the age of 60 is 140/90.   This includes patients with diabetes and kidney disease.
Use a thiazide diuretic, a calcium channel blocker, an ACE inhibitor or an ARB preferentially to treat hypertension.  Do not routinely use other drugs, including beta-blockers.
High-fiber diet linked to lower death risk after heart attack: Most prison diets are low in fiber. A new study published in the British Medical Journal shows a link between high fiber diets and lower deaths from heart attacks. Once again the findings are from an analysis of data from the Nurses' Health Study female US RNs and the Health Professional Follow-Up Study of male health professionals. The study found that for those who survived an MI, greater intake of dietary fiber was associated with decreased mortality. In the general population a 20-40% risk reduction in coronary heart disease had consistently been observed among those who consume fiber-rich whole grains. But less than 5% of Americans get the recommended intake of 25 grams of fiber for women and 38 grams for men. So, add increasing fiber intake to your chronic disease teaching for your heart patients and look for ways to encourage increased fiber in the chow line and commissary.
Soy Sauce The Key To HIV Treatment? Flavor Compound 70 Times More Potent Than Tenofovir: HIV Infection is also a common chronic disease managed in jails and prisons so we need to keep up with the latest findings on effective treatment. Many of us are using tenofavir for HIV treatment. News out of the University of Missouri is that a flavor enhancer called EFdA, used in many soy sauce recipes, may actually be more potent than this standard medication. This research is preliminary and it may be some time before EFdA is on the market as a treatment option, but this sounds very promising.