Podcast: Play in new window | Download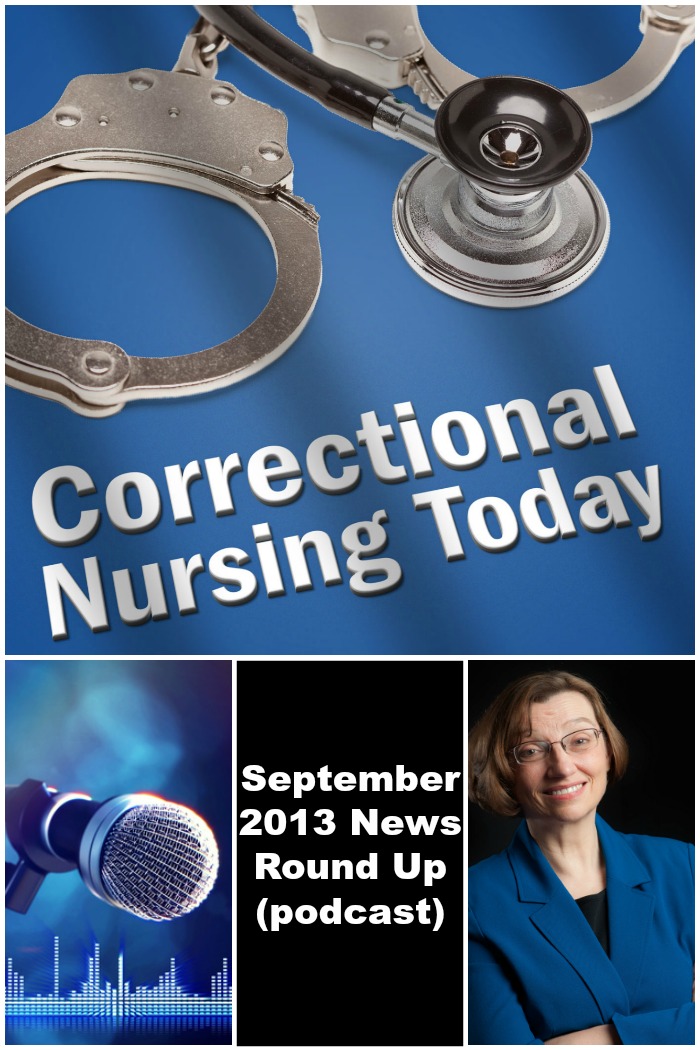 This monthly news round-up includes comments from Pat Voermans, advanced practice nurse recently retired from the Wisconsin Department of Corrections, and Mari Knight, Mid-Atlantic Transition, Training and HSA Support Nurse for Conmed Healthcare Management.
Story #1: Indiana Inmates Provide End-of-Life Care
Our first story comes from the Indiana Prison System where they are providing hospice care in the Wabash Valley Correctional Institute. Inmate volunteers have cared for 50 of their colleagues in the program. They receive 40 hours of caregiver training and provide assistance with nutrition and hygiene as well as companionship. Hospice programs with inmate volunteers are not new in corrections but it is nice to see some press about the program. This article suggests another alternative of compassionate release for dying inmates. Is there an advantage to either option?
Story #2: Prisoners Who Have Sex Risk Separation in UK
A recent commission in the English and Welsh prison system found that a policy of separating prisoners who are in a sexual relationship was discriminatory toward openly gay prisoners. The item also notes that attempts to control consensual sex behind bars undermines efforts to promote safe sex and reduce the spread of HIV. This certainly seemed to me a different perspective than we are seeing in the US with our recent ramp-up of the Prison Rape Elimination Act. What is your take on the British perspective? The report indicates that there is no real data on consensual vs coerced sex in the UK prison system. Have you seen that to be true in the US system, as well?
Story #3: CA Prisons Hunger Strikes End
No news round-up is complete without a story from the California Prison System. They regularly make the news as one of the largest and most controversial state prison systems. Inmates organized a strike that commenced July 8 to protest gang isolation policy that left many in practically permanent segregation. As many as 30,000 inmates were involved in the hunger strike with less than 100 actually persisting from start to finish. The prison system made no changes in the policy but California lawmakers promised to take up the isolation policy in legislative hearings. California inmates have staged 3 strikes in the last 2 years. What are the effects on healthcare delivery in a situation like this?
Story #4: Ireland's Prison Service to Pilot Overdose Drug
Our final story is also from across the pond. The Irish prison system is piloting a program to provide known illegal drug users with Naloxone (Narcan) on release from prison to help avoid overdose deaths. It is well documented that there is a high rate of overdose deaths of recently released prisoners.  I heard about a similar program being piloted in the Rhode Island prison system at the Summer ACA conference. Do you think this is a good idea?
Thoughts on Coercive Showering in Prison
This week a nurse leader in a state prison system contacted me about nurse involvement in forcing inmates to shower. Custody administration was requesting that nurses assist in the process as a hygiene issue. This is just one of many ethical dilemmas correctional nurses can face. Instinctively it seems wrong to force a patient to shower, but what principles would support a nurse's refusal to participate in this practice? I polled correctional nurse leaders from around the country on practices and policies on this subject and found unanimous support for nurses to refuse to participate in this practice. In particular, it violates the patient's autonomy and self-determination. Although it may be unpleasant for others in the patient population to be around  someone with poor hygiene, it is not life threatening to the patient or those around him.
Announcements
I'm still pretty excited that Correctional Nursing Today is now available on Stitcher. If you already use Stitcher to listen to your favorite podcasts, add me to your list. If you've never tried Stitcher, head over to stitcher.com and download the app. It is amazingly easy to cue up a series of podcasts for listening anywhere you have internet access and your cellphone, tablet or laptop. I use mine every day to listen to podcasts while I exercise, run errands, get ready for work in the morning, or even when I'm doing yard work.
As always, you can also subscribe on iTunes or listen to past episodes from the Podcast tab on the Correctionalnurse.net website.
Send questions or ideas for future guests to our email account – Correctionalnursingtoday@gmail.com. I look forward to hearing from you!
It is hard to believe that October is here! I am posting this podcast from Saskatoon, Saskatchewan, Canada where I am networking with correctional nurse leaders from Canada, the UK, the US, Germany and Sweden at the Care and Custody Conference. After a couple weeks back in the mountains I'll  be in Nashville at the end of October for the National Conference of Correctional Health Care. I'll be talking about applying the Code for Nurses in ethical situations that correctional nurses find themselves in along with Denise Rahaman a correctional nurse administrator from New Jersey. Will I see you there? I hope so!
If you are new to the correctional specialty, or want to brush up on your practice, consider purchasing my book – Essentials of Correctional Nursing. You can find it on amazon or, even better, click on the tab called 'Get the Book' on the correctionalnurse.net website and scroll down to find a promo code to get $15 off and free shipping by ordering directly from the publisher. Either way, I want to know what you think. Send me feedback at correctionalnursingtoday@gmail.com or leave a review on amazon.