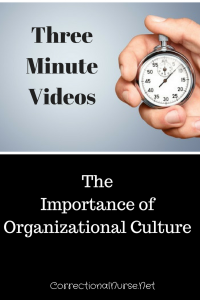 I have been in a number of jails and prisons as a health care consultant and, although the various environments may look similar, they can feel very different – even among prisons within the same system. Some settings seem to bristle with tension while others seem almost like working in a family business. What makes this difference? It's the organizations work culture.
Culture is described as the commonly-held attitudes and practices of a group. It establishes norms of behavior of what is approved, allowed, or ignored. It also establishes what will be rewarded and what will be punished.  An organization's culture not only affects the day-to-day lives of those who work there. It also affects patient safety and the risk of errors in delivering health care.
Reducing clinical errors in your practice setting can be as basic as establishing respect among the various disciplines. Incivility, and even hostility, between health care staff and correctional officers can lead to decreased communication and gaps in medical care resulting in patient harm.
In my years of work in the field, I have found a consistent correlation between good working relationships and good patient care.
Respectful work relationships are important and lay a foundation for a patient safety culture. And they support the four elements of this culture, as identified by health care safety expert Dr. Robert Wachter.
Acknowledging that we work in a high-risk and error-prone field
Encouraging reporting of errors or near-miss events without fear of punishment
Collaboration across disciplines and among ranks in the organization to create solutions to safety issues
Willingness to use organizational resources to address safety concerns
Unfortunately, the nature of the criminal justice system is punishment and control. Too many working in our settings fear reprisal for reporting an error or safety concern. We must do everything we can to change this situation and create an organizational culture where everyone is encouraged to bring forward and address patient safety issues.
What is your organizational work culture like? Does it help or hinder your efforts to deliver quality health care?