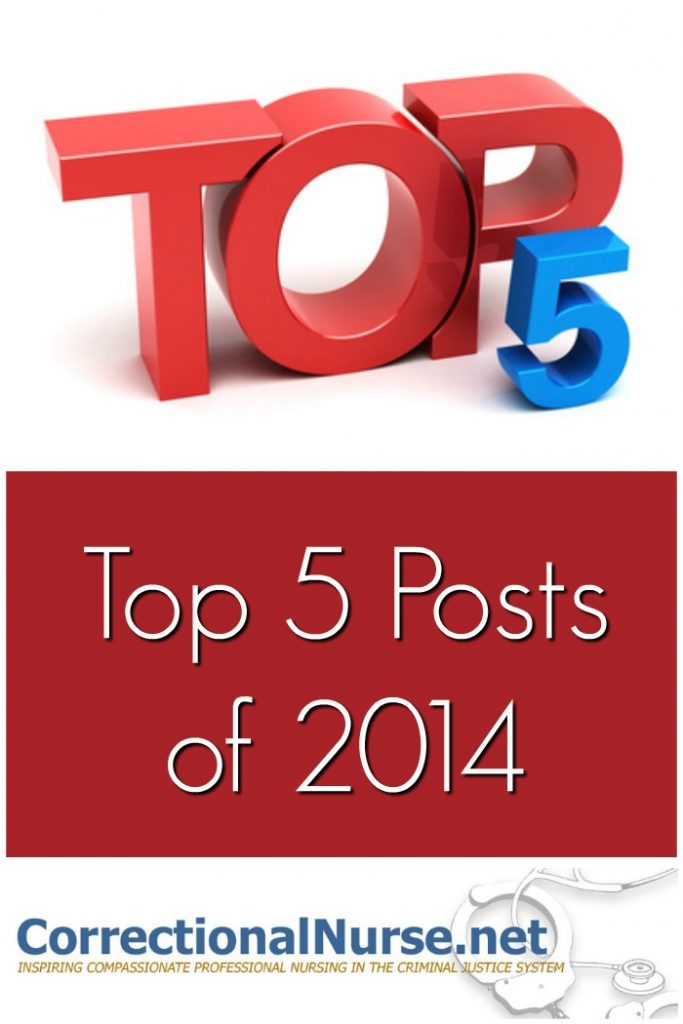 Thank you for being a part of CorrectionalNurse.Net this past year! Your comments and suggestions make this blog a helpful resource for nurses new to the specialty and those interested in keeping abreast of the latest news and information important to working in jails and prisons. In fact, my goal for this blog is:
Informing, encouraging, and inspiring nurses who care for vulnerable, marginalized patients in the low resourced, ethically challenging criminal justice system.
We have been around now for more than 5 years and there are over 300 informational posts in a variety of categories. Search by key word using the search field in the upper right or by category using the drop-down menu on the right sidebar.
Here are the five most popular posts in 2014. Surprisingly, three of these posts made the list in 2013; an indication of the staying power of the topics. Check them out if you missed them when they originally aired. Stay tuned for more great information in the year ahead. I hope you visit often and include your views by commenting frequently.
#5 Correctional Nurses Always on Guard
Nurses learn quickly to be watchful for their personal safety when working in a jail or prison. This post shares important points about guarding our bodies, our minds, and our hearts when we start our shifts.
#4 Dental Issues for Correctional Nurses
By far, dental issues were the greatest learning curve for me in entering this specialty. This post has some great pictures provided by Dr. Stephen Mitchell and is a big help for nurses who need to know what is routine and what is a possible emergency when dealing with dental conditions. This post was the top post of 2013 and is still valuable and popular information.
#3 Interview Guide: Part I   Part II
Many nurses discover this blog while looking for help in preparing for their first interview for a correctional nursing position. This 2-part series shares tips for determining if a correctional setting will be a safe work environment along with questions that may be asked during the interview. A perennial favorite, these posts made the number 2 spot in 2013
#2 8 Medication Rights – Not 5?
Just when you think you are up-to-date something changes. That is life as a practicing nurse. This post adds three new 'rights' to the classic 5-rights of medication administration and is actually reposted from the blog of a fellow nurse. A great review! This post made the top five category in 2013, as well (number 3)
#1 Five Mistakes New Correctional Nurses Make
It is easy to start off wrong in this specialty. As a correctional nurse educator, I have helped many staff nurses and nurse managers get oriented to the specialty. In my experience, I have found several common mistakes new nurses can make when they start their career behind bars. This post resonated with many readers.
What was your favorite post of 2014? Share your thoughts in the comments below.
Photo Credit: © md3d – Fotolia.com