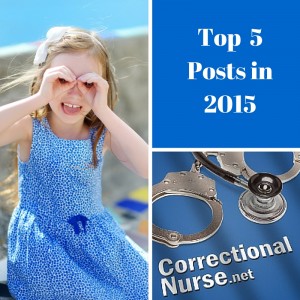 It has been another great year here at CorrectionalNurse.Net. Thank you for your involvement and readership! In the past year, visitors to the site have increased by 35%. Correctional nursing is a growing specialty and I'm inspired by our increasing numbers and influence for good in the criminal justice system. As we close out 2015 this week, I thought you'd like a final look at the top posts of the year.
Crushing medications is a fact of life in many correctional settings. Crushing pills may be required to avoid diversion of high-risk medication but some settings ask that all pills be crushed. This post describes the precautions needed when crushing medications and identifies the categories of medication that should never be crushed.
Incarcerated patients are not always encouraged to be involved in their medical care. Yet, a well-informed patient can be a great assistance in reducing medication error. The more patients understand about the medications they are taking, the better they can assist with monitoring treatment practices and questioning when unfamiliar medication is offered. This post describes four ways to engage your correctional patient in the medication process to avoid error.
Most of us work in jails and prisons by accident. We discovered the invisible world of correctional nursing through a job notice, a friend, or by necessity when other nursing jobs in our locale were scarce. Yet, you may have been destined to be a correctional nurse. This post describes six signs that indicate your stars were aligning and steering you into a correctional nursing career, even at a young age.
In the spring of 2015, we watched the unfolding events of a prison break in upstate New York. Early in the story Joyce Mitchell, a prison worker who managed the tailor shop with her husband, was taken into custody for her part is assisting the prisoners. Those unfamiliar with our patient population find it hard to believe that someone would develop an intimate relationship with a murderer and assist them in this way. Yet, unhealthy inmate relationships are a constant threat and should be a continual concern for anyone working in the criminal justice system. No one is immune to this work hazard. This post provides four prevention tips along with some links to prior posts and podcasts on the topic.
Just about every correctional nurse will tell you it is very difference from traditional nursing. You can feel like you have been dropped into a foreign country where people are in strange outfits and speaking a strange language. Stripped of the many supports that are standard in traditional settings such as a nursing administration or a team of like-minded staff members, many correctional nurses must carve their own path to professional practice behind bars. This post discusses ways to stay true to your nursing roots when working in the criminal justice system.
So, what's ahead for 2016? Well, the ANA may have designated 2015 as the Year of Ethics for nurses, but 2016 will be the Year of Ethics for CorrectionalNurse.Net as I develop a series on application of the 2015 revision to the Code of Ethics for Nurses to our correctional nursing specialty.
In addition, I am looking for readers interested in sharing stories about their experiences doing good for our patient population. The series is called Nursing Tales from Jails and Prisons. Do you have a tale to share? Email me at lorry@correctionalnurse.net.
I'm also seeking new guests for the Correctional Nursing Today podcast. Do you know someone doing great things in correctional health care (maybe you!)? Send me contact information and I'll get them on the show.
What would you like to see more of on the blog and podcast in the coming year? Share your ideas in the comments section of this post.