Laura Mish, RN, works in a medium security prison with an average daily population of 3300 male inmates. Here is her correctional nursing tales from Jails and prisons.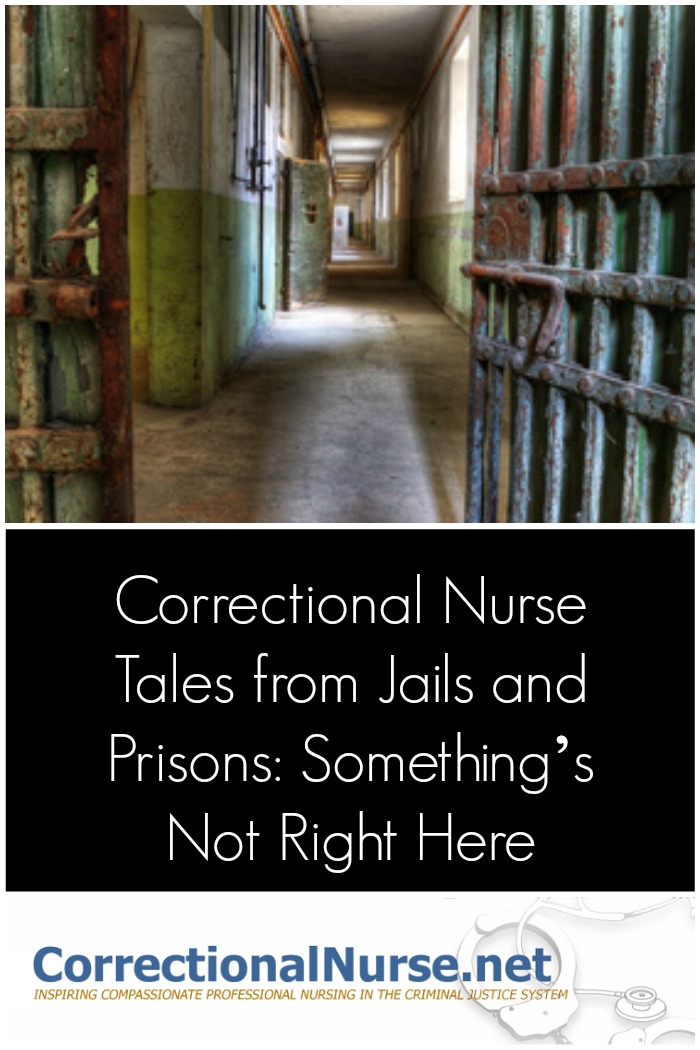 The Background
Having been a correctional nurse at a state prison for nearly 16 years, I have many stories to tell. Some are sad, some are funny, and then there are those that you will never forget. They change your perspective, not only on correctional nursing, but on nursing in general. I have learned invaluable lessons from many of my inmate patients, and I would like to share one with you.
The Tale
Several years ago, while working one of the medical units in general population, I received a call from one of the officers on a housing unit. It was just past 2pm, which is change of shift for medical as well as security staff. The officer told me that he had an inmate that was complaining of a headache. He said the headache was his only complaint, but that it was getting worse as the day went on. Thinking that this was going to be a fairly easy emergency sick call, I told the officer to send him down.
While I was waiting for him to arrive, I reviewed his medical record and noted that he was rarely in medical for any issues, and had no current medical diagnoses listed. The inmate arrived in medical about 10 minutes later in no visible acute distress other than the look of discomfort I could see on his face. I took his vital signs, which were all within normal range, checked his eyes and pupils, and did a general assessment on him including lung and bowel sounds. At that point, I could find nothing abnormal. While doing my assessment, I was asking him questions about his symptoms to try and rule out any medical condition other than a general headache. The only other symptom he said he was experiencing was blurry vision, which can occur with headaches, especially migraines. I checked his visual acuity with the eye chart but found no major deficit. He said he did not normally wear glasses, so I assumed that the headache was not related to him having blurry vision from being without proper eyewear.
But something was telling me that there was more going on with this man than a simple headache. After probing further into any other symptoms, and finding none, I asked if I could take a fingerstick blood sugar reading; explaining what it was for. The result was shocking. The glucometer didn't have a reading that high! I explained to him what this reading meant, and asked him if he had ever had his blood sugar checked previously, or was told that he was diabetic, and he stated he had not. When asked if diabetes ran in his family, and he confirmed that both of his parents were diabetic. Armed with the glucose reading and family history, I asked about unquenchable thirst, hunger, frequent urination, and other indicators of hyperglycemia. When he responded affirmatively to all these questions, I lightheartedly responded that "I thought you told me that you weren't having any other symptoms?" This brought a chuckle and helped ease the anxiety I could see that he was feeling. At that point, I explained to him that all of the symptoms he stated he was experiencing were signs of diabetes, and explained why he had those particular symptoms. He acknowledged understanding everything I was explaining to him.
Luckily the nurse practitioner had not left for the day, so I was able to have him seen immediately. Once evaluated by the NP, treatment orders were written and I administered insulin for the hyperglycemia and ibuprofen for the headache. I also scheduled him for ongoing insulin and blood glucose monitoring. Finally, we started diabetes education with literature and dietary information.  Before he left the medical unit, I rechecked his blood sugar to be sure it was in a better range.
Before sending this patient back to his cell, I acknowledged his anxiety and confirmed that we would help him manage this new condition. He seemed much more relaxed after I took the extra time to assure him that he was not going to have to go through this alone.
The Lesson
This story is a reminder to take those few extra minutes to dig deeper when your instinct is telling you that something is wrong. Had I not done this, it's possible that he may have gone into ketoacidosis during the night and no one would have known until it was too late. Since this experience I am more inclined to check someone's blood sugar than I would have before.
Also, I learned that understanding the patient is so important. For example, this inmate did not normally complain or come to medical frequently with various issues. Yet, this issue was important enough to him to seek out attention. This added to my suspicion that something was not right and to dig further.
Do you have a tale to share with others? Send your story to lorry@correctionalnurse.net. Let's help each other become better correctional nurses!